Allegany County, The Mountain Side of Maryland, Known as "America's Friendliest long-Distance  Rail-Trail," the 150-mile Great Allegheny Passage starts in Cumberland, then soars over valleys, snakes around mountains and skirts alongside three rivers on its nearly level path. Along the journey, cyclists can cross the Mason-Dixon Line, top the Eastern Continental Divide at 2,392 feet, weave through the breathtaking Laurel Highlands, wind their way through 20,633-acre Ohiopyle State Park, and end at Pittsburgh's majestic Point State Park. There are plenty of wide-open spaces that host hiking and biking trails, waterways perfect for kayaking and canoeing, and no shortage of cabins that let families practice social distancing while they're enjoying some fresh air and natural beauty. We have a feeling that this region, home to America's first federally funded highway and therefore the nation's first "road trip," will continue to attract visitors.
While driving along one of Maryland's 18-themed scenic byways, visitors can stop along the way at several unique roadside attractions, including Enchanted Forest and
Fairy Tale Park on Clark's Elioak Farm, a big transformer by Lawyer's Winterbrook Farm, a replica of Noah's Ark and Acorn Park. Maryland is a Mid-Atlantic state that's defined by its abundant waterways and coastlines on the Chesapeake Bay and the Atlantic Ocean. Its largest city, Baltimore, has a long history as a major seaport. Fort McHenry, the birthplace of the U.S. national anthem, sits at the mouth of Baltimore's Inner Harbor, home to the National Aquarium and Maryland Science Center.  According to some historians, General George Washington bestowed the name "Old Line State" and thereby associated Maryland with its regular line troops (the Maryland Line) who served courageously in many Revolutionary War battles.
Travel along one of Maryland's scenic byways or the Great Chesapeake Bay Loop to enjoy Maryland's countless outdoor activities. Unlike blue crabs, there is certainly no shortage of waterfowl along the Chesapeake in winter. In fact, most of the 28 species of ducks, geese, and swans that spend time on the Chesapeake throughout the year do so in winter. Hike along the Appalachian Trail, bike along the Western Maryland Rail Trail or experience some of the best skiing and snowboarding in the mid-Atlantic on the slopes at WISP RESORT with stunning views of DEEP CREEK LAKE.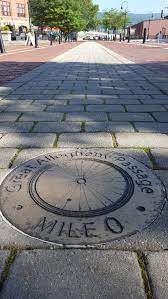 The county seat of Allegany County, Cumberland, was the starting point of the now-famous, very historic National Road … as in America's first federally funded highway. Thomas Jefferson's great experiment back in 1811 was the way west for many American settlers and – you guessed it – good old Mile Marker Zero of that highway is in Cumberland.
Mile Marker Zero is still there, and about eight miles up the road is an original toll house that still tells you how much it cost men, women, children, and mules to traverse the highway more than 200 years ago. (Bonus: There are no tolls on the road today!)
Whether you're looking to hit the trails to hike to scenic viewpoints, race down paths on mountain bikes, or traverse the region's expansive system of waterways, outdoor recreation enthusiasts will find no shortage of activities throughout Maryland. >MORE
Visit City Dock, the heart and soul of Annapolis. Stroll past the homes of Declaration of Independence signers William Paca and Samuel Chase and past the oldest State House in continuous legislative use in the nation. Explore the campus of St. John's, the third oldest college in the country.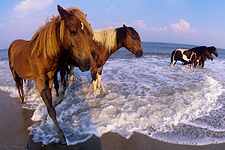 A trip to the beach is always a hot idea. Whether it's A LUXURY GETAWAY IN OCEAN CITY'S QUIET SEASON, or a getaway to ASSATEAGUE NATIONAL SEASHORE to see the famous wild ponies with the pounding winter surf making for an unforgettable backdrop, you can't go wrong with a winter trip to Maryland's Atlantic shore.
Or just get out and hike, snowshoe, or cross country ski to thrilling views you can cherish and see in a whole new light.