Let the spirit of fall guide your adventures, inspiring unforgettable moments, and treasured memories. So, grab your scarves, dust off your bikes, and explore Maryland's Cultural Capital, where every experience is as vibrant as the leaves under the October sun! Here in Maryland's Cultural Capital, diversity and inclusion are woven into the fabric of our communities. Stay in Bethesda for upscale boutiques and one-of-a-kind venues. Get a taste of the rural side at local farm breweries and wineries in Poolesville.
Go on a self-guided journey filled with the sweet aromas of ripe apples and the crisp taste of freshly pressed cider. The first stop should be Doc Waters Cidery, a local favorite known for its artisanal approach to cider-making. Nestled in the Agricultural Reserve of Montgomery County, this cidery is a haven for cider lovers. Explore their range of meticulously crafted ciders like their award-winning Oak Aged Still Cider or sweet Pink Lady Cider. Each bottle tells a story of passion and precision. With a commitment to quality, Doc Waters Cidery is sure to leave a lasting impression on your palate.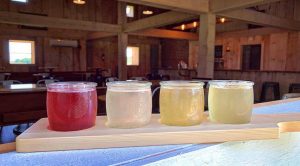 The next stop takes a delightful turn at Butler's Orchard in Germantown, a charming farmstead that has been a local favorite for generations. Embrace the rustic atmosphere as you explore the orchards and be sure to stop by their farm market. If you're looking for a non-alcoholic cider, Butler's Orchard crafts small-batch ciders that capture the essence of their bountiful harvest. Enjoy the rustic charm and the warm hospitality that defines this Montgomery County treasure. Find more local craft beverage places on our Tastemakers Trail.
Dining at Silver Diner
ROCKVILLE  & GAITHERSBURG – Crafted by Chef Ype, Silver Diner is no stranger to locally-sourced dishes inspired by the fall season.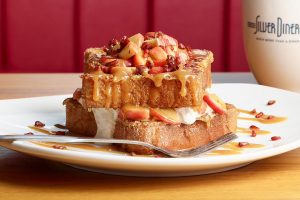 Choose from the Creekstone Farms Meatballs and pappardelle, swimming in a hearty marinara with English peas, mushrooms and roasted butternut squash or Pork Chops breaded in panko and served with sauteed apple cider kale, bacon, and butternut squash mac and cheese. If you're looking for a sweeter choice, try the Apple Pie-Stuffed French Toast crusted in cinnamon sugar, layered vanilla crème and served with roasted apples, pomegranate and drizzled salted caramel.
True Food Kitchen
GAITHERSBURG & BETHESDA –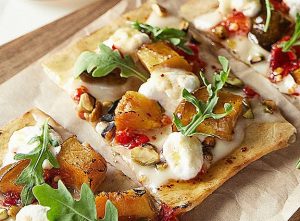 At True Food Kitchen, artisan chefs create seasonal dishes that take advantage of naturally ripe fruits and vegetables so their flavor is full and their nutrients, rich. For a light pairing, we suggest trying a bubbly Apple Spritz with the Roasted Acorn Squash Flatbread crafted with truffle honey, lemon almond ricotta, pistachio, calabrian chili, arugula and garlic purée. Looking for something heartier, try the Fall Pesto Pasta with seared mushroom, roasted acorn squash and cilantro pumpkin seed pesto.
Leaf Peeping
One of the highlights of the season is watching the leaves on the trees change from the vibrant green of summer to an array of red, orange and yellow splendor. Peak color is estimated to be around October 12-28 this year and there are plenty of places throughout the county to see the fall foliage in full bloom. Let's grab a favorite sweater, a cup of hot apple cider and go explore! Here are some of the best destinations:
Rock Creek Regional Park
Rock Creek Regional Park stretches across 1,800 acres and includes the beautiful 75-acre Lake Needwood and the picturesque 55-acre Lake Frank. Bask in the colors of autumn as you trek across the park's 13 miles of woodland trails or along the lake shores. The trails are perfect for walking, running, biking and rollerblading. And, boat owners can get a full 360-degree view of all the foliage out on Lake Needwood.
Black Hill Regional Park
Located north of Germantown, Black Hill Regional Park offers more than 2,000 acres of outdoor recreation. It features the mostly hard-surface 4.3 mile Black Hill Trail, over 10 miles of natural surface trails and a water trail on Little Seneca Lake. Stop for a picnic and enjoy spectacular views of the lake and oak and hickory forests. Did we mention the park is also dog-friendly? That's right – Black Hill Regional Park also includes a half-acre dog park for your outdoor canine companion.
Brookside Gardens
Brookside Gardens is Montgomery County's award-winning 50-acre public display garden situated within Wheaton Regional Park. As the leaves change colors, they provide a completely different backdrop to the gardens' 20,000-plus plants. Within the gardens are several distinct areas: Azalea Garden, Butterfly Garden, Children's Garden, Rose Garden, Japanese Style Garden, the Woodland Walk and more. Brookside Gardens also feature two conservatories for year-round enjoyment.
Seneca Creek State Park
The park, comprised of 6,300 acres, extends along 14 scenic miles of Seneca Creek, as it winds its way to the Potomac River. Also, the park offers Clopper Lake for boating and fishing, as well as trails for hiking, cycling and horseback riding. Adventurous hikers can take the 16.5 mile Seneca Creek Greenway Trail that follows the entire course of the creek.
History Findings
Every destination has its own urban legends where only the brave tread and Montgomery County is no exception. The Clara Barton National Historic Site in Glen Echo was established in 1974 to honor the life and work of Clara Barton, the founder of the American Red Cross famed for her medical care and service to soldiers in the Civil War. It includes nine acres of land and Barton's own 38-room residence, which served as an early headquarters of the American Red Cross and where Barton spent the last 15 years of her life.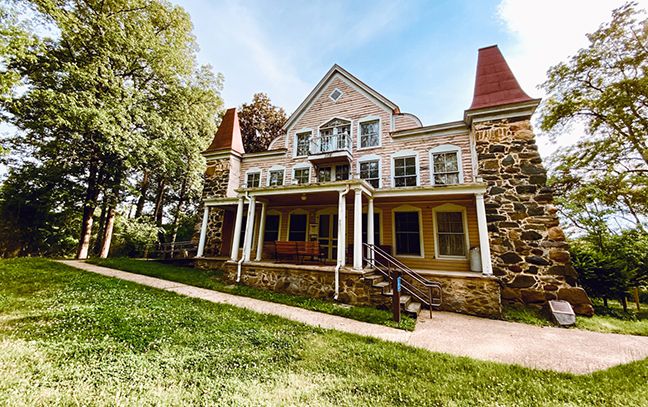 Many believe that Clara Barton has never left her Glen Echo residence, now part of the National Park Service. Visitors have reported seeing her apparition wandering the halls and rooms wearing a green dress. Though with all the good she did while she was alive, there shouldn't be much to worry about if you happen to encounter her ghost.
For more information on Montgomery County, visit https://visitmontgomery.com/