Winter is an ideal time to cozy up and spend a weekend or a week at a classic Maine inn, along the coast or in the mountains. Forty kilometers of cross-country trails are a highlight of a stay at The Bethel Inn Resort in Western Maine, not far from Sunday River ski resort. In Camden, the Camden Harbour Inn opened in 2007, a high-design luxury inn overlooking Camden's harbor. Just south of Portland in Cape Elizabeth is Inn by the Sea, located on a mile of sandy beach. The inn features 61 luxuriously appointed fireplaced rooms, and one- and two-bedroom suites. 1802 House Bed & Breakfast Inn offers six rooms in the heart of Kennebunkport while Cliff House is set on the edge of the Atlantic on the rocky coast of Ogunquit, with panoramic ocean and coastal views from 226 guest rooms and suites. For more info, go to Visit Maine.
Maine hasn't changed. Visitors may find that's it a little bit quieter, a little bit slower and maybe just a little more authentic. Maine is an extraordinarily beautiful state, beloved for its rocky coast, western mountains and cutting-edge food scene.Ski season is here!
Ski Resorts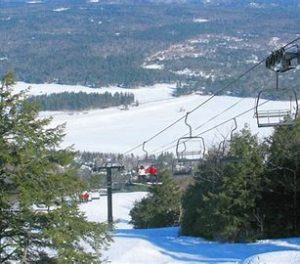 in Bridgton, the oldest ski resort in Maine, has been sold to Boyne Resorts. The Michigan-based company already owns the state's two largest mountains, Sugarloaf in Carrabassett Valley, and Sunday River in Newry. Shawnee Peak has six lifts that service 19 trails and three terrain parks, and Boyne has said that current ski passes and lift tickets will remain valid. Boyne has 11 resorts across North America, including Big Sky in Montana, Brighton in Utah and Loon Mountain in New Hampshire.
Sunday River has announced that the next major step in the Sunday River 2030 plan is installing the fastest eight-person chair in North America for the 2022-23 winter season. The Jordan 8, a new Doppelmayr D-Line chairlift that is among the most advanced in the world, features weather-blocking bubble covers and will access terrain on Jordan Bowl and beyond. This part of the resort will come to be known as the Western Reserve as future terrain development plans come to life.
Sugarloaf has announced plans for the development of nearly 450 acres of terrain on West Mountain with new alpine trails, snowmaking, a new high-speed chairlift, tubing park, downhill mountain bike trails, and residential real estate. The West Mountain expansion was announced as the centerpiece of a ten-year resort vision, called Sugarloaf 2030. The plan outlines a roadmap for growth at the resort over the next ten years, and includes five new or upgraded lifts, new alpine terrain, real estate development, and investments in technology.
Saddleback Mountain in Rangeley has broken ground on the Mid Mountain Lodge. It will be located in Bicknell's thrush habitat and project leaders have collaborated with the Maine Audubon Society to construct the lodge on pedestals for minimal disruption of the watershed and will use a sod roof and glass designed to minimize bird strikes. Other investments being made at the mountain include three new lifts, two new environmentally friendly eco-diesel groomers, nearly $2 million in snowmaking upgrades, a new single-track mountain bike trail and a 7-megawatt solar farm.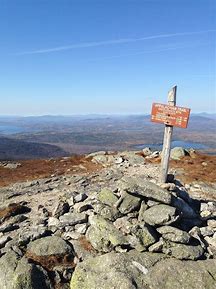 The common nickname of "The Pine Tree State" is known because of the extensive pine forests that have covered the state. The White Pine is considered to be the largest conifer in the northeastern United States and some of the tallest trees in eastern North America grew in Maine. The northeasternmost U.S. state is known for its rocky coastline, maritime history, and nature areas like the granite and spruce islands of Acadia National Park. Moose are plentiful in Baxter State Park, home to Mt. Katahdin, the endpoint of the Appalachian Trail. Lighthouses such as the candy-striped beacon at West Quoddy Head, dot the coast, as do lobster shacks and sandy beaches like Ogunquit and Old Orchard.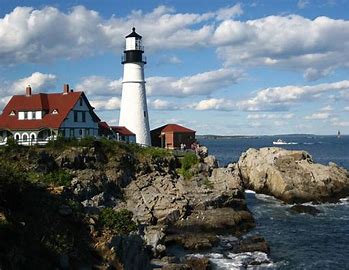 If it's lighthouses you wish to explore, the state of Maine is definitely the place to visit. With 65 historical lighthouses still standing and spread out along 5,000 miles of coastline, inlets, and islands, Maine is also commonly referred to as The Lighthouse State. These lighthouses have acted as beacons of light for sailors for hundreds of years, guiding sailors and fishermen safely in to harbors along the rocky Maine coastline. Today, lighthouses are an important part of Maine's history and are popular tourist attractions. Although many Maine lighthouses are not accessible on land, lighthouse boat tours are an ideal way to see these attractions and get the best photographs.
One of Maine's greatest winter secrets is the handful of smaller, family-run ski mountains that dot the state. Places like Lost Valley in Auburn, Black Mountain in Rumford, and the community-owned Camden Snow Bowl on 1,300-foot Ragged Mountain, which offers skiers dramatic views of the Atlantic Ocean. In Bridgton, Shawnee Peak prides itself on providing families with a nostalgic, fun ski experience. At night, six lifts service 19 trails and three terrain parks can be skied under the lights. Mt. Abram has 10 beginner, 21 intermediate, and 13 expert trails, making it a great mountain for families.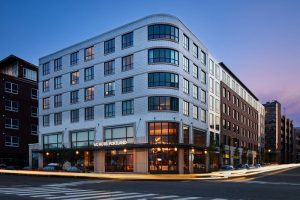 Make it an extended weekend and stay in Portland, at the AC Hotel Portland Downtown/Waterfront. Located at 158 Fore Street, this luxury hotel, across from Ocean Gateway pier II, features a chic minimalist European design. There are 178 guest rooms, a 40-seat restaurant, an outdoor patio, 2,700 sq. ft. of meeting space and a 24-hour fitness center. The AC Lounge has outdoor water-view seating, signature cocktails, and a tapas menu. The property is ideally located two blocks from the shopping and restaurants of the Old Port District and is the only hotel in Portland with unobstructed views of Casco Bay. Visit the AC Hotel Portland Downtown/Waterfront.