Gravel Grinding Mecca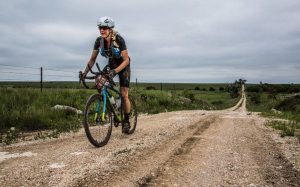 The gravel scene in Kansas is everything you're looking for – a top destination for gravel enthusiasts of all kinds. You'll enjoy the experience and the environment on our abundance of low-traffic gravel roads and scenic rolling hills. Gravel, all-road or mixed terrain. Level routes or challenging hills. Short sight-seeing excursions or exhausting multi-day events. Cyclists find their favorite opportunities here! Popular grassroots races like Unbound Gravel have earned Kansas international gravel-grinding fame. Most of today's well-known Kansas events started as small-scale affairs with low to no entry fees. That welcoming, laid back attitude continues … with great after parties! Events like Gravel Ride for Maisie's Pride in and around Eskridge takes riders through the scenic and challenging Flint Hills – gravel mecca of the Midwest – and offer distance options for every appetite. Or, pedal under summer moonlight with hundreds of fellow gravel enthusiasts in Emporia's annual Lunar Kanza ride. Gravel events are so popular here that almost every weekend you'll find one or more gravel races.
Kansas Waterfalls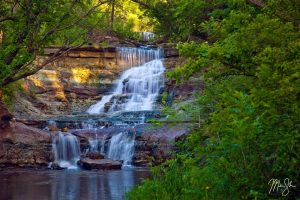 Kansas has waterfalls? Yes, even in Kansas. In fact, with spring rains, there are more than 80 waterfalls in the state. To name a few, Geary Falls is near Junction City with the main viewpoint being from the top of the falls. Prather Creek Falls (Pictured) is also known as Chase Lake Falls located at Chase State Fishing Lake. Next is Santa Fe Lake Falls near Augusta. These falls shouldn't be confused with the waterfall of the same name of Santa Fe Lake Falls that are located in the spillway of Santa Fe Lake in Edgerton, Kansas near Kansas City.
Entertainment
Check out the wide variety of special events taking place year-round – celebrating arts, culture, athletics and more! Need something to do this weekend? Or planning a trip? Kansas has you covered with events and festivals happening every single weekend across the state! Click on the "INFORMATION" tab above.
Cheyenne Bottoms & The Kansas Wetlands Education Center

They say birds are the most accomplished aeronauts the world has ever seen, good thing you can get a front-row view of their wonderous flight right here in Kansas. The south-central region of Kansas is home to the largest marsh in the interior United States, Cheyenne Bottoms. This 41,000-acre wetland provides incredible bird watching views and is considered the most important shorebird migration point in the western hemisphere. Here over the next few weeks, Cheyenne Bottoms will welcome over half a million feathery friends, making it a top bird-watching destination in the world.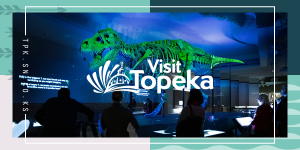 TOPEKA -Dino Days exhibits are open through the end of May! If you haven't already, start planning your trip to Topeka this spring — because dinosaurs are taking over the capital city!  Visit TopekaDinoDays.com to purchase tickets to see the largest T-Rex specimen ever discovered! And get ready for Topeka's other core Dino Days exhibits, launching in the coming weeks. This is an event you won't want to miss!  >VISITTOPEKA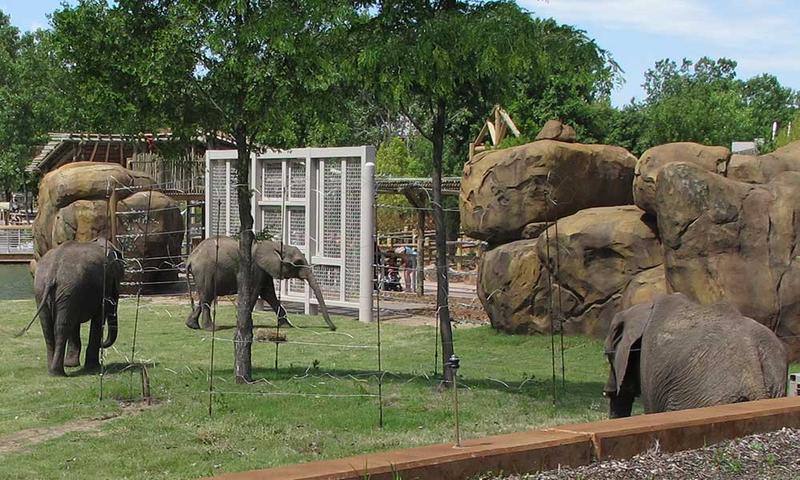 WICHITA – The Sedgwick County Zoo boasts the third largest elephant exhibit in the country with seven Elephants of the Zambezi River Valley as they splash into the nation's largest elephant water pool and roam the sprawling five acres, resembling Africa's lush river valley. The immersive experience takes visitors on boat rides in the same water as the elephants and on walking paths to a viewing pavilion surrounded by elephants on all sides. >MORE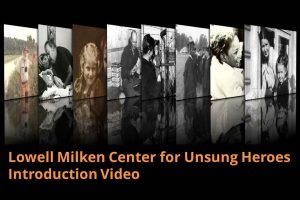 FORT SCOTT –  At the Lowell Milken Center for Unsung Heroes exhibition hall, learn the touching stories of compassionate, everyday people who took extraordinary action to make a difference. The 6,000-square-foot museum, with high-tech, interactive exhibits and a theater, chronicles the heroics of Irena Sendler, a Polish Catholic social worker who saved over 2,500 Jewish children from the Warsaw Ghetto during World War II, Little Rock Central High School senior Kendall Reinhardt who faced bullying and beatings for simple kindnesses to the nine African Americans who integrated his school at the height of the Civil Rights Movement, brave stray Sgt. Stubby, the most decorated war dog in history, and many other unheralded heroes (www.lowellmilkencenter.org).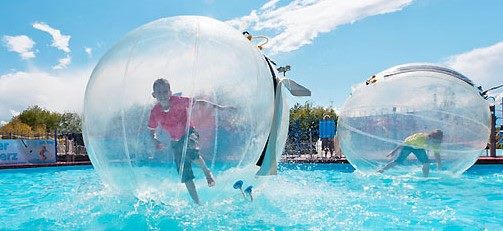 DODGE CITY – A $12-million western-themed water park, named Long Branch Lagoon, is one of the state's biggest aquatic parks makes waves with its Cowboy Creek lazy river, Wrangler Rapids wave pool, Doc's Plunge Boomerango slide, Fort Splash play area, Olympic-sized lap pool, climbing wall and Chuck Wagon concessions. Situated in Wright Park, the Lagoon gets its western look from wagon wheels, covered wagon, saddles, hitching posts, tombstones, cowboy silhouettes, and other rustic relics worked into the landscape (www.lblagoon.com).
Downtown Manhattan: View a 13-screen movie complex, including an immersive 575-seat IMAX theater and five auditoriums offering full dining and beverage options. The Carmike Cinemas complex adjoins the south end of the  Manhattan Town Center shopping mall, replacing the former Sears building (www.manhattantowncenter.com).
Already flying high, Overland Park's attraction, iFLY, gives visitors the thrill and adrenaline rush of skydiving without plunging from an airplane. Opened earlier this year, the indoor skydiving complex outfits customers in equipment they need to fly comfortably, including flight suits, goggles, and helmets. After a brief training session, flyers then get a chance to apply that knowledge to experience the sensation of skydiving in the safety of a three-story wind tunnel (www.iflyworld.com/kansas-city).
Rock Chalk, Jayhawk
After 14 years, the NCAA National Championship trophy came back to Lawrence in 2022. Kansas University basketball is considered one of the most prestigious basketball programs in the nation and boasts #1 in the NCAA Division 1 in overall wins. The first basketball coach was the inventor of the game itself, James Naismith.Lawrence is also home to one of the most vibrant and historic downtowns in the country, Mass Street. From eclectic shops, unique eateries, live music, to an incredible art scene. In fact, Kansas is home to many lively and fun college town with stellar sports programs. You can also get down and rowdy watching the professional soccer team, Sporting KC, The Soccer Capital of America!