By Renée S. Gordon
Abilene, Kansas entered the nation's conscious in a monumental way immediately prior to the Civil War. Timothy and Eliza Hersey settled the city on the Smoky River's north shore, originally known as Mud Creek, in 1858. They named it Abilene, "city of the plains", after a Bible verse. The Butterfield Stage Line established its initial terminus, later a Butterfield Overland Stage Line station, and the couple was employed to provide food for travelers and workers. The station consisted of 2 log houses, a stable and corral. With statehood looming, C. H. Thompson laid out the town in 1860.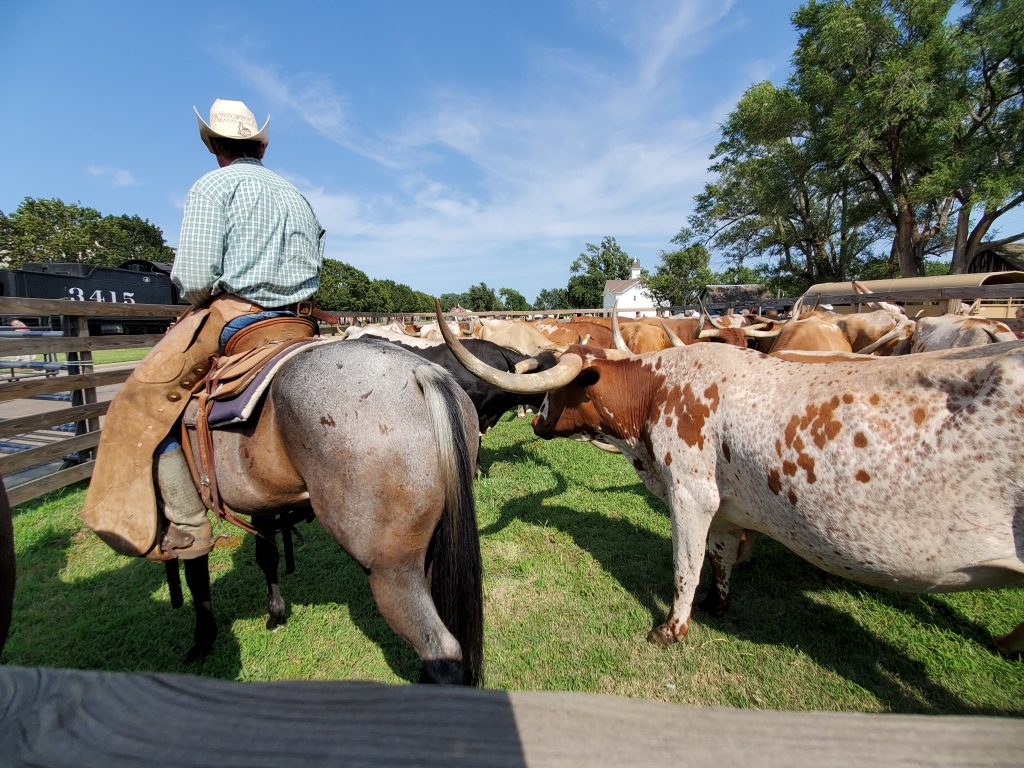 In 1867 the Kansas Pacific Railroad came to Abilene turning the quiet town into the "Queen of the Kansas Cowtowns". Between 1867 and 1872 more than 3 million cattle were driven along the Chisholm Trail from Texas to be shipped to eastern markets at the railhead in Abilene. The Fred Schmidt Railroad Museum inside the 1887 railroad depot allows visitors to explore railroad history and view an original working telegraph and freight room. A 100-year-old steam engine with a 1919 Baldwin steam locomotive offers 2-hour excursions on the 5-mile Smoky Hill River Valley track. The ride has been deemed "One of the Best Steam Trips in the USA". @ASVRRI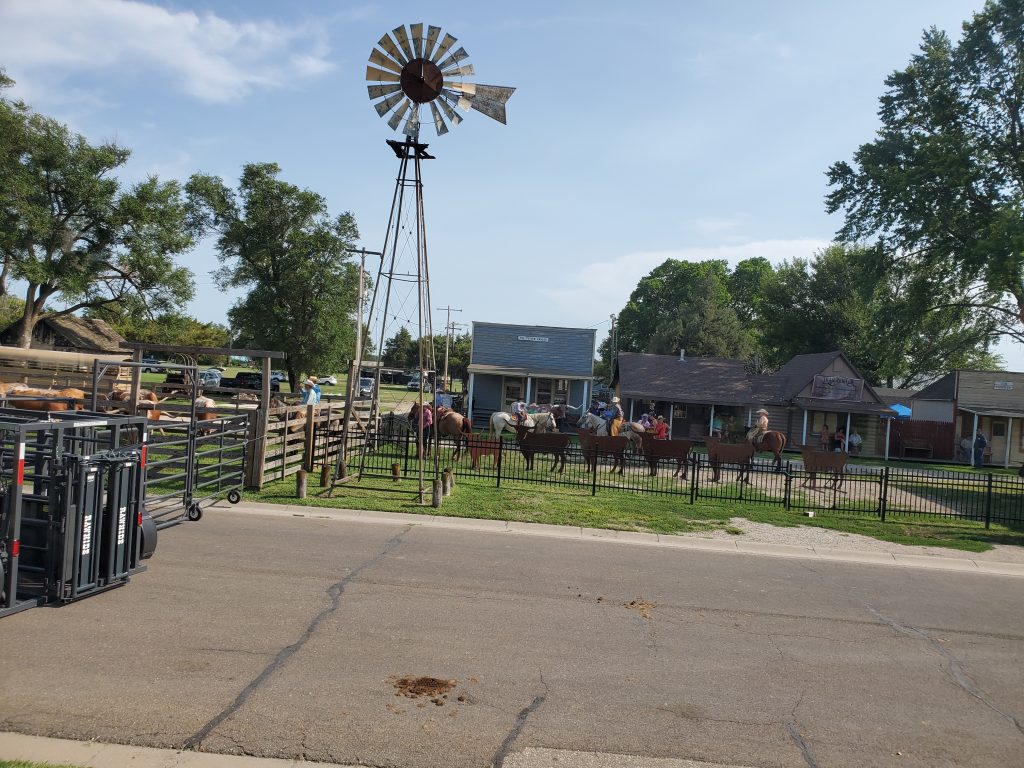 Joseph McCoy erected a stockyard and a hotel and advertised Abilene as the best shipping point for cattle. In the first year nearly 40,000 cows were driven 1500-miles for shipment. Cowboys were hired for $1 a day as drovers and salary was collected at trail's end. The town's exploding prosperity was accompanied by an influx of characters of low reputation. Abilene had a population of approximately 300 citizens and 40 saloons, brothels, dance halls and gambling dens.
Tom "Bear River" Smith was hired as the first marshal. He was a huge man who passed an ordinance that disallowed guns in town and enforced the law with his fists. A rancher killed a neighbor and hid in his home and Smith and his deputy went to arrest him. Smith was wounded, the deputy fled and the rancher decapitated him with an axe.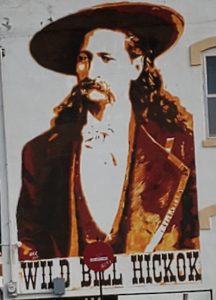 The town then appointed Wild Bill Hickok as marshal specifically for his marksmanship and two-gun shooting skills. Hickok was born in Illinois where his family farm was an Underground Railroad Station. He left home and eventually moved to Kansas where he joined the antislavery movement as a Jayhawker. He served in the Union Army as a scout and sharpshooter and honed his shooting skills.
Hickok's Abilene base was the Alamo Saloon and from there he managed to maintain the peace. In the latter part of 1871 several men decided to kill Hickok. One of them, Phil Coe, shot at the marshal and Hickok killed him where he stood. Seeing someone running up to him in the dark he shot and killed him too. The second man was his good friend and deputy Marshall Mike McWilliams. Hickok never got over the loss and never had another shootout. When he left Abilene he moved to Deadwood where he was shot in the back while holding a deadman's hand, aces and eights.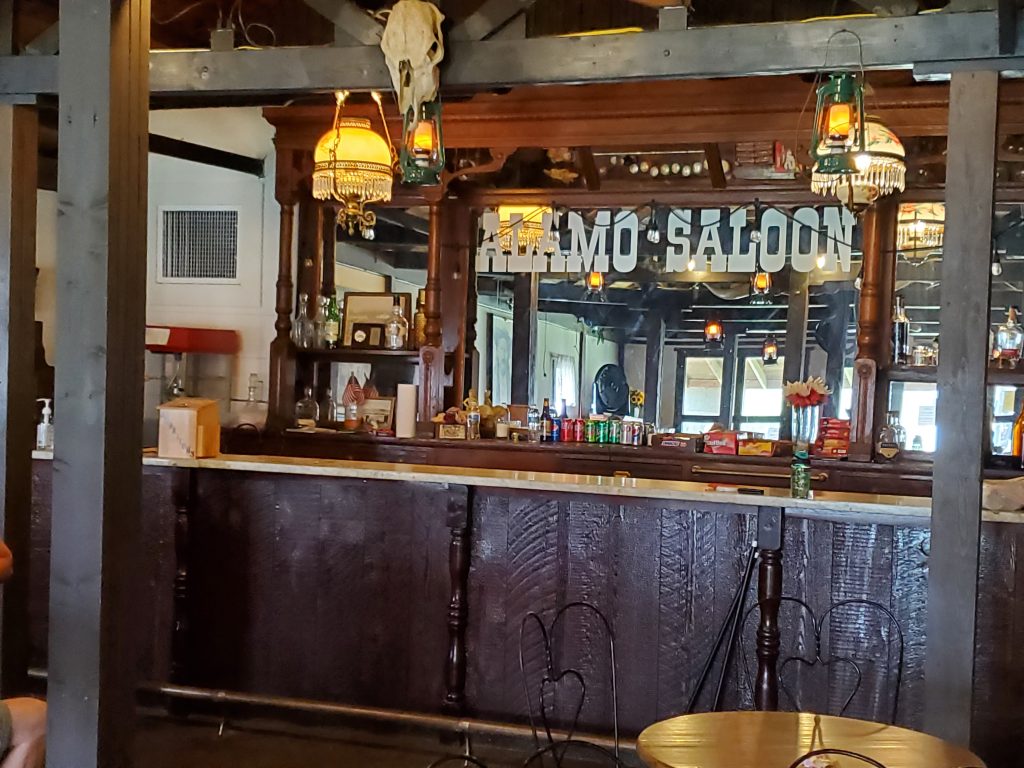 You can have a truly western interactive experience in Old Abilene Town. Stroll the boardwalk, have a sarsaparilla at the Old Alamo Saloon's original bar and saunter around with gunslingers. Daily, in season shootouts, stagecoach rides, entertainment in the Alamo and annual celebratory Chisholm Trail Days are just some of the activities. For cowboy lovers there is a Wild Bill Hickok walking tour.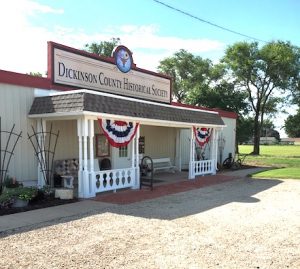 All of Abilene's history comes together in the Dickinson County Heritage Center. The Center consists of the Chisholm Trail Museum and seventeen other heritage buildings including a sawmill, a 1901 CW Parker Carousel and 1905 Acme Telephone Building that evolved into Sprint. Highlights of the artifacts are a replica of Hickok's gun, pioneer cabin cookstove and a genuine buffalo head.
The 1870s Brookville Hotel, originally the Cowtown Café is reopening its restaurant as Legacy Kansas under the ownership of Chuck & Deanna Munson. The menu includes their award winning fried chicken dinners and Munson's Prime steaks and burgers. Their story began in 1969 when Carl Munson emigrated from Sweden and purchased Angus cattle and today the beef continues to be raised on their century old farm. They have been voted "The Best Midwest Beef" by USA TODAY. @munsonprimebrookvillehotel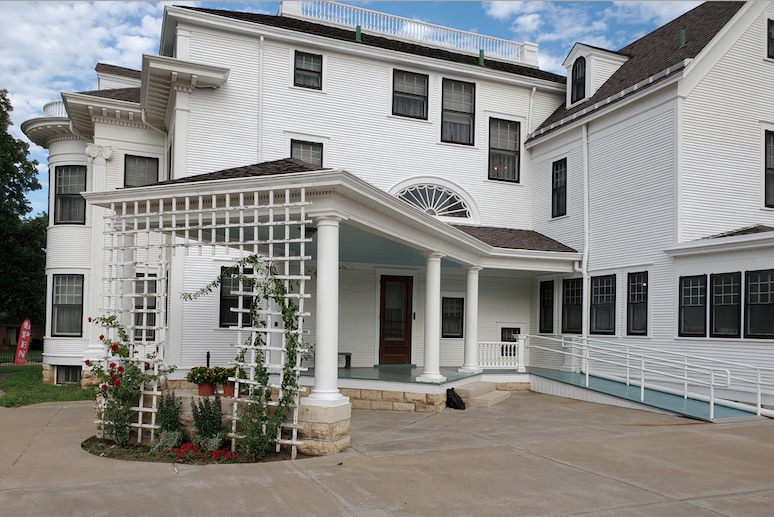 The Georgian Seelye Mansion is an architectural masterpiece constructed in 1904 for Dr. A. B. Seelye whose fortune came from his more than 100 patent medicines. His wife purchased the majority of the furnishings at the 1904 World's Fair for the 11,000 sq. ft. mansion. The 25-room house has 11 bedrooms, a bowling alley, ballroom and original Edison light fixtures. It has been featured on the History Channel. The Seelye Patent Medicine Museum and beautiful gardens are also available for tours.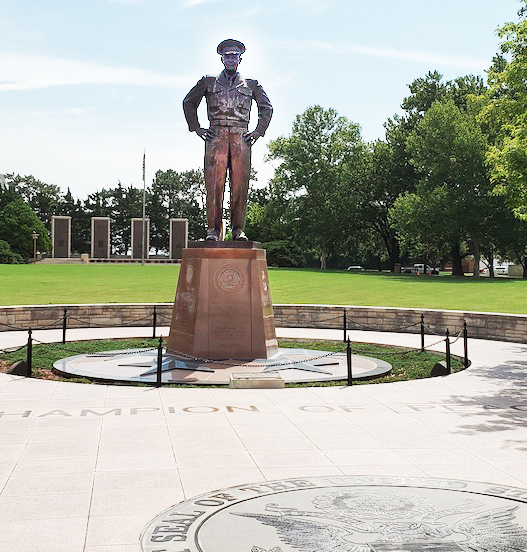 President Dwight D. Eisenhower moved to Abilene from Denison, Texas in 1892. He grew up here and always considered it his home. He, his wife Mamie and his son Doud are interred in the chapel Eisenhower himself designed. The Eisenhower Presidential Library, Museum and Boyhood Home (1898-1946) maintain the legacy of the sole 5-star General to become US President. Visits should begin with the introductory film and proceed to explore the chronological displays. The newly renovated museum is filled with videos, interactive kiosks, dioramas, photographs and memorabilia designed to immerse you in his life and times. An 11-ft. bronze statue of Eisenhower dominates the complex. It is a great place for a picture.
Atlas Obscura lists the totally unique Greyhound Hall of Fame on the "Ultimate List of Wonderfully Specific Museums". Greyhounds were introduced in America from England but trace their lineage back to Ancient Egypt. The museum's exhibits highlight early racing tracks, mechanical rabbits, champion dogs and breeders. The official greeters, two retired greyhounds, are real delights. In the past people would memorize the smallest details of things they saw on trips to prove they had traveled. We take photos and Abilene provides a wealth of opportunities for pictorial souvenirs. The city has several murals, the most notable of which is of Wild Bill Hickok. A Cowboy Art Trail is being created that will display colorfully painted boots as artwork.
Many consider the best place for photos to be in front of Rittel's Western Wear at The World's Largest Spur, according to the Guinness Book of World Records. The spur weighs 2,000-lbs. and is 28 ft. tall.
Abilene was designated one of the top ten "2022 Best Historic Small Towns" by USA TODAY. I promise you will love it too! @visitabilene