Hawaii, a U.S. state, is an isolated volcanic archipelago in the Central Pacific. It is the 50th and most recent state to have joined the U.S., having received statehood on August 21, 1959. Hawaii is the only U.S. state located in Oceania and the only one composed entirely of islands. Its islands are renowned for their rugged landscapes of cliffs, waterfalls, tropical foliage and beaches with gold, red, black and even green sands. Of the six main islands, Oahu has Hawaii's biggest city and capital, Honolulu, home to crescent Waikiki Beach and Pearl Harbor's WWII memorials.
The Festive Islands of Aloha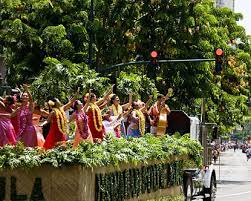 Dive deep into Hawaii's local community and you'll discover a culture alive with paniolo (cowboys), Chinese dragons, ethnic festivals, culinary events and an exotic collection of celebrations. Throughout the year, you'll also encounter parades, street parties, food and craft fairs, concerts and family activities that honor every aspect of Hawaii's diverse culture. In Hawaii, the retention of the local culture and traditions is a priority for the local government and tourism organizations. That's why in 1946 — before Hawaii was even a state — a group of local Jaycees started Aloha Week to showcase the islands' music, food, dance, and culture. It's grown into a monthlong September festival with events ranging from a block party on Waikiki to a floral parade along Kalakaua Avenue to King Kamehameha celebrations on all the islands. It's the best time of year to visit if you want to find out what Hawaii is truly about, beyond the stuff of your tropical vacation fantasies.
Aloha from O'ahu
Explore historic downtown Honolulu with a ride on the Waikiki Trolley. Hop aboard the company's brand-new Heroes and Legends tour to discover and hear stories about the district's historical figures and their groundbreaking accomplishments. www.WaikikiTrolley.com. On the first Friday of each month, Aloha Stadium Swap Meet and Marketplace invites visitors and residents to attend its Taste of Oʻahu night market featuring food and live entertainment. Tickets are $10 for attendees ages 12 and older, $5 for keiki (children) ages six to 11, and entrance for those ages five and under. Tickets can be bought online or at the event. www.MillwoodOhanaProductions.com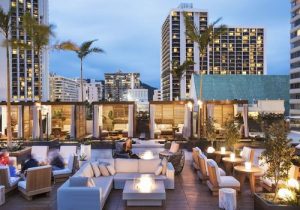 'Alohilani Resort Waikīkī Beach on Oʻahu recently announced that it is on track to become the first carbon neutral hotel in the state of Hawaiʻi. The resort's upcoming carbon neutral certification underscores its existing sustainability initiatives, commitment to plant 100,000 indigenous trees in its legacy forest, and use of renewable electricity throughout the property. In addition, credits for Beach Candy Waikiki are now included in the resort amenity fee to further enhance guests' Hawaiʻi experience while helping preserve the environment and reduce waste. www.AlohilaniResort.com
Prince Waikiki continues to enhance its cultural and sustainable initiatives by working with local artists, businesses and musicians to support the local community. The hotel is home to one of Waikīkī's largest collections of contemporary art by Hawaiian artists, including original paintings by Solomon Enos and sculptures by John Koga and Kaili Chun. Signature pieces in the collection include a breathtaking copper-sculpture ceiling installation by Chun featuring 800 copper pieces spanning the length of the hotel's lobby. The sculpture, Hulali i ka lā — which translates as "glistening in the sun," — has as its design inspiration the heritage of the hotel's location as a historically prominent gathering place. www.PrinceWaikiki.com
The Waikiki Beachcomber by Outrigger recently debuted Gallery Waikiki by Hawaiian Aroma Caffe, an exhibition space for contemporary art, unique retail and artisanal coffee on Kalākaua Avenue. The space spotlights the works of emerging and established artists. www.Outrigger.com
Festivities
Events that feature local foods and agricultural products attract both locals and visitors. The Hawaii Food and Wine Festival on the islands of Hawaii, Maui and Oahu (October) and the Kapalua Wine & Food Festival (June) on Maui are long-running culinary events, hosting world-class chefs, winemakers and master sommeliers for thousands of wine and food lovers. The Island of Hawaii's Annual Kona Coffee Cultural Festival(November) celebrates all things coffee and includes nearly 50 events over 10 days. Kauai. Chocolate & Coffee Festival (October) highlights al things cacao and coffee industries of Kauai.
Dining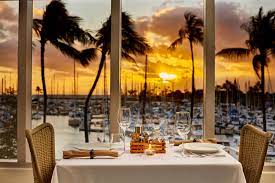 100 Sails Restaurant and Bar
● Guests at 100 Sails Restaurant and Bar, Prince Waikiki's signature restaurant, experience farm-to-table meals featuring ingredients sourced from local fishermen and farmers, as well as the hotel's own rooftop aquaponics garden. The garden's state-of-the-art closed-loop agricultural system produces crisp lettuces, herbs and more in support of the hotel's mission of using local and high-quality ingredients whenever possible to offer restaurant guests the freshest dining experience possible. www.100Sails.com
1938 Indochine
● Rm. 38. is a new hidden speakeasy located on the second floor of 1938 Indochine restaurant. Its resident whiskey expert, Jake Lee, will be hosting a unique whiskey tasting, valued at $150 person, for three couples, featuring a curated whiskey flight paired with select dishes from the 1938 Indochine menu. www.AOKIGroup.com.
Aoki Teppanyaki
● Aoki Teppanyaki, at the Hilton Hawaiian Village Waikiki Beach Resort, is serving three refreshing new libations. The Hibiscus Mojito is a hibiscus tea-infused rose-strawberry vodka. The Li Hing Mui Ginger is a Hawai'i-inspired cocktail featuring ʻōkolehao (Hawaiian liquor made from mashed ti roots), ginger liqueur and li hing mui syrup. And the Peach Mimosa blends Duckhorn wine with peach puree and peach vodka. Each cocktail is priced at $14. www.AOKIGroup.com.