ENJOY OUTDOOR ADVENTURES AND URBAN PLEASURES IN THE HEART OF HAWAII
Surrounded by lush mountain ranges, endless ocean views and rooted in tradition, Oahu offers a unique cultural style and a variety of activities for both locals and visitors to partake in. Each region of the island has its own personality and makeup, some similar though none exactly alike. From surfing the waves on the North Shore, discovering the street murals in Kakaako, to fine-dining in Waikiki, Oahu is the perfect playground for travelers who want to experience the best of both worlds: town and country.
Honolulu
If Oahu is the heart of Hawaii, then Honolulu is its racing pulse. In this cosmopolitan capital city, you'll find everything from historic landmarks to fine dining to world-class shopping. Home to the majority of Oahu's population, Honolulu stretches across the southeastern shores of the island, from Pearl Harbor to Makapuu Point, encompassing world-famous Waikiki Beach along the way.
Ala Moana Center, the world's largest open-air shopping center with 2.4 million square feet of retail space, is home to more than 350 stores, including 160-plus dining options. Ala Moana Center is anchored by Bloomingdale's, Macy's, Neiman Marcus, Nordstrom, and Target and receives 53 million shopping visitors each year, making it one of Hawaii's most frequented destinations by visitors and island residents. alamoanacenter.com
Moniz Family Surf is a family-run surfing program on Waikiki Beach, across the street from the historic Duke Statue. They offer group and private lessons for all ages. Surfers can expect an introduction on the beach of the basic technique and etiquette as well as a personal instructor to ensure the safety and success of each surfer. monizfamilysurf.com
The area known as Kakaako continues its evolution as an incubator for a variety of artists, chefs, influencers and entrepreneurs that embody Honolulu's urban island culture. A great example of this is seen in SALT at Our Kakaako—an existing structure that was adapted and redesigned as a mixed-use space, which includes retail and restaurants, and acts as a canvas for many exciting events, fashion shows and art exhibits. Kakaako is also home to POW! WOW!, a week-long event in Hawaii that has grown into a global network of artists and organized gallery shows, lecture series, schools for art and music, mural projects; a large artist collective named Lana Lane Studios; outdoor concerts, and live art installations across the globe. powwowhawaii.com
North Shore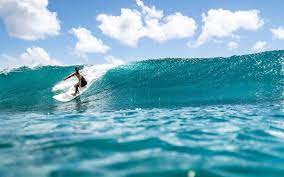 If the perfect wave exists, you'll find it on Oahu's North Shore. The towering, glassy winter waves of this legendary surf mecca draw the best surfers in the world, while smaller and gentler summer waves are better for beginners. Stretching for more than 7 miles, the beaches of the North Shore host the world's premier surfing competitions during the peak winter months, including the biggest of them all, the Vans Triple Crown of Surfing (December-January). Waimea Bay, Ehukai Beach (Banzai Pipeline) and Sunset Beach are great places to sunbathe and stroll along the shore—just leave surfing the huge waves to the pros because they can be very dangerous for inexperienced surfers.
Charming Haleiwa Town is about a one-hour drive from Waikiki. More than the laid-back surf town it seems, Haleiwa is filled with local style and country ambiance, as well as cool surf shops and boutiques, charming art galleries and understated restaurants housed in plantation-era buildings.
North Shore Eco Tours promotes environmental appreciation and sustainability among the local communities and tourism industry. Their mission is to preserve the cultural integrity of Oahu's natural resources by creating fun and engaging educational tours for guests. Sharing the knowledge of our historical cultural identity with others and promoting healthy living helps to ensure Oahu's beautiful and exotic features. northshoreecotours.com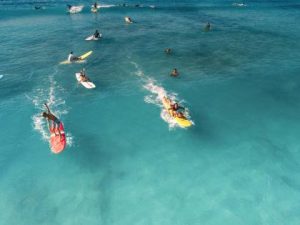 One Ocean Diving is a research and conservation organization that aims to educate on how to preserve the ocean and its unique marine life. They offer snorkeling with sharks on the North Shore of Oahu and research opportunities to learn about the biology, physiology and behavior of sharks. oneoceandiving.com
Waimea Bay Beach Park is famous for its 30-foot waves in the winter and is a top place to watch some of the world's best and bravest surfers. During summer, the water calms considerably and is a great destination for swimming, snorkeling and diving.
Waimea Valley preserves the historical culture of Oahu. Serving as an ahupuaa (land division), the land was used to protect each community within the area and make sure the resources needed to survive were provided. These resources included medicine, food, and access to the ocean. Today, visitors can hike and learn about the conservation and influence of Waimea Valley. waimeavalley.net/
Windward Coast
As you drive over the sloping Pali Highway, skyscrapers and the sprawling city of Honolulu give way to lush valleys and country landscapes. Exiting the tunnels east of the Koolau Mountain Range, it feels as if you're entering a different world and a turquoise ocean shimmers in the distance. A trip to the Windward Coast reveals a slower-paced side of Oahu, and some of the most stunning natural beauty anywhere in Hawaii.
Deep in a lush valley along the 2,000-foot Koolau Range lies the Valley of the Temples. The resting place for many of Hawaii's departed, Valley of the Temples' hilly landscape is scattered with hundreds of freshly placed tropical flowers, like torch ginger and bird of paradise, to remember loved ones. The main attraction in the Valley of the Temples is a Japanese temple called Byodo-in, which translates to the "Temple of Equality." A scale replica of a temple in Uji Japan and made entirely without nails, Byodo-in was dedicated in 1968 as a centennial commemoration of the first Japanese immigrants in Hawaii. byodo-in.com
Strolling or driving through these lush 400 acres in windward Oahu, visitors will find that Hoomaluhia Botanical Garden is rightfully named "a peaceful refuge." Opened in 1982, this garden in Kaneʻohe features plantings from major tropical regions around the world grouped geographically. Geographical regions represented by these botanical collections include: Hawaii, Polynesia, Malaysia, Africa and Southeast Asia. honolulu.gov/parks/
Kualoa Private Nature Reserve has entertained visitors and locals on the island of Oahu since the 1970's. Known for its picturesque, movie-like scenery, Kualoa offers diverse options for activities including ziplining, electric mountain bike tours, ocean voyages, Secret Island beach activities, horseback riding and more. www.kualoa.com
Travel2change is a non-profit promoting activities for tourists and residents that benefit local communities and the environment. Travelers are able to explore Hawaii while giving back by participating in beach cleanups, volunteering at sustainable farms, and more. Travel2change.org
Central
The fertile central valley between the Waianae Mountains and Koolau range offers a peek back to Oahu's history. Agriculture on the island was booming in the late 19th century, attracting immigrants from around the world to work on plantations. On your way from Honolulu to the North Shore, you'll pass the Leilehua Plateau in Wahiawa and see sprawling fields of pineapples. The most important landmark in Central Oahu sits to the south in historic Pearl Harbor, the largest natural harbor in Hawaii.
Originally operated as a fruit stand beginning in 1950, Dole Plantation opened to the public as Hawaii's "Pineapple Experience" in 1989. Today, Dole Plantation is one of Oahu's most popular visitor attractions and welcomes more than one million visitors a year. It provides enjoyable activities for the entire family, including the Pineapple Express Train Tour, the Plantation Garden Tour, and the Pineapple Garden Maze. doleplantation.com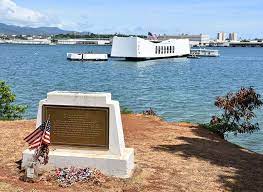 Pearl Harbor is one of the most historic locations in the United States and offers four very distinct destinations: the USS Arizona Memorial, Battleship Missouri Memorial, USS Bowfin Submarine Museum and Park, and the Pearl Harbor Aviation Museum. Each as compelling as the next and none that visitors will want to miss! This still-active naval base is known for the 1941 attack by Japan that brought the U.S. into WWII. In 2020, the 75th anniversary of the Japanese surrender aboard the Battleship Missouri marking the end of WWII took place. pacifichistoricparks.org
Leeward Coast
The sunny and dry Leeward Coast of Oahu lies at the foot of the Waianae mountain range just 30 miles from Waikiki, but the contrast between the regions is striking. Where Waikiki offers urban hustle and bustle, the Leeward side of Oahu is less developed, with picturesque towns, beautiful off-the-beaten-path beaches and rural landscapes to explore.
Serving as the premier gathering place for the community, Ka Makana Alii addresses the shopping and dining demands of West Oahu. Its convenient location offers excellent highway access, ample parking and public transportation for shoppers. Phase one of the 1.4 million-square-foot regional mall features more than 100 exciting stores, restaurants, a state-of-the-art Consolidated Theatres and the state's first Hampton Inn & Suites on property, making Ka Makana Alii the perfect place to shop, dine, play and stay in West Oahu. kamakanaalii.com
Paradise Helicopter Hawaii is Hawaii's largest locally owned and operated helicopter tour company. Tours take guests soaring over the beautiful marine life of Hawaii's oceans, or next to powerful waterfalls. With some of the best helicopters on island, and an exceptional team of pilots, visitors are in for an experience of a lifetime. paradisecopters.com
Wild Side Specialty Tours explores the marine life that surrounds the island of Oahu. To ensure and continue environmental protection, Wild Side promotes sustainable travel. Snorkeling and exploration adventures are offered throughout the day to discover various marine life in their natural habitat such as dolphins, sea turtles, tropical fish and coral reefs. A portion of the fees are donated to the Wild Dolphin Foundation to continue marine conservation and education. Visitors can enjoy a beautiful day on the island surrounded by marine wild life and participate in the sustainable movement promoted by the tour. www.sailhawaii.com