45th Annual Prince Lot Hula Festival:
July 16
The 45th annual Prince Lot Hula Festival, named in memory of the Kingdom of Hawai'i monarch who ruled as King Kamehameha V from 1863 to 1872, honors his contributions to Hawaiian culture. This year's virtual event will bring together native Hawaiian hula practitioners, craftsmen and educators from across Hawai'i to share their manaʻo (knowledge) and hula. www.MoanaluaGardensFoundation.org
52nd Annual ʻUkulele Festival Hawaiʻi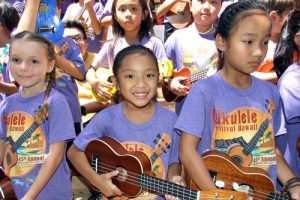 July 17/ OAHU – At this largest annual gathering of ʻukulele players in the world, top musicians, casual players and beginners are invited to share and celebrate their love of the globally famous instrument. Hosted virtually this year, the planned five-hour event will include workshops, concert showcases and conversations with performing 'ukulele masters and players. Ukulele virtuosos, internationally known musicians, local celebrities donate their time and talented ukulele players from around the world and a ukulele orchestra of over 800 students, mostly children will take the stage and delight the crowd with laughter, love and hope.
www.UkuleleFestivalHawaii.org
Korean Festival:
August/This year's 18th annual Korean Festival celebration is poised to share, promote and celebrated the Korean culture and its community in Hawai'i. Residents and visitors are invited to experience and enjoy the culture's cuisine, art, dance, music, crafts, entertainment and more. www.KoreanFestHawaii.com.
Duke's OceanFest:
August 20-28/WAIKIKI – After canceling its slate of 2020 and 2021 events due to the COVID-19 pandemic, Duke's OceanFest returns to Waikīkī Beach this summer for ocean competitions honoring legendary Hawai'i waterman, Olympian and festival namesake Duke Kahanamoku. The weeklong festival will feature a diversity of exciting water sports competitions including longboard surfing, surf polo, swimming, standup paddling and other skills. OceanFest activities culminate with a lei draping ceremony of Waikīkī's Duke Kahanamoku statue on the anniversary of Kahanamoku's birthday. www.DukesOceanfest.com