Located in West-Central, Georgia, conveniently near I-75, just three hours south of Atlanta and two hours north of I-10, Americus and Sumter County is the perfect stop while in route to Florida, Atlanta or a vacation that stands all on its own. Walk the streets of the vibrant downtown, catch a musical at the Rylander Theatre and take in both fine and funky works of art. In Americus and Sumter County, be reminded of the rich past while exploring the colorful present.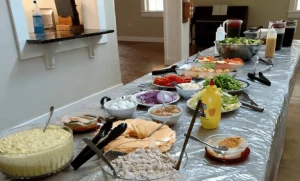 A welcome surprise to visitors who may not know about the area's ties to the White House, surrounding Sumter County is also known for its homegrown products, specifically green beans and peanuts. Take a tour of and have lunch at Koinonia Farm, the birthplace of Habitat for Humanity. For coffee drinks, light breakfast, good company and coffee by the pound, head to Café Campesino, Georgia's first and only 100% fair trade, organic coffee company, also with ties to Habitat for Humanity. One of only three counties in the United States with two national historic sites, explore the area's Andersonville National Historic Site, the largest and most famous of 150 military prisons of the Civil War. Make time to visit Jimmy Carter National Historic Site, which pays homage to the nation's 39th President.
Rylander Theatre 100th Anniversary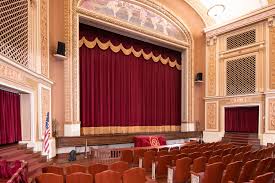 In January 2021, the iconic Rylander Theatre celebrated its 100th year. Before witnessing one of the many show-stopping performances on stage, be swept away by the grand art deco décor. Feast eyes on the ornate plaster-work, gorgeous stencil patterns and painted murals all around the theatre. The Rylander closed its doors for more than 40 years, but then had a $4.8 million renovation in the 90s and began entertaining the crowds once again while keeping its original opulence intact. With a seating capacity of 621, the Rylander Theatre offers live performances, organ concerts on the 1928 Moller Theatre Pipe Organ (one of only three in the entire state), movies and numerous special events. The theatre has its own troupe and also hosts concerts and plays throughout the year.
Visual arts
Did you know Americus is the #1 place in the world for glass blowing? Glassblowing is a technique that involves inflating molten glass into a bubble through a blowpipe, while a second person manipulates the forming glass with a torch. What results are visually stunning and brightly colored works of glass art. Take in a demo or immersion class focused on the mystifying art at Mobile Glassblowing Studios. The studio also has a gallery of eye-popping works and hosts events and workshops.
The Americus Center for the Arts gallery is run by the Americus-Sumter County Arts Council, which creates cultural opportunities for the community through the visual, literary and performing arts. The gallery features the work of local, and young, artists. Between watercolors, pottery, abstracts, and more, there's something to delight around every corner.
Speaking of local artwork, it comes to life during First Friday! Every first Friday of the month, explore Americus by foot or trolley and check out various visual art pieces, musical performances, live art demonstrations, food samples, and discounts to some locally owned favorite shops.
Windsor Hotel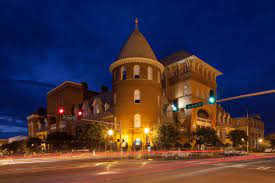 Skip Atlanta's big chain hotels and rest inside a work of art. The historic castle-like Windsor Hotel was built in 1892 and is an architectural stunner. This Victorian-Moorish masterpiece has 53-rooms, stands five stories, and is complete with tower and turret, balconies, as well as a three-story, open atrium lobby. No two rooms are alike, from the circular Bridal Suite with private staircase and demi-canopied King bed, to the well-appointed Chamber Rooms. The hotel closed its doors in 1972 after almost 80 years in operation. In 1991, the hotel re-opened after a $6.5 million renovation—and its restored grandeur shines through. Before turning in, have an elegant dinner at Rosemary & Thyme or a drink and appetizer at Floyd's.
Choose the road less traveled and indulge in the historic, yet very much alive, works of art that make up Americus and Sumter County, Georgia.
For more information on any of these events, contact the Americus Visitor Center at 229-928-6059 or www.VisitAmericusGA.com.