By Renée S. Gordon
History & Travel Writer
"For we born of were change."
                                                          –  Barack Obama
In order to better understand the city's diversity visitors should seek out museums, restaurants and sites where we can learn about heritage and remember, these experiences are only in Jacksonville. I highly recommend that you begin with an overview guided tour, Explore Jax Core, with Yolanda Copeland. The basic, open-air cart tour, is 90-minutes long. Tours can be tailored to the individual or group. ExploreJaxCore.com
Formerly a plantation, the LaVilla neighborhood was established shortly after the Civil War and became known as "The Harlem of the South," a thriving entertainment district. The land was originally part of a Spanish land grant and after the Civil War, it was leased for 99 years to 43 African
American Men.
The Ritz Museum preserves African-American heritage through examining the great Floridians. Highlights of the galleries are Bob Hayes shoes, Hayes is the only man to have won both an Olympic Medal and a Super Bowl Ring, and an homage to Augusta Savage the sculptress of the 15-foot "The Harp" sculpture. There is also a stunning animatronic presentation on the writing of "Lift Every Voice and Sing" by James Weldon and Rosamond Johnson. James, a
Jacksonville native, penned the lyrics and was a lawyer, author, Venezuelan consul and principal. @ritzjax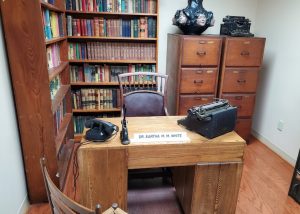 Dr. Eartha White lived a legendary life and her accomplishments are displayed in the Eartha White Historical Museum. She established the Clara White Mission, named in honor of her mother, in 1904. The soup kitchen grew
into a tubercular hospital, senior center, rehab facility, employment center and veteran housing. She spent her earnings in humanitarian causes. Guided tours include her dining room, bedroom, guestroom and office in which Zora Neale Hurston filed reports. It continues to function. @clarawhitemission
Herban Bee and White Harvest Farms were created to foster sustainable farming, entrepreneurship and urban opportunity. The Herban Bee produces artisanal and herbal honey, soaps and candles. @theherbanbee  @whitehousefarms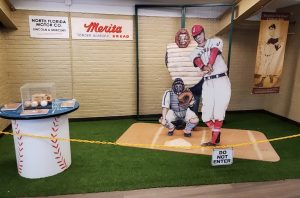 The Norman Studios Silent Film Museum, a National Historic Landmark, is the sole complete complex in the country. The museum protects and preserves the
stories of the silent film industry and the earliest history of African
Americans in film. Richard E. Norman's home and five-structure studio have been preserved. Norman, who was white, began producing positive "race films," in response to the denigrating images in "Birth of a Nation." Tours feature the Production and Film Processing Buildings, Generator Shed, Wardrobe Cottage, Prop Storage Garage, and Set Building. The studio, then Eagle Studios, was founded in 1916. Normanstudios.com
Durkeeville was established during 1930's segregation. It was the site of the first US WPA projects in 1936. Barrs Field, later Durkee Field was built in 1912 and became home of the Negro League and smaller teams. Hank Aaron, "Cool Papa" Bell, Roy Campanella, Lou Gehrig, Josh Gibson, Bob Hayes, "Judy" Johnson, Buck O'Neil and Leroy "Satchel" Paige and Babe Ruth are displayed in the museum adjacent to the now J. P. Small Memorial Park. They all left a mark here on their march into baseball history. @durkeevillehistory
The largest fine arts museum in NE Florida, Cummer Museum of Art & Gardens, was founded in 1961. The museum's permanent collection dates from 2100 BCE and showcases American and European artworks and Meissen porcelain and the three Cummer Gardens are listed on the National Register of Historic Places. The museum's Juliette's Bistro provides creative dishes. @CummerMuseum
SurfearNEGRA was founded by Gigi Lucas to infuse sport surfing with gender and cultural diversity. Her mentorship has been responsible for more than 100 girls being sent to surf camp annually. @surfearnegra
Within The Jessie Ball duPont Center is "The Jessie," The Corner Gallery. The gallery is dedicated to promoting art and advocating for a diverse community. On the exterior of the building is a series of awe-inspiring, mosaic murals, of Jacksonville residents whose impact was national. They include Zora Neale and Johnnetta Cole.
Jacksonville has more than 100 international restaurants and 22 craft breweries. You can experience diversity through dining. Here are a few I personally recommend: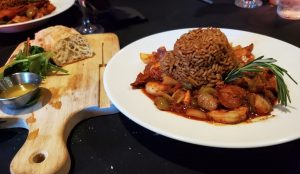 Estrella Cocina offers Baja Mexican Cuisine with a curated menu of food and drink. The restaurant, bar, and lounge feature a vibrant dining and nightlife experience. This *LGBTQ+ owned business' Chef Dwayne Beliakoff
ensures great rooftop views and a party every night. @EstrellaCocina
Indochine, Folio Magazine's "Best Thai Restaurant" six consecutive years, Times Union Bold City Best Thai two consecutive years, and Top 50 for Jacksonville restaurants, is a definite must. Their Thai & Southeast Asian dishes offer huge portions with wonderful ambiance for great dining.  The name to know for Thai & Southeast Asian Fare in Jacksonville
@indochinejax
Silkie's Chicken and Champagne Bar is unique dining experience created by Chef Kenny & Anna Gilbert. The signature dish is Chef Kenny's fried chicken, biscuits and champagne cocktails. Attempt duplication with Chef Kenny's Southern Cooking, Global Flavors, cookbook. @silkiesjax
Breezy's Jazz House is an upscale restaurant featuring fine dining, and
smooth music. breezyjazzhouse.com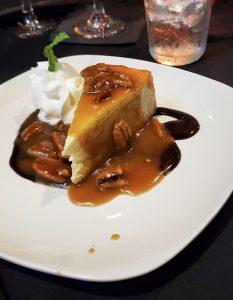 Jenkins Quality BBQ was designated best BBQ restaurant in Florida by Southern Living Magazine. The family-owned business was founded in 1957. BBQ
is cooked daily with a mustard-based sauce. There are three locations in the city. @jenkinsBBQ
The Avenue Grill serves traditional southern cuisine in a casual setting. You can order anything here and be delighted. Located on the side of the
building is the "Locals and Legends" mural commemorating such individuals as
Bob Hayes and A. Phillip Randolph.
For those seeking centrally located accommodations the Marriott Jacksonville Downtown Hotel is an excellent choice. Rooms are furnished with a Keurig® coffee machine, free WiFi, designer amenities and provide astonishing views.
marriott.com/Jacksonville.com
Rediscover true American culture with sites found only in Jacksonville.
#onlyinjax