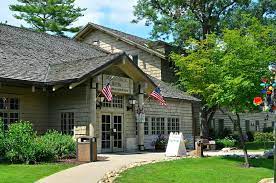 Starved Rock Lodge, located in Oglesby, IL, at the "crossroads of the Midwest" is just a few minutes from the intersection of Interstate 80 and 39. Depending on your arrival time, whether it's a family getaway, corporate retreat, or dream wedding, Starved Rock Lodge is set in the middle of glacier-cut canyons, seasonal waterfalls and amazing bluff views. The Lodge was masterfully built by the Civilian Conservation Corps in the 1930's. Check in time is guaranteed 4 p.m.
The Veranda offers an amazing, panoramic view of the scenic Illinois River Valley. Locally-made craft beer is on tap from Tangled Roots Brewery or try Starved Rock Signature Ale. The Grill Menu includes salads, grilled brats, burgers and more. There's even a "Doggie Delights" Menu for your furry friends who are welcome in dedicated sections of the Veranda. If you'd rather cool off inside, the Back Door Lounge and Main Dining Room serve lunch and dinner daily. Live music runs every Friday night from 8-11 p.m. on the Veranda. Sunsets are photo-worthy. The atmosphere is laid-back and relaxing. The Café is the place to go for delicious fudge and Artisan Ice Cream made at the Lodge.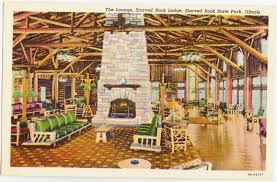 The Great Hall is the hub of this architectural masterpiece which features the largest two-sided fireplace in the Midwest, a restaurant, a bar with outdoor dining, a Café, pool, 69 hotel rooms and 21 cabin rooms. Over two million visitors per year come to see Starved Rock State Park (a National Historic Landmark) but only a few of them know about the hidden gem at the top of the hill. Starved Rock Lodge has comfy rooms and cabins in the woods. There's a Café just off the Lobby that has delicious house-made fudge, and ice cream as well as breakfast, lunch, snacks, Illinois-made wine and more.
The Lodge Gift Shop has a wide selection of gifts and souvenirs from books, jewelry and beach cover-ups to Starved Rock hats, t-shirts and coffee mugs. Trailheads Concessions is located in the Starved Rock Visitor Center. This is the perfect place to begin your exploration of Starved Rock. Docents and staff will help you find your way around the park. Park rules, events, activities, and downloadable maps are available on the lodge website. Overnight packages are also outlined on the Lodge's website. Priority parking is included with every room booking. WiFi is free.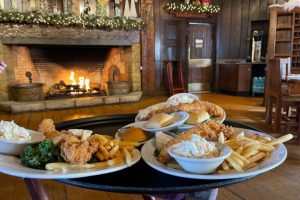 Dining is abundant at Starved Rock Lodge. Enjoy appetizers, cocktails, lunch and dinner in the Back Door Lounge. The Cafe is open daily and Trailheads Concessions is open 10 a.m. to 4 p.m. in the Visitor's Center. The Main Dining Room at the lodge offers weekly specials. Prime Rib is offered on Saturday nights. Reservations are now  being accepted for the popular Thanksgiving Day Buffet. Call 815-220-7386 to reserve your seat at the table.