This great state can be showcased as the intersection of art and architecture, food and outdoor adventure—with four seasons' worth of attractions to blend in the mix. From rustic lodges and unique museums to outdoor adventures in each glorious state park, Illinois has something to offer for all types of travelers. discover skiing destinations like Chestnut Mountain Resort in Galena, hot spots for bald eagle sightings in Alton and brisk cross-country trails in places like Waterfall Glen Forest Preserve in DuPage County. It's just never too early to start planning your next extended weekend getaway of 2023.
Come hungry because there are some really great restaurants in Aurora to try out during an evening on the town. Favorite options are dinner and a show with tickets to see award-winning Broadway at Aurora's Paramount Theatre, a concert at The Venue, or a night of stand-up at the Comedy Vault  Make reservations for Upscale tapas with Latin-fusion flair located just across the street from Paramount Theatre at the ground floor of iconic Leland Tower. Or try a cozy, upbeat luxe-casual seasonal dish at the STOLP ISLAND SOCIAL, a kitchen and steakhouse located next door to Paramount Theatre. Enjoy the traditional fare of the Emerald Isle in a modern nod to the Irish pub with live entertainment on weekends at the Ballydoyle Irish Pub.
Illinois is the state where Abraham Lincoln began his political career. The "Land of Lincoln" is the Official State Slogan of Illinois, designated in 1955. In the same year, the U.S. Congress granted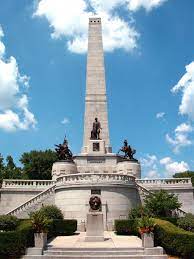 Illinois special copyright for exclusive use of the "Land of Lincoln" insignia. Though Lincoln was born in Kentucky and lived in Indiana before moving to Illinois, it was in Illinois where young Abraham Lincoln began his political career with an unsuccessful run for the Illinois General Assembly in 1832. Lincoln eventually was elected to four terms in the Illinois General Assembly and served from 1834-1841. Illinois was also where Lincoln lived when he became President of the United States in 1861.
Four U.S. presidents were either born in Illinois or spent a significant portion of their lives here: Besides Abraham Lincoln, Ulysses S. Grant, Ronald Reagan, and Barack Obama have great connections to the state. Take a journey through Lincoln's early life and his presidency at the Abraham Lincoln Presidential Library and Museum in Springfield. Here, there are special effect theaters, interactive exhibits and one-of-a-kind artifacts that will leave even the faintest museum fan amazed. There's the recreated 1830s log cabin village at Lincoln's New Salem State Historic Site. Visit the Old State Capitol, where Lincoln tried cases before the court, served in the Illinois Legislature and ran his presidential campaign. >MORE
Experience Chicago's big-city urban flair and an eclectic mix of destinations in northern Illinois. Explore the Magnificent Mile's shopping mecca, take in the festive atmosphere of Navy Pier. Navy Pier is now open and has rebooted its iconic weekly fireworks shows. Navy Pier is where you go in Chicago for events, free public programs, attractions, culture, dining, shopping, and more.  Do some serious museum hopping and sample cuisine from around the world.  It's where fun lives large, whether you're a visitor or local, with family or friends.
>MORE
From famous architecture to Route 66 and unique Illinois history, there are so many reasons to visit Illinois. The Mother Road symbolically begins at Chicago's Buckingham Fountain and continues for 300 miles southwest through the state. Meet fellow road trippers at the Joliet Area Historical Museum's Route 66 Welcome Center. The Illinois stretch of Route 66 boasts the highest density of kitschy attractions on the Mother Road, from murals and diners to classic cars and remarkable history.
The hiking paths in Mississippi Palisades State Park—especially the southern trails—contain a rich Native American history dating back nearly 1,000 years. Located where the Mississippi and Apple Rivers merge in northwestern Illinois, the park's 15 miles of hiking trails take you past some unique rock formations with names like Twin Sisters and Indianhead. You also can rock climb (at your own risk), hunt, and fish.