Not your typical health and wellness resort, this fun, award-winning boutique hotel offers outstanding opportunities to connect with nature, your creativity, and reconnect with one another. Guests are nurtured along with the staff and the farm and gardens. Pet-friendly and family-friendly, The Stanford Inn specializes in romantic getaways
"A stay at this cozy-chic hideaway on California's rugged northern coast is a vegan rite of passage."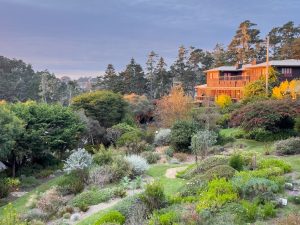 From the cuisine served in the restaurant to the recycling and composting program, the environmentally-friendly cleaning products and the bio-diesel-fueled trucks make The Stanford Inn and Resort a genuinely sustainable destination.
Every room, suite, and cottage, paneled in pine and redwood, includes a delicious chef-prepared breakfast. All accommodations have wood-burning fireplaces ready to start at the stroke of a match, luxurious robes, and an ocean or farm view from a private deck.
The bright solarium offers respite with a large indoor swimming pool, a hot tub, and a sauna. Green and flowering plants inside make the building a welcome sanctuary for relaxation. The pool also has a device for disabled guests to access the water.
Dining:
More than 90% of The Stanford Inn's guests are not vegan. That's exciting because the meals are a great introduction to the variety of dishes offered in a vegan lifestyle.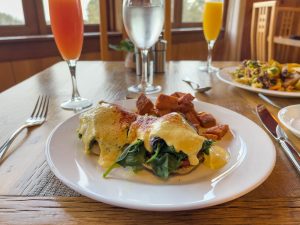 The Ravens Restaurant, named after the big, black birds that collect near the garden, is one of North America's most acclaimed vegan restaurants. Many of the farm-to-table ingredients come directly from their on-site certified organic gardens. The menus are healthy, anti-inflammatory, ethical, and environmentally sustainable.
Classes Available
During your stay, you can participate in cooking  and/or art. The cooking class is a hands-on experience to educate guests about how easy and delicious it is to eat a plant-based diet. Art classes encourage self-expression through drawing, painting or collage. Supplies are included.
Yoga and Pilates classes are offered in the main building, where you will also find a fully outfitted gym boasting the latest fitness equipment.
Other Amenities
• Between the pool building and the nursery, Massage in the Forest is a small building dedicated to quiet and massages. The crimson-red doors match the doors on the solarium and the tiny house by the nursery, which is open to the public.
• The gift shop is a haven for books written by the owners and other healthy living tomes, snacks, and beverages. I purchased Dining At The Ravens recipe book to make some dishes I ate at the resort.
• Nine EV charging stations with convenient parking are free for guests to use.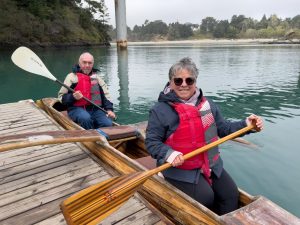 Outdoors
Don't miss the life-enhancing experiences like pedaling on the complimentary mountain bike rentals or paddling on the Big River Estuary that runs alongside The Stanford Inn from Catch A Canoe & Bicycles, Too!