San Francisco: The City by the Bay
Reason to Visit: Captivating Festive Atmosphere
San Francisco, a city known for its iconic Golden Gate Bridge and steep rolling hills, transforms into a winter wonderland during the holiday season. The city streets come alive with colorful lights, and the air is filled with the sweet scent of freshly baked treats. Don't miss the magical illumination of Fisherman's Wharf and the annual Great Dickens Christmas Fair, where you can step back in time to Victorian-era London.
Lake Tahoe: Winter Wonderland
Reason to Visit: Snowy Adventures and Cozy Retreats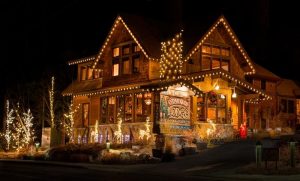 Nestled in the Sierra Nevada mountains, Lake Tahoe is a dream destination for winter enthusiasts. Whether you're into skiing, snowboarding, or simply snuggling by the fireplace with a cup of hot cocoa, Lake Tahoe has it all. The surrounding snow-capped mountains and the glistening lake create a picturesque backdrop for your holiday retreat, making it a perfect destination for families and couples alike.
Yosemite National Park: Nature's Grandeur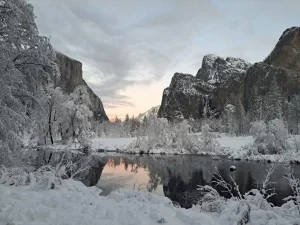 Reason to Visit: Serene Winter Scenery
Yosemite National Park, a UNESCO World Heritage site, is a mesmerizing destination during the winter months. The majestic waterfalls transform into enchanting ice sculptures, and the snow-draped cliffs create a serene atmosphere. It's an ideal time for avid photographers and nature enthusiasts to explore the park without the summer crowds. Capture the beauty of snow-kissed Sequoia trees and take leisurely hikes to witness the park's winter magic up close.
Los Angeles: Glamour and Sunshine
Reason to Visit: Mild Winter Climate and Star-Studded Events
Los Angeles, the entertainment capital of the world, offers a unique holiday experience. While the rest of the country battles winter chills, Los Angeles enjoys mild and pleasant weather. Take a stroll along the Hollywood Walk of Fame, explore the magical lights at the Griffith Observatory, or attend festive events at Disneyland. Los Angeles promises a holiday filled with sunshine, glamour, and a touch of Hollywood magic.
Napa Valley: Toast to the Holidays
Reason to Visit: Wine Tasting and Culinary Delights
For a sophisticated holiday experience, head to Napa Valley, the heart of California's wine country. During the holiday season, vineyards and wineries are adorned with twinkling lights, creating a romantic ambiance. Indulge in wine tasting sessions, savor gourmet cuisine at world-class restaurants, and take scenic hot air balloon rides over the picturesque vineyards. Napa Valley offers a luxurious and indulgent holiday escape for wine enthusiasts and epicureans.
California's diverse holiday destinations cater to every traveler's desires, whether you seek adventure, relaxation, or cultural experiences. Embrace the holiday spirit in these enchanting locales, and create memories that will last a lifetime. Pack your bags, and let the magic of California weave its spell on you this holiday season.