It's not often you'll find a museum devoted to a Major League Baseball star in a shopping mall, but that's exactly where you'll see the Roger Maris Museum. West Acres Mall, a popular indoor shopping center in Fargo, is home to the Maris baseball collection.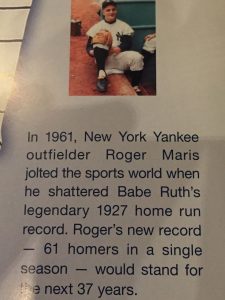 Babe Ruth hit 60 home runs during a 154-game season. Roger Maris surpassed that mark during an expanded 162-game season. And that set the traditionalists on a tangent, determined to protect the old records. So, baseball's commissioner announced that any record set after 154 games would be treated differently. It would be another three decades before Maris' home run mark was treated as the true record. Major League Baseball still plays a 162-game schedule.
Maris was a humble person on and off the field. Following his career, the North Dakota native was approached about having a local museum created in his honor. He didn't care for the attention, but eventually agreed, provided the museum highlighting his baseball accomplishments was open to the public and free to all.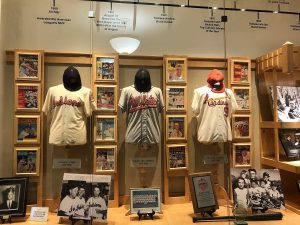 And what a collection! Home plate posters marking each of Maris' 61 home runs line the top of the exhibit. Located in the west wing of the mall, trophies, photos and other memorabilia celebrate the Hibbing, Minnesota, native's career.
Baseballs with the date and location of each home run during the 1961 season are located along with bats at the museum.
Visitors enjoy a short movie about Maris' life and career while sitting in seats that were once a part of the old Yankee Stadium.
With uniforms of the teams he played with displayed, exploring Maris' career begins during his high school years, when he played American Legion baseball.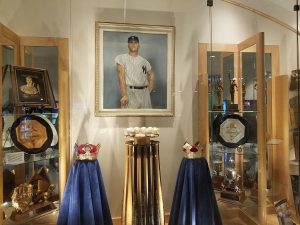 Traded to the Kansas City Athletics (now Oakland) mid-season 1958, Maris went on to be named to the American League all-star team in 1959. He hit 35 home runs over two seasons with the A's, despite missing 46 games in 1959 because of appendix surgery.
Nicknamed the Yankees' "farm team," the Athletics developed a reputation for trading its top talent to New York. Maris was no exception, being traded to the Yankees following the 1959 season.
A member of the Yankees for seven seasons (1960-66), Maris' career took off during his first season in New York. He batted .283 with 39 home runs in 1960.
His career season came during the run for 61 home runs in 1961. The season opened without any indication of how special it would become, as Maris hit one home run in his first 15 games.
Receiving the Most Valuable Player award for his achievements, 1961 was the pinnacle of Maris' career. The following season, Maris hit 33 home runs. He hit 70 more home runs during his next four seasons with the Yankees.
Traded to the St. Louis Cardinals following the 1966 season, Maris played two more seasons, retiring in 1968. He finished his 12-year career with 270 home runs and .260 batting average.
Maris played in seven World Series during the 1960s, more than any other player. Appearing in four Series with the Yankees and two with the Cardinals, his teams won three championships.
While not named to the baseball Hall of Fame in Cooperstown, the Maris museum honors his legacy. The Roger Maris Museum opened in 1984. Maris, who started a beer distributor outlet after his career, died in 1985. The museum is open during mall hours.