Many train museums claim to be "largest" based on acreage or track miles. But the Illinois Railway Museum is the "Real McCoy" with more rolling stock than any other U.S. museum.
With a whopping 45 diesel and 25 steam locomotives, plus countless passenger cars, Pullmans, dining cars, dome cars, cabooses, baggage cars, freight cars, streetcars, interurbans (commuter trains), snowplows and track-maintenance cars, the Museum dazzles with its sheer volume of inventory. There are even entire trains on display, such as the diesel powered streamliner Nebraska Zephyr and the luxurious North Shore Line Electroliner.
Nine enormous display "barns" shelter trains in various stages of restoration; some are bright and shiny and in running order; others are works in progress. Each barn is so long, standing at one end is like looking for the proverbial "light" at the end of the tunnel! Hop aboard cars in various stages of restoration and chat with volunteers who love talking to visitors and answering your questions. You might even find a cat or two wandering about the barns. They're part of the volunteer staff, too, fed and encouraged to hang around on rodent patrol.
RIDE THE RAILS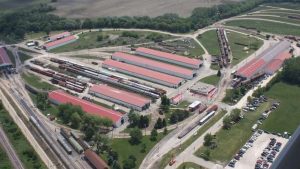 Ten miles of track loop around the Museum grounds, and a variety of trains offer rides, depending on the date. Special events are scheduled nearly every weekend May through September. Among the most popular are those held on Mother's Day and Father's Day, over the Memorial Day, Independence Day and Labor Day weekends, plus "Day Out With Thomas" in July.  Then in November and December, Santa himself personally escorts lucky kids and their parents on an enchanting train ride through Illinois countryside during four Happy Holiday Railway weekends.
STEP BACK IN TIME
As you roam the Museum grounds, it's not difficult to imagine yourself living in the heyday of railroading.  You'll board trains at a charming 1851 train depot, see an 1890 switching tower, a 1910 Chicago "L" station and eat at a 1934 diner that's part of a modern diner which serves food to visitors. There's also a gift shop, book store and a picnic area.
CHECK OUT THE IRM'S WEBCAMS
Take a virtual stroll around the Museum grounds online via four webcams that overlook the station and mainline tracks, train barns, central pavilion and train yards. There's also a webcam overlooking the remote control switching board.
The Illinois Railway Museum opened for the season Sunday, April 2, and will remain open weekends through October and weekdays from May through September. Trains run daily Memorial Day weekend through Labor Day weekend, and on select weekends April, May, September and October. Admission is $10-$14 for adults, $7-$10 for children, $38-$50 for families, and includes unlimited rides. For more information, hours, a calendar of events and webcam details, go to www.irm.org