Hotel Paso del Norte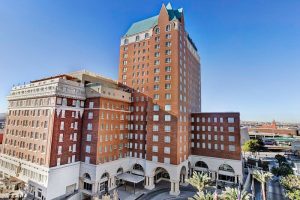 EL PASO – Built in 1912 and on the National Register of Historic Places, this architectural feat just re-opened after a multi-million-dollar restoration. It is located aside Franklin Mountains State Park where ample outdoor adventures await for hikers, bikers, and nature lovers. Three other National Parks including White Sands, Guadalupe Mountains, and Carlsbad Caverns; or only a short drive away. Preserved features include a trademark Tiffany-style, stained-glass dome ceiling reaching 25 feet in diameter and original light fixtures and Native American carvings. As part of the recent renovation, the glamour of the modern era has been added with luxurious finishes and an open and airy layout that incorporates the hotel's beautiful mountain views and outdoor spaces. Its 351 luxurious guest rooms are appointed with plush furnishing and curated art pieces. Lavish amenities include the 10th floor rooftop pool, fitness center, and, boutique. The property's signature feature is the distinct culinary scene where diners enjoy the best of El Paso with Sabor, an exclusive cantina that offers the best of El Paso for breakfast, lunch and dinner. The hotel's Dome Bar is a destination unto itself with events, entertainment, and drink specials.
Delta Hotel Dallas Allen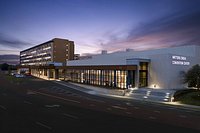 DALLAS – Now being managed by Crescent Hotels. Offering a sophisticated interpretation of the Texas urban landscape reflecting the energy of booming North Dallas, blending rustic design materials and the latest technology. The hotel is outfitted with impressive curated art from local artisans, paying homage to its Texas style. The hotel is connected to the popular Watters Creek Convention Center and is only a three-minute walk to shopping and dining at Watters Creek at Montgomery Farm, which offers more than 50 restaurants and shops. guests will enjoy ample parking, a fitness center, and an expansive patio with a large heated pool and fire pits. Guest rooms and suites feature lush linens, productive workspaces, free bottled water and high-speed Wi-Fi. The hotel's Texas Canyon Kitchen is currently open for large private groups, delivering inventive and true Texas cuisine masterminded by Chef Bryan Patton. For more information or to book your stay, visit http://www.marriott.com/dalda or call 469-675-0800.