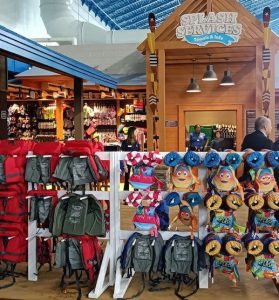 Upon entering the Grand Lobby guests are immediately aware that they are all in for a memorable adventure in a completely new, $250-million venue, designed as a destination that appeals to families of all ages. Perryville, Maryland boasts, not only the newest, but the largest of the Great Wolf collection of twenty resorts in North America. #GreatwolflodgeMD
Great Geyser Water Park is the indoor, 128,000-sq. ft. water recreational area with 22 water slides, raft rides, splash zones and numerous beach chairs and a constant temperature of 84-degrees.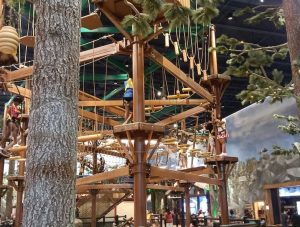 High Paw Holler and Forest Flume are two exceptionally exciting body slides. High Paw Holler sends riders racing through a tunnel, jettisoning them out and speeding on the outer edge. Forest Flume is equipped with flumes and 360-degree loops. It is the longest slide in the state at 275-ft. The iconic Otter Cave Waterworks features 6 water slides and a 1,000-gallon tipping bucket that sprays those below every 4-minutes.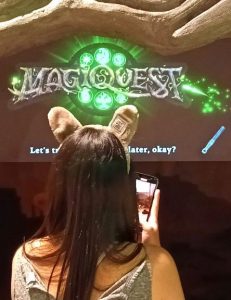 Great Wolf Adventure Park, a 57,000-sq ft. section of the resort, is filled with a variety of activities that create opportunities to ignite the spark of adventure, educate and enhance family fun. MagiQuest is an interactive journey that requires the use of special wands to join in the quest. Adventure Park also entices visitors into other galleries including the 24-hour Northern Lights Arcade, Ten Paw Alley bowling, Build-A-Bear Workshop, miniature golf and Oliver's Mining Company where you learn to pan for gold. The showpiece of this park is Howler's Peak multi-level ropes course.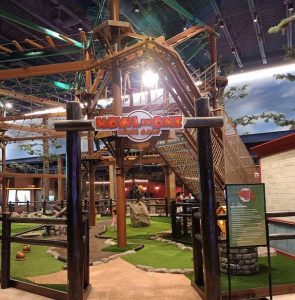 There are four restaurants that range in price and menu options, Hungry as a Wolf, Timbers, Campfire Kitchen and Barnwood. All four of them have allergy-free items to choose from. Barnwood is the most upscale of the options. Freshwoods Market, Dunkin' and Woods End Creamery feature foods for those wanting a snack or a quick bite to eat.
The Grand Lobby hosts events throughout the day and evening. Guests are treated to character appearances, Yoga Tails, arts and crafts and a nightly Howl & Hustle Dance Party.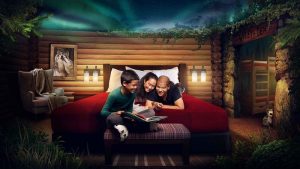 Each evening the day ends with a bedtime story, the immersive, "Legend of Luna." The sound and light production was created for the property. There are 700 family suites from which to choose. Overnight stays in the lodge include 2 days of waterpark entry.
Great Wolf gives back through activities and purchases. A portion of the money raised helps fund Make-A-Wish and Believe in Tomorrow Children's House at Johns Hopkins. Put your money where your fun is! www.greatwolf.com/maryland