Tons of Attractions!
Ghostly Manor's Family Entertainment Center is an indoor amusement park with loads of exciting attractions all indoors. Ghostly Manor amusement park offers family fun for all ages. This is one of the most fun things to do when you are in Sandusky, Ohio. No matter the weather, you will always have a blast together at Ghostly Manor Thrill Center. Just minutes from Cedar Point and Kalahari in Sandusky, Ohio, we're open EVERY DAY!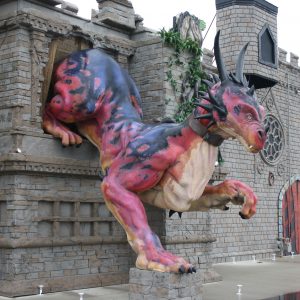 There is something for all ages. So bring the whole family.  Wizard's Journey indoor mini golf, Ghostly Manor Haunted House, a challenging Laser Maze, Escape Room, XD 4D Motion Theater (with five different rides), roller skating, a booming arcade, bounce houses, jungle gym, and a snack bar with a full menu.
Win Great Prizes when you play some of the best arcade games like Big Bass Wheel, Jurassic Park, Wac A Mole and Prize Cube. Check out our newest water game ICE MAN – keep the zombies at bay with WATER guns before they eat you!
Hologate Virtual Reality.
Hologate delivers advanced graphic technology for a multiplayer VR experience. Depending on the game selected, players either work together or compete head-to-head for the high score. The intense graphics make every motion feel real! Fight off a zombie horde, compete against your friends in a snowball fight or even take down an Artificial Intelligence of machines!
Try the Laser Maze!
There is no age too young and no age too old to have a great time at Ghostly Manor Thrill Center! Put your mind to the ultimate test in our new Escape Room, The Missing Deed, jump in our huge bounce houses, climb in the jungle gym, skate on the skating rink, play 9 holes of indoor blacklight 3D mini golf, get your mind blown on the XD Motion Theater, dare to enter Ghostly Manor haunted house, win prizes and play awesome arcade games and be a secret agent in the NEW Laser Maze vault!  The attractions are endless and so is the fun for everyone!
Our indoor family fun center will keep you entertained all day! We hope to see you soon. Rain or shine, there is no better place for family fun in Ohio!
Family Fun Nights
Join us on Wednesday nights from 4 pm – 8 pm for a Family Fun Night $7 Special! Roller Skating, Bounce Houses, Play Area, 2 slices of pizza & a small drink – All for only $7 per person!