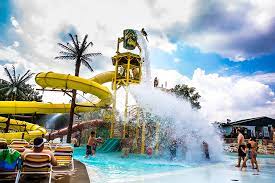 Beech Bend Park and Splash Lagoon are open from May through September! Thrill rides, family rides, kiddie rides,  shows and entertainment, gigantic waterpark are awaiting  your visit at Beech Bend
Beech Bend's Campground offers over 400 camping sites!
250 of the sites offer full hookups with 30amp electric service.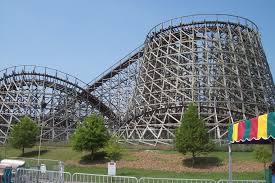 Special Event: Friday Night Lights: When the sun goes down, Beech Bend Park transforms into a brilliant lights show. Discount prices of $18 starting at 4:30 p.m.
New for the 2023 season, the park has added the largest water park expansion in park history. This multi-million dollar expansion includes Cyclone Saucers. This is the first installation of ProSlide's flying saucer ride in North America. This history-making, ground-breaking water slide will offer a very unique ride experience. Riders will fly around the edge of three "flying saucers" at high speeds. At nearly 500 feet long with a 55-foot elevation change, Cyclone Saucers is truly a one-of-a-kind experience. Joining Cyclone Saucers are three more new iconic rides. Tidal Wave positions riders face to face as they surge up a thrilling wall and hang weightless before rocketing back down. Riptide features an intense dark ride section, before plummeting into two separate funnels.
Beech Bend has a lot to offer and will continue to evolve with new rides, facilities, races and special events.  The main attraction here is fun
.