Hampton Inn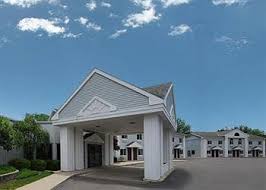 TIFFIN – Conveniently located right off St. Rt. 224 and next door to the Camden Falls Convention Center and Carmie's BBQ & Grill. It's extra clean; the staff is so very friendly and their hot breakfast, which is included in your stay, is second to none. If you are in a rush, however, you don't have to skip breakfast. Just grab a Hampton On the Run® Breakfast Bag to take with you. There is a fully-equipped business center for working and a luxurious indoor pool for relaxing.  A staff member recently stayed on business and everything was so comfortable and inviting, they didn't want to leave! Join the Weekenders and make reservations today! Call 1-419-443-5300 and tell them The Weekender Extended Magazine sent you!
21C Museum Hotel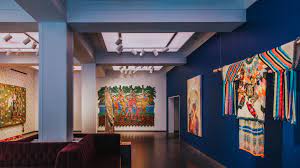 CINCINNATI – This newly renovated hotel is the former Metropole Hotel in the downtown area which opened its doors in December 2012. 21c Museum Hotel showcases the architecture of the historic landmark and features cutting edge contemporary art throughout the building. Guests are able to enjoy culinary experiences that celebrate the region's sustainable producers in the new restaurant and bar, Metropole, that emphasizes the city's old-world roots and focuses on dishes cooked by Chef Michael Paley. Located in the center of the action in downtown Cincinnati – adjacent to the Contemporary Arts Center and across the street from the Aronoff Center for the Arts – 21c Museum Hotel Cincinnati is a 156-room boutique hotel, contemporary art museum and cultural civic center. Average nightly rates are $201-300. For reservations, call 513-578-6600
Amish County Cottage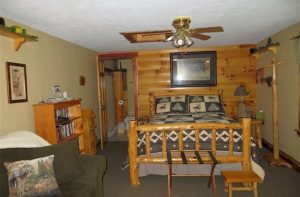 SUGARCREEK –  A Little Slice of Heaven Cabin sits in the middle of Amish Country. Two suites to choose from. Relax in this 2 unit log cabin overlooking the beautiful Willandale Golf Course. Featuring equipped kitchenette,  Jacuzzi, surround sound DVD/CD player,  queen-sized pillow top bed and much more. Eagle's Nest  is broken into 3 separate rooms.  Country Comfort is one large room and a separate bath.  Both will fit anyone's budget and taste. They have the same amenities and are the same size. Eagles  Nest has a golfer's theme while Country Comfort is more rustic. Both have decks overlooking a pond. Romantic for two. For more information or to make reservations, call 330-6y20-5551.
Silver Fern Bed & Breakfast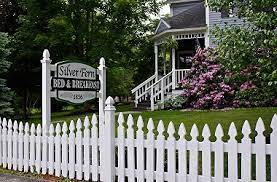 PENINSULA – Near Akron. Conveniently located on the doorstep of the Peninsula Historic District and also nestled near the Cuyahoga Valley National Park, this beautifully renovated 1874 Colonial bed and breakfast awaits your arrival. Whether your day has been filled with travel or activities in the Park, unwind with a cold beverage under the canopy on the patio. Open the French Doors and allow the shiny hardwood floors lead you to the double parlor of this charming retreat that offers the best of the past and present. Relax and read choosing from the home's library or take in the surrounding area's nightlife, whichever you choose, when it is time to retire, your luxurious bed will envelop you with comfort. Most rooms are furnished with queen-sized beds.  All rooms have HD flatscreen smart televisions, free Wi-Fi and private en suite bathrooms. 330-417-7194