Mardi Gras, the French phrase for 'Fat Tuesday,' is celebrated in communities all along the Gulf Coast, including Louisiana, Alabama and Mississippi. This feast before the beginning of Lent typically includes parades, galas and plenty of food.
1. Let's Decorate for the Occasion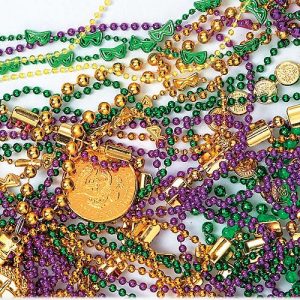 Purple, green and gold are the three traditional colors of Mardi Gras. They have a special meaning as well: They are said to represent justice (purple), faith (green), and power (gold).. These colors were supposedly chosen in 1872 by the Russion Grand Duke Alexei Alexandrovich Romanov when he visited New Orleans. they were the colors of his own house. Use beads, banners, balloons, whatever you may find in green, gold, and purple to brighten your weekend.
2. Let's Cook Dinner!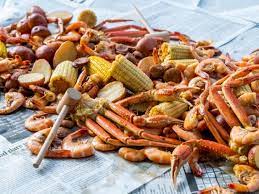 It is usually crawfish season in the South. Wherever you may live, you can create a "seafood boil." Several seafood businesses will ship live or pre-boiled crawfish throughout the United States. Or just simply swap out the crawfish for shrimp. You can also use crab legs or lobster tails.  To give your boil the traditional taste of the Gulf Coast, be sure to season generously with Zatarain's Crawfish, Shrimp and Crab Boil Seasoning. The company has been seasoning seafood boils in New Orleans since 1889.
Here's A Simple Recipe: Rinse crawfish thoroughly for about five minutes until water runs clean. Bring water with crawfish boil seasoning to a boil. Move the crawfish into a cooking basket and lower into the pot. Add in some halved lemons, corn on the cob and red potatoes. Return to a boil and cook for 15 minutes. Turn off heat and soak for another 20 minutes. Dump the crawfish and other add-ins onto a newspaper-covered table and dig in.
3. For Desert, Enjoy King Cake.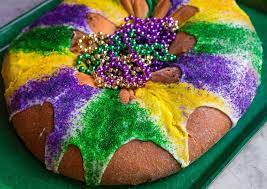 These icing-glazed cakes are braided into a circle to resemble a king's crown.  It is said that the tradition was brought to the New World from France, where these cakes were served as part of the Epiphany celebration. Each king cake has a tiny plastic baby hidden inside, meant to represent baby Jesus. According to tradition, the person who finds the baby is King for a day and is tasked with hosting the next king cake party.
You can make your own version or order from Randazzo's Camellia City Bakery in Slidell, Louisiana where they have been hand-braiding king cakes since 1965. Order online, and they'll overnight a cake to your front door for your own Mardi Gras celebration.
4. Hold a Mini-Parade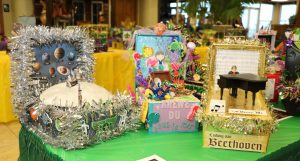 For a family-friendly Mardi Gras activity, decorate your own shoebox float, inspired by the intricate floats of the annual parades. You'll need a shoebox with a lid, glue, scissors, tape, construction paper and whatever materials you'd like to decorate with. Let each member of the family make their own, tie a string to the float and hold your very own Mardi Gras Parade. Be sure to buy a package of beads and toss or trade with each other.
5. Dress in Style
A shopping trip to your local Goodwill may be in store for this activity. Or if you are crafty, let the kids tie-dye their own t-shirts with the three traditional colors. Make masks from leftover float supplies. Add glitter, lace, shiny material or whatever you have in your craft bag and then celebrate in style!