Award-winning wine at a picturesque vineyard. Candle-lit dinners or professional, Broadway-style entertainment. High-flying ziplines, hot air balloon rides, and charming small-town Main Streets. No matter your idea of the perfect date, your grown-up getaway awaits in Warren County! For your grown-up getaway, choose from a wide selection of hotels and Bed & Breakfasts. Then customize your getaway to Southwest Ohio to suit your budget, tastes and time. Enjoy unique and antique shopping or catch a live theater performance. Explore the local culinary scene or experience thrilling rides and beautiful scenery. Here are a couple ideas:
Journey into the Past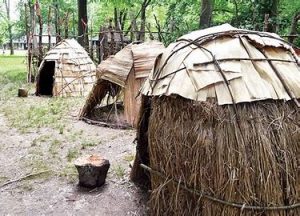 With roots that can be traced back to ancient Native American cultures through the influences of the Shakers and Quakers, Warren County has a historical adventure waiting for you.
Begin your tour of Warren County with a trip to Fort Ancient Earthworks and Nature Preserve, the largest Native American hilltop enclosure in the Midwest. Explore their on-site museum, pre-historic garden, miles of hiking trails and two scenic overlooks for a unique afternoon you can't find anywhere else. Dating back more than 2,000 years, Fort Ancient has been named a finalist to be awarded a World Heritage Site designation! This honor would place Fort Ancient on equal footing with the Acropolis in Greece and the Taj Mahal in India.
To learn more about Shaker culture, visit the Warren County History Center in Lebanon, which is home to one of the largest displays of Shaker artifacts in the country. With many pieces preserved from Union Village, the first and largest Shaker community west of the Allegheny Mountains, this exhibit displays artifacts in realistic room settings to give you an understanding of daily life in a Shaker community.
Get a glimpse of life along the Underground Railroad with a historic walking tour of downtown Springboro. View more than 25 houses that have ties to the Underground Railroad, including 14 documented safe houses. You can even spend the night in one of these historic homes with a stay at the Wright House Bed & Breakfast. More Underground Railroad history can be found at the Freedom Center along the Ohio River in Cincinnati. This landmark museum offers a unique depiction of the nation's struggle for freedom with compelling exhibits that includes a film narrated by Oprah Winfrey.
High Flying Adventures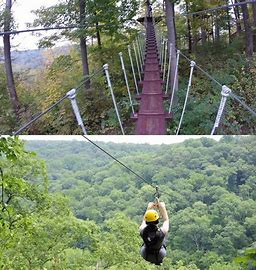 Explore Southwest Ohio from a bird's eye view by zipping, flying or floating above Warren County. Everyone has a different opinion of what it means to unwind or relax. For those that like a bit of an adrenaline rush to leave the world behind, we have adventures for you in Warren County!
Start your adventure with a daring trip at Ozone Zipline Adventures. You will zip more than 2 miles through the treetops (up to 150 feet above the forest floor) lining the Little Miami River Valley! As the largest treetop canopy zipline tour in the Midwest, Ozone Zipline Adventures promises to be one of your most memorable outdoor adventures.
Refuel in preparation for another exciting day in Ohio's Largest Playground at one of our affordable hotels or cozy bed and breakfasts. Trust us, after your first day of adventure you'll need a good night's sleep because your second day could be even more thrilling.
Take your getaway to new heights (literally) with a trip to the Warren County Airport. This hidden gem in Warren County is home to a variety of thrilling air adventures. For the ultimate adrenaline rush, throw caution to the wind and soar through the air for 30 to 50 seconds of free fall on a skydive with trained instructors. If you prefer a slower speed, then enjoy a hot air balloon ride with Bella Balloons or Gentle Breeze.
Theme Park Fun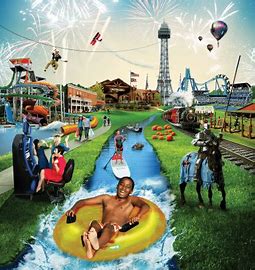 King's Island, Warren County's world renowned amusement park, opens its doors for another award-winning season of family fun Saturday, April 15, and this year's lineup of theme park thrills is bigger and better than ever! The newest addition to the park's already iconic collection of coasters, Mystic Timbers will make its highly anticipated debut on opening day! Boasting a 109-foot lift hill, top speeds of 53 mph, and 3,265 feet of wooden track, the winding, wilderness-themed thrill ride will give Kings Island more wooden track than any other park worldwide, making it the undisputed king of wooden coasters! The eight-year award winner for "Best Kids Area in the World" is the home of an award-winning waterpark and more than 80 rides and attractions, including the world famous wooden roller coaster, The Beast™ and Diamondback, the tallest and fastest coaster in park history!
Plan your Kings Island visit—and all of your Warren County fun—today at OhiosLargestPlayground.com!