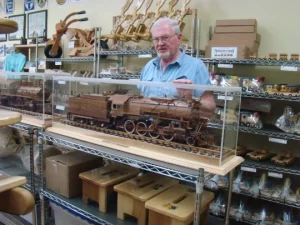 The Great Steam Locomotive Museum houses handmade model steam locomotives and details the impact and growth of the American Railroad. Also on site is the Cambridge Wooden Toy Company with handmade wooden toys from yesteryear. Brian Gray has been creating toys and trains with quality craftsmanship difficult to surpass since 1976. He started in his basement and then expanded into a small shop beside his home. Cambridge Wooden Toy Co can easily be reached off old Route 40 through Cambridge at 515 Dewey Avenue.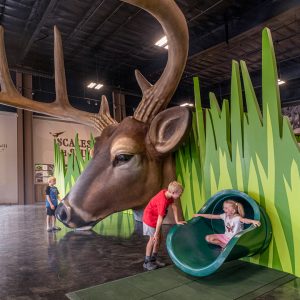 Deerassic Park Education Center focuses on providing youth and families with exceptional outdoor education opportunities. The park features a live deer herd, fishing pond, trails and recently opened its new 5,400-square-foot Welcome Center. Every display has been designed and built to be hands-on, interactive, informative, and fun for all. Special events are scheduled throughout the year, including field trips for classrooms and youth groups. There are also outdoor educational opportunities. View the live deer herd and then also tour Deerassic Park's Whitetail Hall of Fame. Learn more about Deerassic Park Education Center at https://deerassic.com. 
The National Road & Zane Grey Museum is a "three for one" stop with three unique displays retelling national and regional history. Students/family groups will learn about America's first federally funded highway, hear about the locally born author, Zane Grey, and see a display of locally produced art and ceramic pottery. www.OhioHistory.org/NationalRoad Visit the boyhood home of the late John Glenn, astronaut and U.S Senator, and experience 20th Century American History. The John & Annie Glenn Museum offers a captivating living history experience. (A special John Glenn Centennial Celebration took place in Cambridge in honor of what would have been Glenn's 100th birthday.www.JohnandAnnieGlennMuseum.org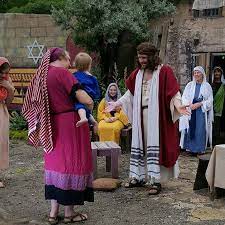 Revel in "the Greatest Story Ever Told" at The Living Word Outdoor Drama in the summer months. This nondenominational outdoor theater depicts the moving and powerful life and ministry of Christ. The Living Word Outdoor Drama was founded in 1975 by Biblical Dramatist Frank Roughton Harvey. This nationally recognized drama brings to life the passion of Jesus Christ. The 400-foot set was researched and designed by the founder – making it an authentic representation of Old Jerusalem. A special backstage tour is available for groups before the performance. The 2022 season schedule has begun and runs Fridays only through Sept.30. Tickets are $18 for adults, $6 for ages 4-12, and $16 for seniors 60 and older. www.LivingWordDrama.org
See the glassmaking process up close with a free tour of Mosser Glass Factory. Enjoy a guided tour and witness the excitement of glassmaking at the last remaining hand-pressed glass factory in the United States. www.MosserGlass.com Take a hands-on tour at the National Museum of Cambridge Glass to learn about the types of jobs people had nearly 100 years ago, dress as glassworkers and hold the tools used to manufacture at the Cambridge Glass Company. Learn about the significance of the town's placement along the National Road, early America's busiest route west, at the National Road and Zane Grey Museum. There are even periodic walking tours called, "Forgotten Places & Spaces of Cambridge" that take you through some of the most historic properties in the area.  www.CambridgeGlassMuseum.org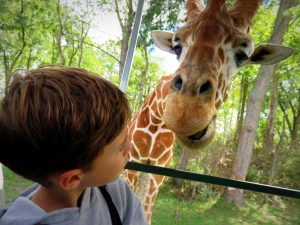 Spend a morning or afternoon at The Wilds, the largest and most innovative wildlife conservation on nearly 10,000 acres. Located near Cambridge, it is home to rare and endangered species from around the world. Groups will board an open-air safari May-October to see and learn about the animals living in open-range habitats. Horseback, fishing and zipline safaris are available. The Wilds also offers home school programs, camps, and specialty tours. www.TheWilds.org
Peters Creek S-Bridge is a perfect place to learn about the National Road, an All-American Scenic Byway. Historic stone arch bridges, S- bridges, derive their name from the sharply curving approaches to the span. The Peters Creek S-Bridge was built in 1829 with well-cut sandstone. Streams of traffic used this bridge on the Old National Road that headed for the western frontier. The area offers numerous cabins, campsites, and hotels for overnight stays.
The region is home to an amazing vineyard with an even more amazing view! Plan a wine/brew hop through Cambridge and southeast Ohio's rolling countryside to sip and savor a visit to
Georgetown Vineyards
which sits high atop a scenic ridge overlooking the city of Cambridge and is surrounded by five acres of vineyards. Family-owned and operated, the winery specializes in a varied selection of award-winning wines, from dry California styles to sweet Ohio varietals. Wine tastings are offered during normal business hours in the retail shop (Monday through Saturday 11 am-8 pm). Guests are welcome to explore the grounds and enjoy the view of Cambridge. Order a brick-oven cooked pizza and sip a craft beer from Southside Brewing Co. Many cooking and painting events are offered as well as guest musicians who perform on Friday and Saturday evenings.
Bigfoot. Sasquatch. Yeti. Ohio Grassman. Whatever you choose to call it, it has been rumored to live in Ohio since the mid-1700s. It has also been rumored to live in Ohio's largest State Park, Salt Fork! Salt Fork State Park campgrounds host several Bigfoot events annually. Hike the trail after dark in search of the legendary Bigfoot with Alan and Jesse from Fathom Frontiers. Hear information about Bigfoot sightings at Salt Fork and other strange events from members of the Ohio Bigfoot Organization. Next summer, Join Sharon Lee, The Bigfoot Field Reporter, and Alan and Jesse from Fathom Frontiers on a four-day, three-night all-inclusive Bigfoot campout adventure. Primitive camping, hands-on training, night investigations and all meals, snacks and drinks provided. Family-friendly and no experience required.
> Click Here
for dates, prices, and more information.
Centrally located in Guernsey County, Salt Fork State Park Lodge offers easy access to fascinating points of interest. The Wilds, an animal conservation sanctuary, is one of the area's highlights, perfect for day-trips to go mountain biking, birding, ziplining, fishing, or taking an open-air safari. Enjoy a sunset expedition along the rolling hills of southern Ohio as you get up-close to rhino and giraffe in natural outdoor habitats.
Finally, take a leisurely stroll with your family or an invigorating 12-mile bike ride enjoying the solitude and beauty along the Great Guernsey Trail. This paved, low-grade path offers an unforgettable natural setting as you disappear into the serene woods. Travel over three bridges; stop for an ice cream cone; or make it a great workout. www.guernseycountycdc.com
For more information, contact the Cambridge/Guernsey County VCB office at 627 Wheeling Avenue, Suite 200 in downtown Cambridge, call 740-432-2022, email info@visitguernseycounty.com, or visit VisitGuernseyCounty.com.