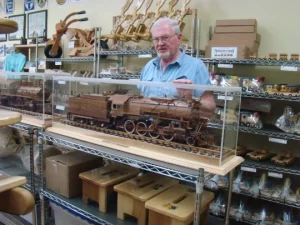 The Great Steam Locomotive Museum houses handmade model steam locomotives and details the impact and growth of the American Railroad. Also on site is the Cambridge Wooden Toy Company with handmade wooden toys from yesteryear. Brian Gray has been creating toys and trains with quality craftsmanship difficult to surpass since 1976. He started in his basement and then expanded into a small shop beside his home. Cambridge Wooden Toy Co can easily be reached off old Route 40 through Cambridge at 515 Dewey Avenue.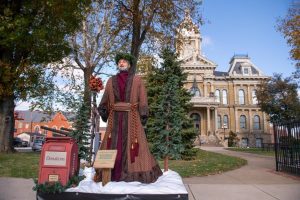 It's a "Dickens" of a Christmas in Guernsey County. Celebrating its 17th Season, take a trip back in time and experience old world England in the historic downtown area when it's charmingly transformed into a Dickens Victorian Village. Through January 1 each year, visitors and residents alike are invited to stroll amidst 92 scenes of 168 lifelike characters representing classic scenes from the Victorian era. This innovative public art exhibition is enjoyed by families, couples and groups alike – an experience that engages the senses as you explore the charming streetscape, striking historic architecture and eclectic shops and eateries of Cambridge. The Dickens scenes are stationed along Wheeling Avenue at each antique lamppost and some benches between 6th and 11th Streets and in windows. Wheeling Avenue is also the historic National Road/Route 40 and features an outstanding streetscape of original buildings from the 1800s. The Dickens Victorian Village scenes are comprised of life-sized and hand-made characters wearing vintage clothing. The faces for each character are individually sculpted and painted by local artists. The displays include engaging depictions of classic Dickens-era scenes and figures such as Bob Cratchit and Tiny Tim, the town crier, groups of carolers, a bucket brigade, lamplighters, school children, street peddlers and Father Christmas, all posed in active scenes that appear frozen in time.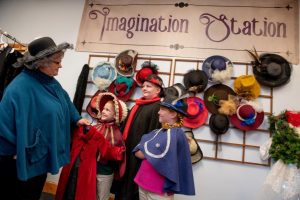 A great beginning to your experience is the Welcome Center and Curiosity Shoppe.  Get into the story by visiting with the volunteers dressed in period costume. Learn how the Dickens display was created in the first place. Enter into the fun by dressing in Victorian period costume at the Imagination Station for a unique photo opportunity.  Shop for gifts and souvenirs, then continue through the streets to enjoy the décor and more shopping. Stay 'til dark to see the unique Courthouse Holiday Light show. This magnificent historical 1881 building jumps into the 21st Century as it is bathed in 66,000 lights, three- twenty foot Christmas trees and 60 animated displays. Each hour features a wide variety of music including children's, contemporary and traditional Christmas favorites. 5:30 – 9pm nightly. Special extended show hours 5:30pm until 11pm. on some dates now to Christmas.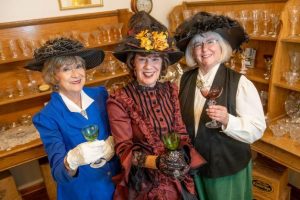 Other holiday attractions include a visit to the National Museum of Cambridge Glass.  The museum will be decorated for the season and volunteers and staff will be dressed in Victorian attire. If you are looking for a special gift made locally, visit the museum gift shop where you'll find genuine Cambridge Glass. Special hours: HOLIDAY HOURS: The museum will be open on Friday and Saturday: Dec. 9-10 and 16-17. General Admission is $6, children under 12 are FREE. There is no charge if only shopping in the gift shop.
On Dec. 9 at the Pennyroyal Opera House in nearby Fairview, see the bluegrass concert featuring Authentic Unlimited (formerly Quicksilver) and special guests Three Rivers Bluegrass. The kitchen opens at 5 p.m. and the show starts at 7 p.m. https://www.pennyroyalbluegrass.com/
For the kids, head over to the Cambridge Performing Arts Center for Reindeer Games Dec. 9-11. Pulling Santa's sleigh is hard work! Kris and Carol Kringle host the Reindeer Games to find the next member of Santa's crew! Who will take the "reins"? Play times are 7 p.m. Fri. & Sat., 3 p.m. Sun. Tickets are $10 at https://www.tickettailor.com/events/cambridgeperformingartscenter/801340#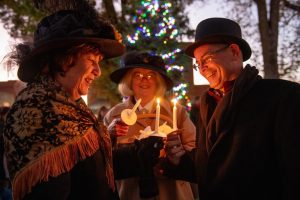 On Dec. 17 from 6-7 p.m., catch the spirit of Christmas with a downtown walk through the Dickens scenes by candlelight or bring your favorite lantern. Hear stories about the Victorian scenes and perhaps some behind the scenes stories as you slowly walk from place to place. Dress warmly and wear comfortable walking shoes. Bring your own candle or lantern and meet at the Dickens Welcome Center.
And last, but certainly not least, have a Very Merry Christmas!