By Renée S. Gordon / Freelance & History Writer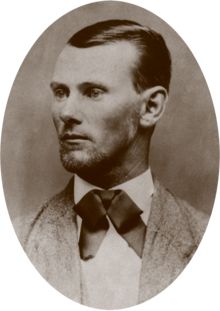 The whereabouts of Jesse James may have been mysterious in the latter part of the 1880s but scholars have successfully traced his movements from birth through his burials and exhumations. Across the country, from Texas to West Virginia, there are explorable sites and markers that refer to his domestic and his criminal lives.
He joined the Civil War guerrillas in 1864 and Post-Civil War he and his brother Frank formed an alliance with the four Younger Brothers and became the James-Younger Gang to continue the fight. James is estimated to have participated in approximately twenty armed robberies. www.visitmo.com
His legend began in Kearney, Missouri on September 5, 1847 on the 100-acre family farm. Originally a 2-room log cabin, the house was built circa 1822 by Jacob Groomer and purchased in the 1840s by Jesse's father Robert S. James. He added a wooden building with 3-rooms in 1845. Robert, a Baptist minister, married Zerelda Cole and settled in the "Little Dixie" region of Missouri to become hemp farmers and owners of six slaves. Frank was the elder son. Robert died in 1850 of cholera.
Zerelda's second husband, Benjamin Simms, also passed away and she married Dr. Reuben Samuel in 1855. On September 15, 1868 Perry Samuel was born. He was the son of the enslaved housekeeper in the James' home and, historians believe, Dr. Samuel.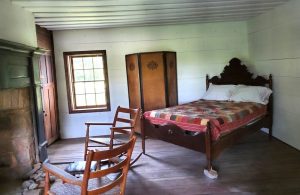 Perry is listed in the 1880 census records as a mulatto and a servant. He is included in family photographs, lived inside the farmhouse and not in a slave cabin or servant's quarters and some family members referred to him as Uncle Perry. Upon Perry's death his obituary lists him as an "aide" to the James Boys. He is interred in Fairview Cemetery in Liberty, MO. Tours of The Jesse James Farm and Museum begin in the Visitor Center with a film and series of outstanding thematic displays that feature family artifacts, memorabilia, photographs and explanatory text on all aspects of Jesse's life. Exhibited highlights are the boots he was wearing when he was killed, his saddle, Frank's 1882 surrender letter to the governor and other personal items that comprise the largest collection of Jesse James objects in the world. One intriguing area is devoted to depictions of the outlaw in films. Movie aficionados will be thrilled to learn that "The Assassination of Jesse James by the Coward Robert Ford" is the most accurate of all the autobiographical films. Jessejamesmuseum.org
A short walk from the museum is a complex of sites that includes the James birthplace, slave quarters, a smokehouse and Jesse's original gravesite. The house can only be seen from the outside and by peering in the windows. Zerelda had Jesse buried in the yard of her home so that she could keep the grave from being vandalized. A steady stream of people would visit the grave and she would sell them a stone taken from it for $0.25. Each evening she would replenish the stones. When she died she left the house to Frank who continued to live there until his death in 1915. His wife lived there until her death in 1944. #visitkearneymo
The arrival of the Federal militia at the James' farm was a turning point in Jesse's life. In May of 1863 they rode in to question the family about Confederate guerrillas active in the region because they were aware of the family's links with and sympathies for the bushwhackers. When they gave no information Jesse was severely horsewhipped and his stepfather was repeatedly hung from a tree. Soon after, 16-year-old Jesse left home to join his brother in William "Bloody Bill" Anderson's guerrilla band.
Losing the war left Jesse angry and poor but with ruthlessness and a criminal skill set to fall back on. On February 13, 1866 he and the James Gang rode into Liberty, MO and committed the first successful, peacetime, daylight robbery. Only the banker and his son were there as Frank went inside the bank while Jesse kept a lookout on the exterior. They netted $58,000 ($1,085,990 in 2022). As they made their escape they killed a college student, the only murder victim. The men managed to evade the posse and ferry back across the river.
Jesse James Bank Museum in Liberty remains arrested in time. It is outfitted as it was on that day in 1866. The period décor includes a Seth Thomas clock set for the exact date and time the one-room bank was robbed. The original green bank vault is also on displayed along with documents, photographs and objects of Americana. The museum store is stocked with items that make great souvenirs and keepsakes. The bank never recovered from the theft and had to close. #visitlibertymo
James is documented to have robbed at least seven railroads. He also robbed twelve banks, five stagecoaches and the Kansas City Exposition. There is no authentication of Jesse James ever having been a Robin Hood figure. He robbed and murdered for personal gain and as the war retreated into memory citizens grew weary of his lawlessness.
In 1873, in Iowa, he committed the first robbery of a moving train, holding up the passengers when the vault held only $2000 ($45,500 in 2022). The railroads hired the Pinkerton National Detective Agency to hunt down the gang and stop the train robberies. On January 26, 1875 a posse of Pinkertons rode onto the family farm. The men hurled a flaming item into the cabin through a window and someone inside pushed it into the fireplace where it exploded. The blast killed 8-year-old Archie James, a half-brother, and damaged Zerelda's right hand causing an amputation.
Northfield, Minnesota was 400-miles from Jesse's home but he felt that robbing a bank there would prove lucrative. It did not. On September 7, 1876 the Northfield Raid resulted in the capture of the Younger Brothers and their subsequent life sentences in prison. Frank and Jesse escaped. The First National Bank of Northfield is now a museum.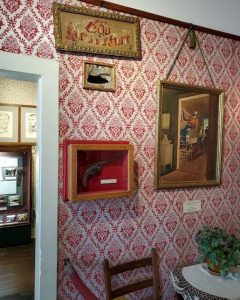 Jesse, without Frank, started a new gang in 1879 but it fell apart after he killed one of its members. Tom Howard and his family rented a small house in St. Joseph, Missouri on December 24, 1881. Using this alias he lived there until he was shot and killed by Robert Ford on April 3, 1882. Ford wanted to collect the governor's $10,000 reward. The home still stands and displays the bullet hole left in the wall. #stjomo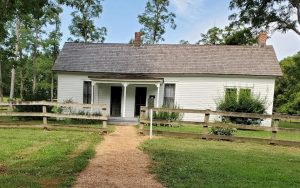 Jesse James funeral service was held at First Baptist Church in Kearney, Missouri on April 6, 1882. He was buried in the front yard of the family farm and a large monument was placed on his grave. It expresses his mother's sentiments on the murder.
His wife died in 1900 and was buried Mt. Olivet Cemetery in Kearney. In 1902 his mother no longer lived on the farm and could no longer watch over him and the decision was made to move his body to Mt. Olivet beside his wife. Frank, because he was wanted, could not attend the first burial. He did attend the second. The cemetery is open for respectful visitors.

ROAD READS:
Eileen Saint Lauren's novel, Goodlife, Mississippi, is set in the 1950s and '60s South, a world strictly divided by race, finances, culture and class. Myra Boone's childhood undergoes a drastic change when her parents die in a house fire, that she caused and she is forced to navigate in a new world bearing her inner guilt and out wounds. Myra's sojourn pulls the reader into the daily lives and ever present spiritualty of the members of the community. Throughout her entire journey she clings to her absolute trust in faith, love and Ray Charles. A Study Guide is included.