Winter Festivals
Nothing brings out our rosy-cheeked enthusiasm like a winter
So head to northwest Minnesota between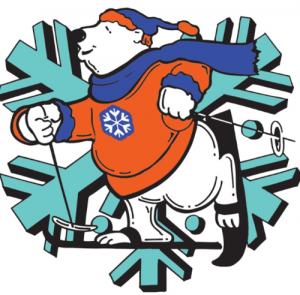 Feb. 10 and 26th where you can join the frozen fun at Polar Fest in Detroit Lakes and see the ice throne complete with illuminated blocks of ice and the event's mascot, Polar Pete, each night. Join the fun of Poles N Holes Fishing Derby, Polar Fest Plunge, fireworks at the City Beach and lots more. A more details schedule of events is on our Polar Fest Page in our Tour Guide.
Winter Sports
Minnesota has the most curling clubs in the nation. With more than 30 clubs across the state, you are bound to find one near you. Another unique winter activity that can be found in Minnesota is dog sledding. The Boundary Waters has over a million of acres of pristine, snowy environment for you and a team of Canadian Inuit dogs to explore.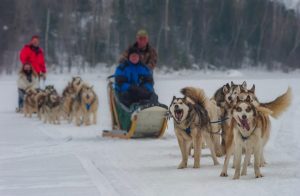 There are also outfitters along the North Shore of Lake Superior. Ice fishing is an iconic Minnesota winter activity. Visit Lake of the Woods, the "Walleye Capital of the World," to experience excellent ice fishing. This fishing destination features more than 50 resorts, sleeper services and hotels. Lodging options include a cozy cabin, condo, hotel, motel or a sleeper fish house on a frozen lake. Minnesota features some of the highest hills in the Midwest, and Minnesota downhill ski areas offer thrills for any level of skills. From Spirit Mountain in Duluth to the new Detroit Mountain Recreation Area in Detroit Lakes, there are opportunities across the state to cruise the runs.
Winter Nights
Create your own perfect blend of indoor and outdoor pleasures, with days spent exploring the distinctly spare beauty of Minnesota's snow-covered woods and waters, and evenings taking in the warmth and comfort of a beautiful resort, cabin, or bed-and-breakfast. Indulge in a delicious meal in front of a warm fire before heading to a movie or theatre.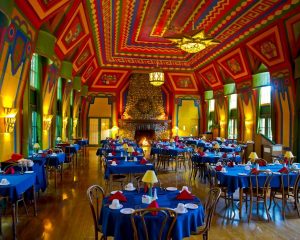 One of the most impressive is at Naniboujou Lodge and Restaurant, near Grand Marais on the North Shore of Lake Superior. Listed on the National Register of Historic Places, the dining room's 20-foot domed ceiling and walls are covered with colorful designs in a Cree Indian pattern. The room also features a 20-foot-high stone fireplace said to be the largest of its kind in Minnesota. For a taste of hygge in the big city, spas, restaurants, coffee shops and museums (most apropos, the American Swedish Institute) are great places to hole up and stay a while. The Finnish tradition of saunas has recently made its way to the Twin Cities, with a couple mobile units that pop up at breweries, parks and other public locations during the winter months.
Winter Shopping
Mall of America® is more than a shopping mall near the Twin Cities. It's over 520 shops full of tax-free shopping and 50 restaurants full of delicious food. It's Nickelodeon Universe®, SEA LIFE at Mall of America, FlyOver America, Crayola Experience, and more – all under one roof. Most of all, it's an unforgettable experience.