The 46th annual North American Vasa is focused on safety and quality competition.  The 2022 schedule of events includes an event for all abilities including the 27K freestyle signature race and the return of both the Michigan Cup and Collegiate combo challenges.

SCHEDULE OF EVENTS: Feb. 11-13
Friday February 11th
2 – 8 p.m. – Packet Pick Up
Saturday February 12th
Packet Pick Up / George Kuhn Half Marathon Freestyle 27K

Okerstrom Freestyle 15k / Short's Grand Fate Fatbike 35K

Short's-N-Fat 17K /  JR Vasa & Adaptive Skiers

Awards Ceremony
Sunday February 13th
Packet Pick Up / Lombard Loppet Classic 15k
High School 6K / Vasa Tour 6K / Vasasaurus Stomp 6k

Awards Ceremony44
Saturday Races at Timber Ridge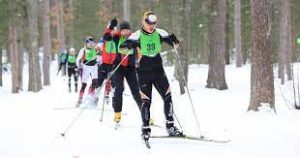 27K -George Kuhn Half Marathon Freestyle – Join hundreds of skiers in the marquee race of the day in a hot lap of the world-famous Vasa Pathway. Combining elevation and long stretches of winding, flat and fast trails, it's one you'll enjoy even as you suffer! You'll do one lap clockwise on the standard Vasa course, with trail segments including The Nipple, The (dreaded) Wall, and Jack Pine – all your favorites! The course is approximately 27 kilometers and is a full Michigan Cup points race. Looking for more? Add the 15K classic on Sunday and enter the Michigan Cup Challenge.
15K -Okerstrom Kortelopet Freestyle– Hop into the action for a fun freestyle event! The 15 kilometer is a great race for first timers , skier enthusiast and focused competitors. This clockwise race will run clockwise. Looking or more? Add the 15K classic on Sunday and enter the Collegiate Challenge.
Fat bike races are a part of the Short's Brewing Fat Bike Series!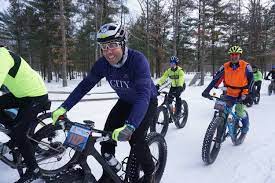 35K -Short's Grand Fat fat bike race – The Grand Fat is a celebration of some of the best-maintained single track fat bike trails in the state! This is your chance to enjoy the pristine Pere Marquette Forest at full-speed and hit all the famous sections of trail: Logger's Run, Yeti's Revenge, Skyline, Drunken Sailor and Riley's! The long race is approximately 35 kilometers (two 17.5k laps).
17K-Short's-n-Fat fat bike race – The Shorts -N- Fat race is a fun ride for everyone. The approximately 17 kilometer course is one clockwise lap of the GRAND course.
Junior Vasa – 1k, 2k and 3k for kids up to 12 years old. Watch our future Olympians duke it out on skis!
Adaptive Skiers Race – These skiers are an inspiration to watch. Come on out and cheer them on!
Sunday Races at Timber Ridge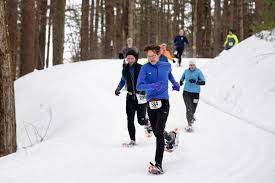 15K -Lombard Loppet Classic – Back the roots of the sport! Get out your skins or wax-up for this approximately 15 kilometer clockwise course on the traditional Grand Traverse Course (Michigan Cup full points race).
6K -High School Classic (ages 19 and under only)- Join the young enthusiast for a fun and fast 6 kilometer race! You are the future of the sport. Older skiers may participate, but they are not eligible for awards.
6K-Vasa Tour – Get in on the fun! Classic and freestyle waves in this approximately 6 kilometer course open to all abilities! The tour is not timed or awarded.
6k-Vasasaurus Snowshoe Race – Get your selfie with the Vasasaurus! This approximately 6 kilometer (2 laps) race runs counter-clockwise through the rolling hills of Vasaland and Timber Ridge. The course is a variety of groomed and ungroomed sections.
Combo Races
●     Michigan Cup Challenge – George Kuhn Half Marathon Freestyle Ski Race (Saturday) + Lombard Loppet Classic (Sunday). This race awards the best all-round XC skiers!
NEW! PRIZE MONEY FOR 2022 – the top three male and female Michigan Cup Challenge winners get a wad of real money! Prizes include $500 for 1st , $250 for 2nd , and $100 for 3rd , male and
female. You don't need to be on a Michigan Cup team to be eligible.
●     Collegiate Challenge – The Kortelopet 15k freestyle race on Saturday + the 15k Lombard Loppet Classic on Sunday is for college teams and the individual collegiate. Contact skipmillernav@gmail.com to receive the code for a $20 discount for registering for both events.
Michigan Cup Challenge (27K Freestyle & 15K Classic) will receive a $20 registration discount. Note: You must register for the combo events at the same time (Run SignUp payment step)  in order to receive the discount.  Collegiate Challenge  (15K Freestyle & 15K Classic) skiers can receive a code for a $20 discount from their respective ski team/club or by contacting skipmillernav@gmail.com.
Registration
On line Registration closes Wednesday, February 9th, 2022.

Registration will not be available on site.

Cancelation policy: Registration fees are non-refundable. However, if the event is cancelled, registrants will have the choice of requesting a refund, or donating the registration payment to the North American Vasa. If the registrant does not make a choice within two weeks of the cancellation notification, the payment will be considered a donation.

Packet Pick-up
WHERE TO STAY
Delamar Traverse City is a stunning property on beautiful Lake Michigan with 173 modern and comfortable guest rooms, many with bay views. The hotel offers multiple dining opportunities, including the Bistro Restaurant and Coffee Bar, seasonal outdoor dining on the Patio, and Artisan Bayside (opening Spring 2021). Other amenities include fitness and business centers, an indoor and outdoor pool and hot tub, seasonal beach activities, and close proximity to the local Traverse Area Recreational Trail (TART) system.
Nestled on the shores of Lake Michigan, our Delamar Resort offers a perfect mix of exploration and amenities.
ABOUT TRAVERSE CITY TOURISM
Traverse City Tourism is a nonprofit corporation that serves as the area's official destination marketing organization. Traverse City Tourism works to enhance, reinforce and develop the Traverse City brand by telling the Traverse City story to potential visitors through advertising, marketing, trade shows, publications, sales missions, media relations and Visitor Center services. Its experienced and knowledgeable team members are motivated by pride for their community and a desire to advance its economic well-being without sacrificing the values that make it a pretty great place. For details on lodging, attractions and area events, visit traversecity.com.