By Katy Walls
Editor of American Roads & Global Highways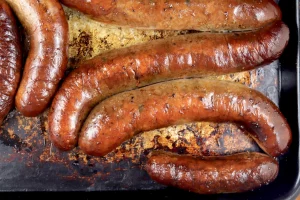 In the 1760s, thousands of Arcadians driven out of Canada because of their religion were welcomed in Catholic Spanish owned Louisiana. They learned to adopt the customs of the Native Americans already living in the area and took what worked from the other cultures such as Germans' sausage which morphed into what is today known as boudin, the most well known Cajun sausage, and the accordion which is a featured instrument in their music. Foods such as African okra, the root of gumbo, were brought to Louisiana by Creoles fleeing Haiti. Many of their customs have survived creating a unique culture known as Cajun.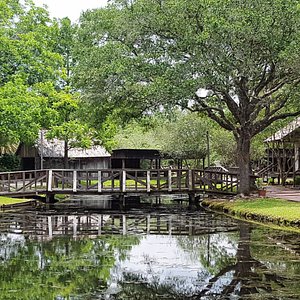 In Vermillionville's historic village, this culture comes to life with actual buildings and reconstructions. You can experienced some of early Louisiana life as you visit the 1765 through 1890 Acadian homes, school, church, blacksmith shop and other authentic structures at the village. You can even experience some of that life yourself by pulled a small raft across Petit Bayou using a large rope. More important are the people here who are more than re-enactors; they are descendants of the people they portray and this is their culture.  They are stationed in many of the homes so you can drop in and visit with them.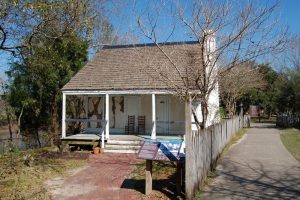 In La Masion Coussan, House of Cultures, you learn about the blending of cultures. The house was built around 1850 by the Coussan family. The construction is typical of Cajun and Creole homes of that era. It is built of heavy timber and the inside of the walls insulated with bousillage, a combination of Spanish moss and mud, a method used by the Native Americans in the area. Inside you meet Chief John Mayeux, who tells about his people, the Avogel tribe.  They were here for almost 5,000 years when the Cajuns arrived and helped the newcomers survive in a strange land.
Lynn Gery is there also. She is a quilter, a skill that was part of everyday life in the 1800s. She learned to make quilts from her grandmother at age six.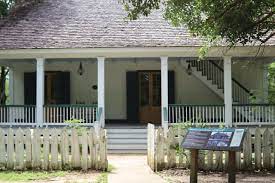 Built around 1840, Beau Bassin is a blend of Creole and American Greek Revival styles. Here Brenda Lalonde demonstrates the art of spinning cotton thread. In Canada women would have spun flax and wool but in Louisiana they have learned to use cotton. Out back there is a patch of brown cotton so you can see the product Brenda is using to create her thread.
At La Maison Boucvalt (circa 1860,) Creole fiddler, D'Jalma Garnier, explains the difference between Cajun and Zydeco music. He will also explain why his people are called Creole. A Creole is a person of European, usually French or Spanish, or African decent whose ancestors came to Louisiana before the Louisiana Purchase.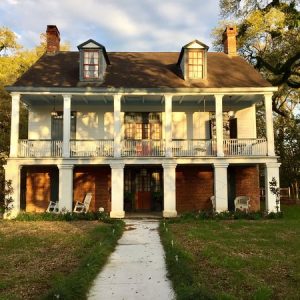 Le Maison Mouton is a reconstruction 1810 Arcadian house. For safety  from fire and because of the summer heat, the  kitchen was detached. Here you will meet Cliff Mire who demonstrates his woodworking skills. Household items and things like decoys were something Cajun men would take pride in creating.
There are so many more homes and buildings to visit here. There's the La Chapelle des Attakapas, a reproduction of the traditional Catholic Churches of the 1760s-1770s. L'Ecole is a reproduction of an 1890s Cajun schoolhouse. There is a blacksmith shop, boat builder's shed and so much more.
Vermilionville's Welcome Center offers a gift shop, La Boutique. You can dine at the Vermillonville restaurant, La Cuisine de Maman. It's a grand place for an extended weekend getaway.