Best for biking: Indiana University's Little 500 PLUS the opportunity for a virtual race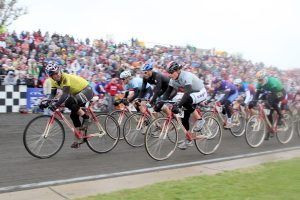 Widely regarded as one of the top biking and cycling cities in the Midwest, Bloomington offers a variety of biking opportunities from city bike lanes and trails, to mountain biking opportunities, to acclaimed cycling events. The city itself is tourist and commuter bike friendly but there's one cycling event that makes major headlines each year and for the second consecutive year, biking enthusiasts can participate from their living room.
On April 22 & 23, Indiana University will again host the Little 500 – the largest collegiate bike race in the United States, widely known as "The World's Greatest College Weekend." Each year, more than 25,000 people travel to Bloomington to watch the race and participate in the week's festivities. In the past, Lance Armstrong, former Bachelor & IU alum Ben Higgins, and former President Barack Obama have attended the race.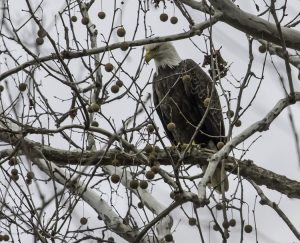 Outdoor adventure is abundant in Bloomington which offers several lakes, trails and scenic activities and adventures any time of the year. Bloomington's first park, Cascades Park, will celebrate 100 years this year. The Birds are Back in Town: With its lush lakes and forests, Bloomington is a great place for birding enthusiasts. Bloomington is home to Monroe Lake, Indiana's largest land-bound body of water and The Stillwater-Northfork Waterfowl Resting Area is Monroe Lake's premier wildlife management area. This large, seasonal marsh is comprised not only of marsh habitat but also of woodlands that provide a refuge for many species of birds. This area is excellent for viewing waterfowl, raptors, shorebirds, and wading birds — several viewing stations are available. You can go camping, swimming, fishing, hiking, boating, beaching, and more here. The misty mornings and evenings of Monroe Lake do display an uncanny resemblance to the Black Lake, minus surrounding mountains and all. The lake is open year-round and the perfect place for a paddle. There are plenty of places to rent a boat if you don't have your own.
Just 30 minutes from downtown Bloomington and the Indiana University campus resides Indiana's only national forest. Comprised of over 200,000 acres, tens of thousands of which are found in Monroe County, and Indiana's only wilderness area, the Charles C. Deam Wilderness, the Hoosier National Forest offers a peaceful respite from the hustle and bustle of life, as well as a slew of nature activities to enjoy during any season.
In addition to several award winning breweries, Bloomington is home to The Irish Lion, rated one of the top 15 Irish bars in the country, this pub/restaurant was founded in 1982 by Bloomington resident Larry McConnaughy and is now under the management of his daughter Sheanin. It is located inside a restored 19th-century tavern, hotel, and—according to legend—brothel. The bar is known for its classic Irish dishes and its drink menu lists more than 160 small-batch bourbons, Irish whiskeys, and Scotches. A photo of the bar was included in the credits for the TV sitcom Cheers. And if that's not fun enough, The Irish Lion is reportedly haunted, and come closing time, bartenders are asked to leave a shot of whiskey at the end of the bar to appease any lingering spirits.
Run to Bloomington: The Hoosier Half Marathon and 5K will take place on April 9, 2022. Participants will experience 13.1 miles of relentless rolling hills but will be rewarded with amazing views of the IU campus, downtown Bloomington, and countless spring blooms.
Opened in 1955, the Jordan Hall Greenhouse is one of those hidden gems on campus. Steamy temps year-round make it a favorite place to warm up and fantasize about being on an island. It's a great place to take kids of all ages and explore the unique plant life from the desert to the tropics. You'll see orchids, banana plants, giant ferns but no screeching mandrakes. The greenhouse is free and open daily.
What is Easter without candy? Quite possibly the most decadent chocolates in town, Blu Boy Chocolate should be on the list for anyone with a sweet tooth. They are famous for their handmade chocolates with unique flavors like ancho chile and blood orange. They even have hand-painted truffles and caramels, a unique and tasty bite. They also feature an assortment of cookies, cakes, and monumental ice cream sundaes as well. Shipping is available. To order, visit https://bluboystore.com/