By Kathy Casstevens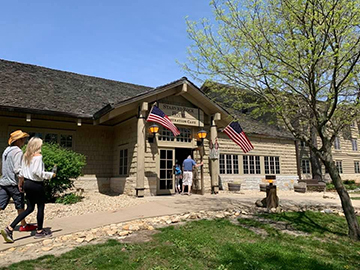 You can stay in the historic Lodge or choose a cabin in the woods. Both are close to the indoor pool complex, dining room, Café, Gift Shop, outdoor dining on the Veranda and the Back Door Lounge. Sleep just steps away from the trails and seasonal waterfalls of scenic Starved Rock State Park.
Starved Rock Lodge, located in Oglesby, IL, at the "crossroads of the Midwest" is just a few minutes from the intersection of Interstate 80 and 39. Depending on your arrival time,Whether it's a family getaway, corporate retreat, or dream wedding, Starved Rock Lodge is set in the middle of glacier-cut canyons, seasonal waterfalls and amazing bluff views. The Lodge was masterfully built by the Civilian Conservation Corps in the 1930's. 
The Veranda offers an amazing, panoramic view of the scenic Illinois River Valley. Locally-made craft beer is on tap from Tangled Roots Brewery or try Starved Rock Signature Ale. The Grill Menu includes salads, grilled brats, burgers and more. There's even a "Doggie Delights" Menu for your furry friends who are welcome in dedicated sections of the Veranda. If you'd rather cool off inside, the Back Door Lounge and Main Dining Room serve lunch and dinner daily. Live music runs every Friday night from 8-11pm on the Veranda. Sunsets are photo worthy. The atmosphere is laid-back and relaxing. The Café is the place to go for delicious fudge and Artisan Ice Cream made at the Lodge. 
The Great Hall is the hub of this architectural masterpiece which features the largest two-sided fireplace in the Midwest, a restaurant, a bar with outdoor dining, a Café, pool, 69 hotel rooms and 21 cabin rooms. Over two million visitors per year come to see Starved Rock State Park (a National Historic Landmark) but only a few of them know about the hidden gem at the top of the hill. Starved Rock Lodge has comfy rooms and cabins in the woods. There's a Café just off the Lobby that has delicious house-made fudge, ice cream as well as breakfast, lunch, snacks, Illinois-made wine and more. The Lodge Gift Shop has a wide selection of gifts and souvenirs from books, jewelry and beach cover-ups to Starved Rock hats, t-shirts and coffee mugs. Trailheads Concessions is located in the Starved Rock Visitor Center. This is the perfect place to begin your exploration of Starved Rock. Docents and staff will help you find your way around the park. Park rules, events, activities, and downloadable maps are available on the lodge website. Overnight packages are also outlined on the Lodge's website. Priority parking is included with every room booking. WiFi is free.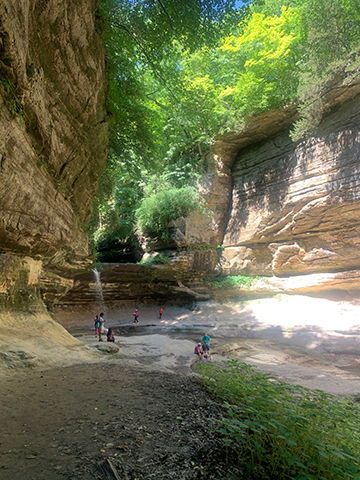 The main reason visitors come to Starved Rock is to hike the 13 miles of scenic trails which meander through glacier-cut canyons. Seasonal waterfalls (depending on rainfall) can often be found at St. Louis, Wildcat and LaSalle Canyons. The trio of geological beauty is best seen at Council Overhang which is just a few steps away from Ottawa and Kaskaskia Canyons. This remarkable state park is home to a wide variety of wildlife from white-tailed deer to wild turkeys, bald eagles, squirrels and many more animals. Mother Nature's display of hundreds of wildflowers is a reason to buy a field guide before you arrive. Learning about the botanical names of Spring Beauties, Bluebells and Spiderwort can be a fun activity for nature enthusiasts of all ages. It takes about 40 minutes to hike the west trails from the Lodge past Aurora, Kickapoo and Sac Canyons on your way to St. Louis Canyon. For longer hikes, take the east trails to Wildcat Canyon (which features two scenic overlooks) or LaSalle Canyon. This is often referred to as the most scenic canyon in the park (named after the French Explorer René-Robert Cavelier, Sieur de La Salle).
Land & Water Cruises run every Monday, Wednesday and Friday (11am to 3pm). Tickets are $55 per person. This is a great way to enjoy lunch in the air-conditioned historic dining room. After lunch, you'll board the Starved Rock Trolley and travel through Starved Rock State Park, then take a ride on the Eagle 1. One-hour Illinois River Cruises are offered on Saturday and Sunday at 1pm and 2pm.Tickets are $32 per person. The best way to see the area is on the combo tour called "Visit at Canyon & a Boat Ride" offered on Saturdays and Sundays from 11am to 1:30pm (a snack, bottled water and souvenir drawstring backpack are included). Tickets are $50 per person. This tour includes a trolley ride, guided hike to see amazing examples of St. Peter Sandstone at Council Overhang and Ottawa Canyon, plus a boat ride along the Illinois River. Guided hikes also are offered each weekend. Departure time is 10am and lunch (in a drawstring backpack) is included for $22 per person. Historic Trolley Tours are offered on Monday, Wednesday and Friday (3pm departure). Tickets are $15 per person. Reservations are required for all tours and hikes. Book online or call (815) 220-7386.
The best indoor activity is one of the Tribute to the Stars Shows in the cool comfort of the historic Great Hall where talented tribute artists take you on a walk down memory lane. All matinees include a buffet lunch. Prices vary per show. Don't put off having fun. Book your summer getaway today. Call us at 815-667-4211 or click here to book online.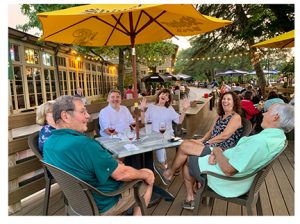 Outdoor dining on the Veranda is highly recommended for lunch, when weather allows. The panoramic view from the bluff overlooking the Illinois River Valley is photo-worthy. Live music fills the air every Friday night from 8-11 p.m. Food service is available until 9 p.m (bar service runs until midnight). The adjacent, air-conditioned Back Door Lounge is a great place to cool off on a warm day or enjoy lunch, dinner, apps and hand-crafted cocktails while you catch up on the latest in news and sports. Craft beers on tap are Starved Rock Signature Ale and locally-made Tangled Roots Brewery products among others.
Music lovers who would enjoy a walk down memory lane don't want to miss the Tribute to the Stars Shows which are matinees offered on Mondays and Tuesdays in the Great Hall. The ticket price includes a hot lunch or dinner buffet. Talented vocalists perform hits made famous by Patsy Cline, Elvis, Tom Jones, Dean Martin and many country music favorites. Ticket prices start at $45 per person.
In addition to guaranteed, priority parking, Lodge guests can relax in the expansive indoor pool which includes a giant lap pool, shallow-depth children's pool, two saunas and a hot tub.
And of course, a short work week after an extended weekend getaway with us sweetens the deal even more! To learn more or make reservations for your extended weekend getaway, go to www.starvedrocklodge.com or call (815) 667-4211.