Follow in Abraham Lincoln's footsteps, where he lived for 24 years before setting off to become the 16th president of the United States. A great place to begin is the Abraham Lincoln Presidential Museum and Library, where lifelike vignettes tell Abe's story, from his humble beginnings in a log cabin to his assassination. Two special effects-driven theaters, plus artifacts such as Lincoln's signature stovepipe hat, delight history fans. Nearby, a guided tour of the Lincoln Home national Historic Site, offers a glimpse into daily life for the family. Downtown is the striking Old State Capitol, site of many career triumphs, including Lincoln's famed "House Divided" speech on slavery. Pay respects at the Lincoln Tomb in Oak Ridge Cemetery, where visitors rub the well-worn nose of the bronze Lincoln bust for luck.
Find visitor info in the refurbished historic Union Station. Then pose for a selfie with Abe, whose statue sits on a bench outside this downtown building.
A costumed guide tells spooky tales and points out Lincoln sites in downtown Springfield during the nighttime Lincoln's Ghost Walk.
The natural history of Illinois, from the dinosaur era to frontier times and up to present day, is wonderfully illustrated at the Illinois State Museum. The downstairs Play Museum features a dino dig and fun games.
Just blocks away sits the beautifully preserved Dana Thomas House built by esteemed architect Frank Lloyd Wright. The mansion has retained its gorgeous Wright-designed art glass and furniture.
In Washington Park, listen to summer concerts at the Thomas Rees Memorial Carillon, one of the world's largest carillons.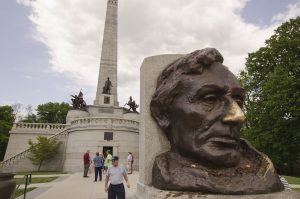 "Lincoln Tomb." Photo Jason Lindsey courtesy IOT.
The tomb of Abraham Lincoln in Springfield, Illinois.
For lunch, stop at the Cozy Dog Drive In for a taste of the self-proclaimed original dog on a stick. An upscale version of Springfield's own horseshoe sandwich (an open-face hamburger served on thick bread, smothered with French fries drenched in cheese sauce) is on the lunch menu at Maldaner's. Another option for adults is Obed and Isaac's Microbrewery & Eatery located close to the Lincoln Home. They make the popular Mother Road pale ale.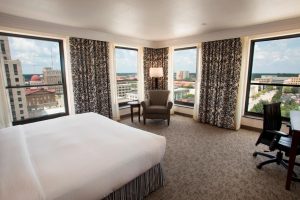 To stay with the Lincoln theme, make overnight reservations at the President Abraham Lincoln Springfield, A Doubletree by Hilton Hotel. This puts guests in the heart of downtown historic sites with a warm welcome and their delicious fresh-baked cookie upon arrival.  It is the closest hotel to the Abraham Lincoln Presidential Museum and Library and just minutes from the capitol. All of the beautiful guest rooms and suites at this hotel in Springfield, IL, feature modern amenities and thoughtful touches including a flat-screen TV, premium bedding, and complimentary WiFi access. Work out on the latest equipment in the 24-hour fitness center or swim in the indoor pool. Start your day with a hearty Midwestern breakfast buffet at Lindsay's Restaurant and visit The Globe Tavern to enjoy hand-crafted specialty drinks, premium draft beers and live sports on seven flat-screen TVs.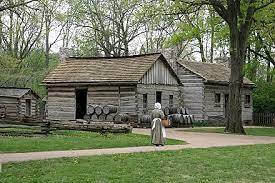 The next day of your trip, step back 150 years in time and explore New Salem, a re-creation of Abraham Lincoln's 19th century frontier village.  Take in a performance at the Hoogland Center for The Arts or enjoy a family day trip to the Caribbean-themed, Knights Action Park featuring go-karts, water slides and fairground attractions.
This extended weekend getaway is not one you will soon forget!