By Kathy Barnett
Managing Editor
Made up of Davenport, Moline, Rock Island, and Bettendorf, two cities are located near the Mississippi River in Iowa and the other two across the river in Illinois.
On a recent hosted media visit, I had the pleasure of learning so much about this delightful area and I can definitely predict I will be returning for more fun.  An added bonus was Moline was celebrating its 150-sesquicentennial anniversary of incorporation. Since its founding, many famous people have been connected to Moline. There was so much to see and do. Here are only a few of the places we visited, the products we learned about, and the people we met.
John Deere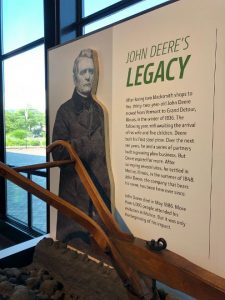 John Deere developed the first successful self-scouring steel plow. The plows being used by pioneer farmers of the day were cast iron, cumbersome and ineffective for cutting and turning the prairie soil. Made in 1837, he used an old sawmill blade for the plow's cutting part and shaped by bending it over a log. By 1846, Deere was selling up to 1000 a year.  The business was first incorporated as Deere & Company in 1868 in Moline, IL and has remained the national headquarters of John Deere tractors ever since.
During the Moline 150th anniversary festival Mischa A. Hooker, shown above in front of the combine, graciously portrayed the character of John Deere for the first time. He is a continuing lecturer of Classics at Augustana College in Rock Island.  The John Deere Pavilion exhibits various eras of equipment and offers free admission. https://www.deere.com/en/connect-with-john-deere/visit-john-deere/pavilion/
Sliced Bread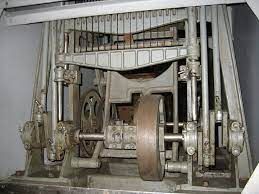 Even though my home state of Missouri claims Chillicothe to be the home of sliced bread, I learned the actual machine was made here. The commercial bread-slicing machine was designed and manufactured in 1928 by Otto Frederick Rohwedder (1880-1960). Chillicothe was the first location to "sell" sliced bread upon using the machine. It was also used to slice loaves of fresh bakery bread at Korn's Bakery, in Rohwedder's hometown of Davenport, Iowa, beginning in late 1928.

Tack Bench
The Rock Island Arsenal is a major Army installation that is the home to more than 80 tenant organizations that provide critical products and services to all of our Armed Services. It employs more than 6,000 military, civilian and contractor personnel. The tack bench, sometimes called a stitch pony. is one of those items made here. This is what a saddle maker would use to hold the leather as he worked on it. Very primitive and used in the 1800s.
Whitey's Ice Cream
Chester "Whitey" Lindgren established Whitey's Ice Cream in 1933 in Moline, who received his nickname due to his white-blonde hair. An early-on hire of a 15-year- old Bob Tunberg turned into close friendship. Bob and his wife, Norma, wound up purchasing the company in 1953. Their two sons grew up learning the business and are now co-owners. It was not a multiple locations establishment until the late 1970s and has grown to eight store locations in the Quad Cities. They are known for creating the first chocolate chip cookie dough ice cream.
Through the years, various unique flavors have been added including Cameo (left) where all proceeds go to Veterans. In 1969, they experimented with plain shakes and were the first to ad candy or cookies into the mix. They started with the Butterfinger candy bar. In 1970, the company invented the malt machine that is still used nationwide today.
Boetje's Mustard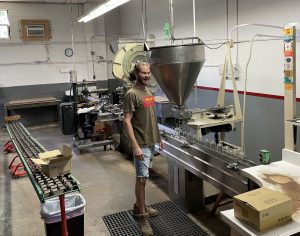 Founded in 1889 by German immigrant Fred Boetje,, this stone ground and wood aged sauce was made from an Old-World recipe.  Mr. Boetje found American food to be a bit "bland." He even called it "puny" and proceeded to spice it up with his homemade mustard. He then took a ladle and went door to door to fill customer's jars for a nickel each. It is still the same recipe today.
The Kropp family purchased the business in 1983 and have run it since. Will is the current owner with his son, Harrison, serving as production manager. They showed us around and allowed us to taste the three most popular flavors. I liked the original. Others liked the honey mustard. Now the mustard is available in over 27 states and locally is in many Quad Cities stores and restaurants. Winning awards since 2008, Boetje's "Dutch" Stone Ground Mustard emerged as the Grand Champion at the 2016 Worldwide Mustard competition, the first time a whole grain mustard has earned this title.
Dairy Queen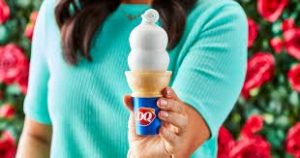 In 1938, near Moline, Illinois, J.F. McCullough and his son, Alex, developed the delicious dairy product millions have come to know as Dairy Queen soft serve. The McCulloughs' innovation was the beginning of today's system of more than 5,700 Dairy Queen and Dairy Queen/Brazier stores. The inventors of Dairy Queen's soft-serve ice cream recipe had been selling ice cream since they opened their store in Davenport, Iowa, in 1927.
Buffalo Bill Museum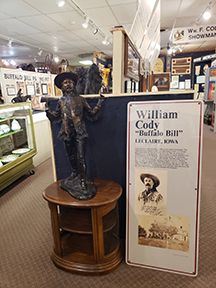 Famous for his Wild West Shows, William Frederick Cody was born in 1846 in Le Claire, Iowa. He was only 11 when he started working and became a rider for the Pony Express at the tender age of 15. He served the Union, then later served as a civilian scout for the Army. Buffalo Bill's legend began to spread when he was only 23. As he began performing in shows that displayed cowboy themes, fame grew. He founded his own Buffalo Bill's Wil West in 1883. The museum in LeClaire tells his story.