Whichever part of this magnificent state you choose to discover, you'll find spectacular scenery, fun things to do and friendly, helpful people. You'll also find a place that's unhurried, unspoiled and unassuming. So linger awhile and discover Idaho.
Map out unique vacations from Sun Valley to Lake Coeur d'Alene, explore over 4 million acres of wilderness, discover exclusive places to stay, play and much more. Idaho is known for its mountainous landscapes and vast swaths of protected wilderness and outdoor recreation areas. The capital, Boise, is set in the Rocky Mountain foothills and bisected by the Boise River, which is popular for rafting and fishing. The city's riverfront Julia Davis Park is a downtown green space containing a rose garden, museums and a zoo.
Spanning pristine landscapes to striking views, some of Idaho's most popular and impressive destinations are those created without the work of human hands. Here are five must-see natural attractions.
City of Rocks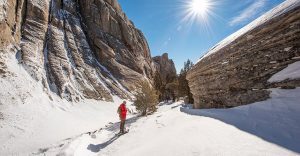 Head south to the mountains! Aptly named for its towering granite pinnacles, fins and domes, the City of Rocks National Reserve is a 14,407-acre reserve situated at the southern end of the Albion Mountains. The area is renowned for rock climbing and counts mountain biking, birdwatching and hiking among its main attractions.  Rent Snowshoes in the City of Rocks National Reserve to explore the valley. The City of Rocks is open through winter, and with snowshoes the exploration is endless! Twin Falls has urban hikes that are accessible throughout winter as well. Auger Falls, Dierke's Lake and Shoshone Falls are accessible as long as the roads don't have snow on them. The Canyon Rim Trail is also open all winter, including Perrine Coulee Waterfall! Perrine Coulee even shows off ice crystals during the colder months.
Shoshone Falls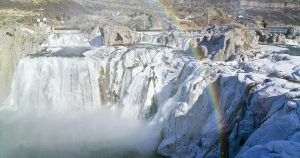 Plunging 212 feet into the Snake River, Shoshone Falls is considered the "The Niagara of the West." Other must-see waterfalls include Mesa Falls near Ashton and Fall Creek Falls near Swan Valley. Everywhere you look, you'll see evidence of the earth's forces at work: deep canyons, high bluffs, unusual rock formations, and even lava flows. s terrain also delivers big adventure opportunities. The Snake River is the heart of the valley's recreation. Make a stop at the Perrine Bridge that spans the Snake River Canyon and watch as B.A.S.E. jumpers float to the ground below, or speed along a zipline inside the canyon.
Hells Canyon
Hells Canyon National Recreation Area has over 650,000 acres of pure wilderness. As North America's deepest river gorge, Hells Canyon carves its way between giant slabs of green and black basalt walls along the Idaho-Oregon border. Filled with Native American and homesteading history, the canyon is well known for great fishing, whitewater rafting and jet boating. The canyon is fairly remote, and not many people have heard of it, but now that you know of its existence, you can go out and explore all its various landscapes and ecosystems in an outdoor adventure.
Craters of the Moon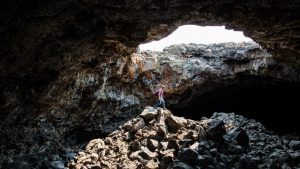 There are more than 500,000 acres of young lava fields protected within the Craters of the Moon National Monument and Preserve, which is also a designated International Dark Sky Park. Camping is available so you can explore rock-lined trails during the day and then view the starry sky at night. All park caves are closed for the season due to hazardous ice and snow at cave entrances.
Land of Lakes
Lakes and more lakes: Idaho is home to over 2,000 lakes — many of them picturesque bodies of alpine water. Take a dip or cast a fly into Priest Lake, Lake Coeur d'Alene and Lake Pend Oreille in northern Idaho; Payette Lake, Cascade Lake and Redfish Lake in central Idaho; and Henrys Lake, Grays Lake, and Bear Lake in eastern Idaho.