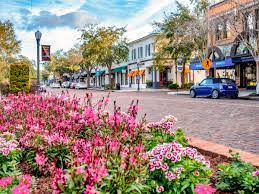 School's out, summer is here, and everyone is eager to get outside and take a break from virtual living. Winter Park, one of the hidden gems of Florida, is calling. the compact and walkable city has a European feel. Home to Rollins College, art museums, Spanish Mediterranean-style mansions and a chain of blue lakes, Winter Park is an intimate community often cited as one of the best small towns in the country. It's also one of those desirable places where life is lived outdoors, in cafes and restaurants as well as in parks and on tree-lined streets. It offers the kind of safe, breezy, open-air environment that everyone is looking for right now, making it an ideal getaway for outdoor living and social distancing.
Winter Park is also home to The Alfond Inn at Rollins, the award-winning and dog-friendly boutique hotel is situated in the heart of town and a short stroll from the downtown district. The hotel offers gracious service and retains the sense of peace and tranquility that has been drawing visitors to Winter Park for more than 130 years.
Art plays a central role in every stay at The Alfond Inn at Rollins, which has long been celebrated as a groundbreaking and unique art hotel, the only hotel in the United States that exhibits artworks from a museum collection. The Alfond Collection of Contemporary Art is part of the permanent collection of Rollins Museum of Art and the hotel exhibits a rotating installation of works in the public spaces. For a guided experience of the hotel art on display, there are in-person, curator-led art tours at the hotel on the first Wednesday of each month. For more details, visit the Rollins Museum of Art. Summer exhibitions at the museum will run through September 4.
Shopping & Walking, Biking & Boating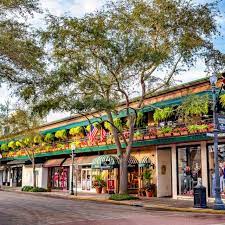 Built in the 19th century, Winter Park's pedestrian-friendly downtown is a far cry from a mall. It's anchored by architecturally distinct shops and cafes along Park Avenue, with covered walkways and passageways that lead to boutiques. Many of the shops and more than two dozen restaurants are dog-friendly.
The city boasts a number of public parks that are well worth exploring, like the Kraft Azalea Garden on the shores of Lake Maitland, which is known for its towering cypress trees. Mead Botanical Garden is a 47.6-acre park that offers a butterfly garden and a bike trail. At the 23-acre green space on Lake Baldwin, dogs can run off-leash during specific posted hours. The residential streets are perfect for strolling under the town's signature oak trees hung with Spanish moss. Winter Park is also a very bike-friendly community with its bike rental shops and miles of tranquil streets for easy peddling.
Visitors can also take to the city's tranquil lakes on the Scenic Boat Tours, a Winter Park fixture since 1938, which have just resumed. These are leisurely pontoon boat excursions that ply Winter Park's chain of lakes. Departing from Lake Osceola, a few minutes stroll from The Alfond Inn at Rollins, these hour-long, guided cruises float through three of the seven lakes and two, narrow manmade canals. Guests may spot cranes and even alligators as they cruise past some of the city's most beautiful estates and gardens.
Art in the Park
Winter Park has long been a haven for art lovers. The Albin Polasek Museum & Sculpture Gardens has a lakeside sculpture garden and gallery that has just reopened to visitors. The Alfond Inn at Rollins itself was designed to exhibit rotating installations of works from The Alfond Collection of Contemporary Art, which is part of the collection of the Cornell Fine Arts Museum at Rollins College, making it the only hotel in the United States that serves as an actual extension of an art museum.
Alfresco Dining in Winter Park
Park Avenue is lined with inviting streetside cafes, wine bars, brunch spots and restaurants that offer alfresco seating on the sidewalk or in a patio setting, offering a wide range of tastes, from classic Florida seafood, barbecue and stylish New American cooking to Italian, French, Mexican, Indian, Turkish, Thai and Japanese cuisine. Hamilton's Kitchen at The Alfond Inn at Rollins has a spacious outdoor patio, with a menu created by Chef Stephen Doyle with lighter summer tastes in mind, from his Sea Scallops with Polenta to the Asiago Risotto Primavera, the spicy and refreshing Jerk Jackfruit and the always popular Chesapeake Crab Cakes. and wines curated by Sommelier Nassine Campos from a list that has garnered an Award of Excellence from Wine Spectator. Summer libations are best enjoyed with friends around one of the fire pits for an evening gathering under the stars.
Check into The Alfond Inn at Rollins 
The best way to experience The Alfond Inn is with the new Summer Adventures in the Park package that includes a two-night stay in a Classic Room, a lake cruise on the Winter Park Boat Tour, a pair of tickets to the nearby Charles Hosmer Morse Museum of American Art, and two Gourmet Box Lunches.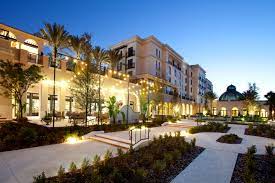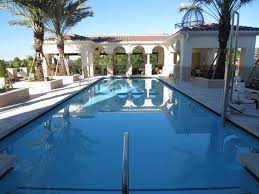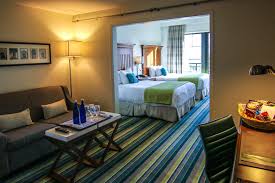 Summer Adventures in the Park:
Two night stay in a Classic Room (double occupancy).
Two tickets for the scenic Winter Park Boat Tour
Two tickets to the Charles Hosmer Morse Museum of American Art
Two Gourmet Box Lunches
Rates start at $249 per room, per night, based on a two-night stay.
Taxes are extra and the package is based on availability.
Details at The Alfond Inn at Rollins