The Delaware Discoveries Trail
Find the perfect Insta-worthy moment and discover a new one-of-a-kind experience in Delaware. All within a short drive, you can explore 13 locations with one-of-a-kind pieces of interactive street artwork throughout the state that you won't see anywhere else. Plus, if you submit four of your #DelawareDiscoveries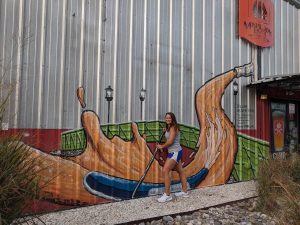 photos taken with the artwork, you will receive a chance to receive a limited-edition prize! While exploring these unique locations, you'll have a chance to visit off the beaten path destinations for an exciting weekend getaway!
The Delaware History Trail
This interactive trail spotlights 29 culturally significant locations throughout the state of Delaware. All along the Delaware History Trail, you'll discover a charming lineup of inns, hotels and B&Bs with historic tales to tell. Start your journey with a stay at one of these historic landmarks. Let your spirit of adventure lead the way on one of the most intriguing historic experiences Delaware has to offer. Here are some ways to get you started on this historic, one-of-a-kind journey!
Stay at a historic inn
Hotel DuPont, Wilmington
Ornate, luxurious and grand, "The Hotel" has hosted heads of state, celebrities and even a princess-to-be. Cap your stay with a meal at the luxurious Le Cavalier restaurant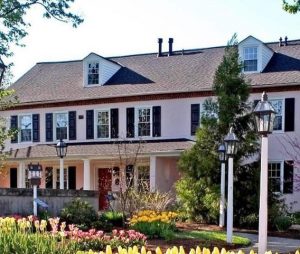 The Inn at Montchanin Village & Spa, Montchanin
Designated a historic Hotel of America, this soothing and sophisticated "village" features period furniture, an on-site spa, and stunning gardens.
Terry House Bed & Breakfast, New Castle
This 1860 townhouse in the center of a historic town is the perfect place to start your exploration of this Colonial-era city on the banks of the river.
Causey Mansion Bed & Breakfast, Milford
Discover a beautiful oasis of old-world allure at this cozy and serene 1763 home, beautifully landscaped and just steps from downtown shopping.
Inn The Doghouse, Milton
This renovated 100-year-old listed home is just steps from Dogfish Head Brewery & Tasting Room, Milton restaurants and bars, and only 6 miles from the Delaware Beaches.
Hotel Rodney, Lewes
Built in 1926 and long part of this seaside town's historic charm, this hotel is perfect for enjoying the unforgettable shopping and dining of Lewes.
At Melissa's Bed and Breakfast, Rehoboth Beach
Built in 1910 as a classic coastal beach cottage, Melissa's is known for its welcoming front porch, cool shade trees, and quick access to the beach.
Dining at historic restaurants
The captivating destinations on the Delaware History Trail can leave you hungry for more – more experiences, more discoveries, and yes, more food. Here's a roundup of historic restaurants in Delaware that have their own story to tell, and their own rich past to share.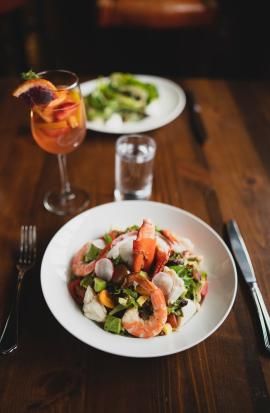 Stanley's Tavern, North Wilmington
Serving hungry travelers since the 1920s, Stanley's now holds a legendary local reputation for sports-pub delights.
Buckley's Tavern, Centreville
The building in this historic hamlet dates to 1817, but the local gentry have been enjoying tasteful creations here since the 1930s.
Jessop's Tavern, Old New Castle
The cobblestone streets of Old New Castle lead straight to this 300-year-old Colonial-era gem, where even the recipes have historic credentials.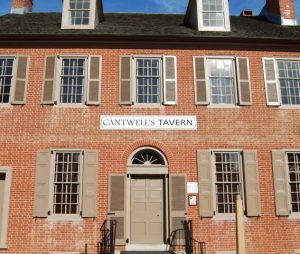 Odessa
End your stroll through the Colonial village with a stop at this 200-year-old "public house," featuring seafood, sandwiches and chops.
Cobblestone Café, Dover
You'll feel so cozy sitting down for a latte and tucking into all-day home-style breakfast (or lunch) at this cafe inside a vintage home, right in the heart of historic Dover.
Painted Stave Distilling, Smyrna
This vintage movie theatre was transformed into the state's first stand-alone, small-batch distillery, and now stands as a must-see stop on the DE on Tap lineup of breweries, wineries and distilleries. Keep your eye out for the taco truck!
JP's Wharf, Bowers Beach
Sit on the deck alongside the water, order some fabulously fresh fish, and soak in the nautical vibe of this historic bayside town.
Historic Brews
Strolling cobblestone streets and standing before historic sites is sure to make one, well, thirsty! Sip, sip, hooray to the adventures you'll take along the Delaware History Trail by pairing them with a visit to a nearby brewery, winery, or distillery:
A unique spot that honors modern day history in Delaware. Hint: Try their Railcar one brew or the Fruits of Eleutherian Mills Cider made from fruits found at Hagley Museum!
Locations nearby: Hagley Museum, Nemours Estate, and Delaware History Museum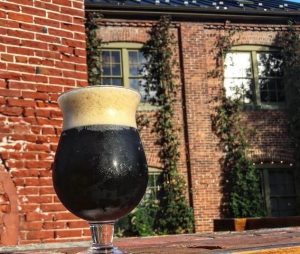 Located in the historic Garrett Snuff Mill you'll be surrounded by picturesque brick buildings, and brews like a traditional Belgium witbier.
Locations nearby: Auburn Heights Preserve, Winterthur Museum, Garden, and Library
A spot that just may go down in history for their Electrolyte-infused brews!
Locations nearby: Abbotts Mill Nature Preserve and Downtown Milford
Connect your historic adventures for the day with brews that have paved their way through the National Craft Brew Industry from the iconic Dogfish Head Brewery.
Locations nearby: Milton Historical Society/Museum and Lewes Historical Society
Make a pit stop on your historic journey for a sip of likely the worlds oldest alcoholic drink… mead!
Locations nearby: Nanticoke Indian Museum
Painted Stave Distilling :
This 1940's movie house turned distillery is the perfect spot to cheers to checking off another spot on the Delaware History Trail.
Locations nearby: Bombay Hook National Wildlife Refuge.
President Biden Driving Trail
Delaware, as President Joe Biden has once said, is "a place of hope, and light, and limitless possibilities." And to celebrate recent historic moments, you can now take a driving tour through the state where
Biden's journey to Washington began and discover the places and people that define "the very best of who we are as Americans." So, pack your aviator sunglasses and hit the road with the President Biden Driving Tour that's filled with presidential pit stops, from the hope filled artwork found on the Chase Center in Wilmington to the sunrises found on the Junction Breakwater Trail.