The James Beard Foundation Awards are as important in San Francisco as the Academy Awards are in Hollywood. San Francisco is already home to a number of James Beard Award-winning chefs and restaurants for best chef, outstanding baker, outstanding service, and outstanding restaurant design.
San Francisco and the region has a total of 83 Michelin stars among the 61 venues listed in the 2019 Michelin Guide. The area's Bib Gourmands, "restaurants that offer high-quality food at pocket-friendly prices," increased by one this year to 68.  through its own exhibition and work with cultural partners.
Cala, in San Francisco, is the only two-star Mexican restaurant in the world. Ironically, there are no two-star Michelin restaurants in Mexico.
Al's Place on Valencia Street is one of the least expensive Michelin star restaurant in the U.S.
Angler, on the Embarcadero, was named the #1 New Restaurant in America and described as "an Avalon of pleasure and ease."
Chef Michael Mina and television host and cookbook author Ayesha Curry joined forces to develop an exciting new flavor experience. International Smoke borrows techniques from cultures in every corner of the world for its smoked and grilled specialties.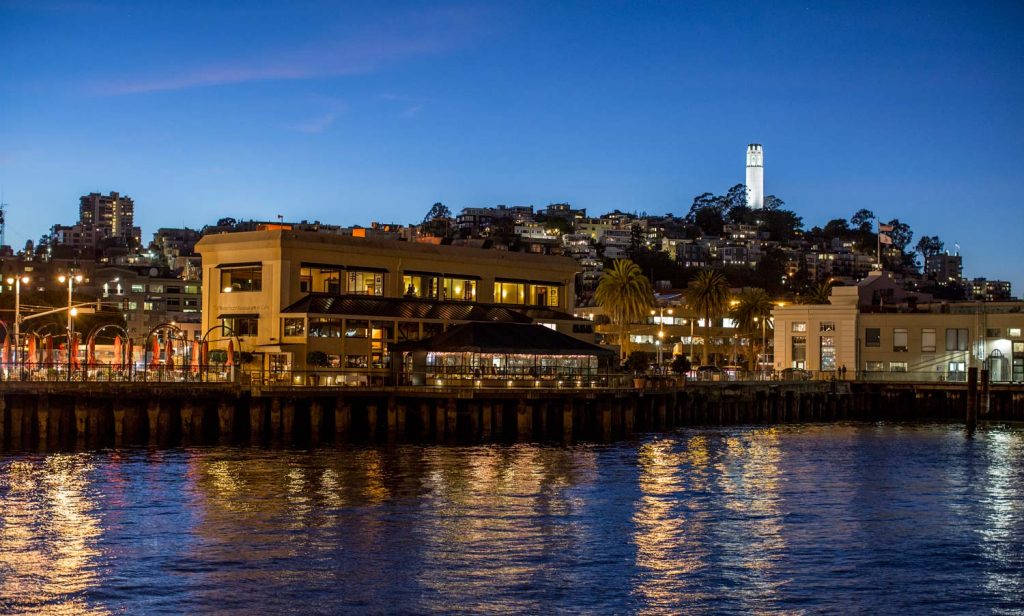 The famous Waterfront Restaurant is a favorite for its farm-to-table produce and its selection of sustainably harvested seafood. The STEM Kitchen & Garden menu features produce from its on-site garden, as well as certified cafe-free eggs and humanely-raised meats.
San Francisco was the birthplace of the Impossible Burger, the site of sourdough's perfection, and the first city to embrace farm-to-table philosophy on a large scale. It is also known as the birthplace for the popsicle (1905), chicken tetrazzini (1908), and Green Goddess salad dressing (1915).
With some 5,300+ places to eat, San Francisco has more per capita than any other major city in the United States.    San Francisco is well-known for a deeply inclusive culture, and residents are open to diversity in every aspect of daily living. This welcoming spirit and willingness to embrace other cultures and lifestyles has made the city's incredible variety of cuisine possible. In a single trip, you can enjoy classic flavors and modern remakes from the culinary traditions of dozens of nations.
What would the Bay Area be without its wine? As one of the world's top producers of everything from Chardonnay to Zinfandel, a visit to San Francisco wouldn't be complete without a trip to wine country, just an hour away.
With a mild climate including cool, wet winters and dry summers, for the most part you can expect the high's in the upper 50s, 60s or low 70s. It's almost never warmer than 73, never colder than 50. The nights are chilly so carry a jacket. For more information on reservations, activities and more, visit www.sftravel.com, read the Visitors Planning Guide or call 415-391-2000.