Alaska, northwest of Canada, is the largest and most sparsely populated U.S. state. It's known for its diverse terrain of open spaces, mountains and forests, with abundant wildlife and many small towns. Alaska holds the title for having the largest national park, the highest peak, and the longest coastline. Massive Denali National Park is home to Denali (formerly called Mount McKinley), North America's highest peak. It also is known for the longest day and night. On June 21, Anchorage gets 22 hours of functional daylight. But the midnight sun still hangs in the sky a long time even after sundown, the sun merely dips under the horizon. Alaska's outdoor activities include skiing, mountain biking, and kayaking. An extended weekend getaway is definitely needed to experience even a fraction of the opportunities in this state. Where else can you trek across a glacier, fly over the wilderness in a bush plane, watch a massive brown bear snag salmon from a waterfall, and explore millions of acres of parklands?
Fairbanks delineates the Aurora Season as August 21 through April 21, when the sky is dark enough to afford visitors the opportunity to chase the aurora. Fairbanks' location is superlative for northern lights viewing because it is under the "Auroral Oval," a ring-shaped zone where aurora activity is concentrated. Additionally, Fairbanks' low precipitation, distance from coastal areas and minimal population all contribute to consistently clear nights and low light pollutio/n. All combined, these variables make the region an outstanding destination for aurora viewing. Conversely, the Midnight Sun Season runs from April 22 through Aug. 20. The midnight sun shines brightly for the whole summer with the most sunlight occurring between May 17 and July 27 when Fairbanks experiences 70 straight days of light. Winter Season is central to life in Fairbanks and the region can guarantee a snowy winter landscape from mid-October through late March. >Visit Fairbanks 
Visit a lodge older than the state of Alaska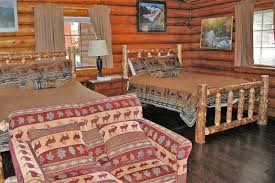 Visitors to the Last Frontier with a naturalist streak will be able to visit an adventure lodge that is even older than Alaska.
Gwin's Lodge
, located in Cooper Landing, first opened in January 1952. Alaska didn't become a state until January 1959 and 2019 will mark 60 years since statehood. Gwin's Lodge is also the oldest surviving roadside lodge on the Kenai Peninsula, a place known for outdoor adventures.
The lodge is well known as a fishing destination but it is also a great jumping off point for other activities in the area. The lodge has a concierge on-site who can help a guest experience activities like whitewater rafting, hiking, horseback riding, day cruises in Kenai Fjords National Park, a trip to Denali National Park and Preserve and more. Gwin's has 17 cabins and chalets available for guests interested in all of the activities on Alaska's Kenai so that visitors can play in a place known as 
>Alaska's Playground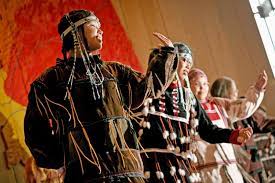 Alaska Native cultural centers, museums, and tours across the state are a good way to get an introduction to Alaska Native culture. Storytelling, song and dance performances, art demonstrations, and art collections can all be experienced first-hand at cultural centers and on cultural tours. Many museums and cultural centers sell arts and crafts made by Alaska Native artists. Look for the Silver Hand Seal, which signifies that you are buying an authentic Alaska Native handicraft.
For visitors who want to explore Alaska Native villages, tour companies can arrange air transportation and tours of remote Alaska Native villages throughout the state. In larger communities, visitors can explore collections of art and artifacts at museums, cultural centers, and some Alaska Native corporations that have buildings open to the public.
The 26-acre Alaska Native Heritage Center in Anchorage showcases all 11 of the state's major Alaska Native cultures. Visitors can learn about Alaska Native traditions from the past and present through the interactive displays, exhibits, events, films, and the six authentic Alaska Native housing sites situated around a scenic lake. The Alaska Native Heritage Center makes a great starting point for your cultural visit to Alaska.