Leave all roads behind you to experience a one-of-a-kind adventure into the wild of two awesome national parks (the story other than Denali): Wrangell – St Elias finds stunning glaciers, compelling mining history, and four mountain ranges and nine of North America's 16 highest peaks tower within its 13.2 million acres. In Gates of the Arctic, fly above the Arctic Circle to access "The Gates," where most people fly into the park on floatplanes that land on lakes or bush planes that land on gravel bars.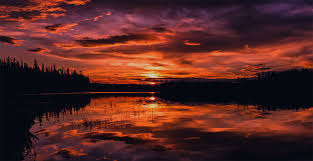 Conversely, the Midnight Sun Season runs from April 22 through August 20. The midnight sun shines brightly for four months with the most sunlight occurring between May 17 and July 27 when Fairbanks experiences 70 straight days of light. Winter Season is central to life in Fairbanks and the region enjoys extraordinary snowy landscapes, at least through March. Here there are serious mountain ranges, pristine rivers and lakes, abundant wildlife, and a certain poignant solitude that is found nowhere else on earth. Midnight Sun Festival is Fairbanks' largest one-day event and held downtown each summer solstice in June for 12 hours. The annual baseball ritual on summer solstice played with no artificial lights at 10:30 p.m. is the Midnight Sun Baseball Game. The Alaska Goldpanners have yielded major league players. Both part of zany event-filled days during our zany time of all-day daylight.
Known as the "Golden Heart of Alaska," Fairbanks is located in the center of Alaska and serves as the basecamp for Alaska's vast Interior and Arctic. Places situated nearby are Denali National Park, the Arctic Circle, Chena Hot Springs, North Pole, and a myriad of villages, parks, and preserves.
GOOD MIGRATIONS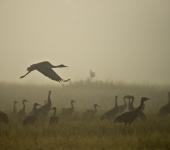 Ducks, geese, sandhill cranes and other migratory birds make Fairbanks their
home in transit. Got 5 minutes? That's how close they are to downtown. While checking out the bird scene embark on a nature hike through the boreal forest and witness the flora and fauna of the region year around.
MORRIS THOMPSON CULTURAL AND VISITORS CENTER
The Land and People of Interior Alaska is the focus of interpretive themes for our new building that opened in late 2008. A first-of-its-kind public/private partnership between the Fairbanks Convention & Visitors Bureau, Tanana Chiefs Conference Cultural Programs, Denakkanaaga, Alaska Public Lands Information Center and Alaska Geographic Store yields a special place with exhibits, programs and answers to all of your Alaskan questions.
WITNESS RURAL ALASKA LIFESTYLE
Learn from the subsistence lifestyle of Athabascan Alaska Natives whose ancestors have inhabited this land for thousands of years. Of the 42 tribal communities in Interior Alaska, only 11 are accessible by road. Now reached primarily by bush plane, the villages were built on the rivers for trade and the river continues to be a highway link to one another. Or take a trip to the Western Arctic coast and meet Inupiat Eskimos who thrive in some of
the toughest, yet most beautiful terrain on the planet.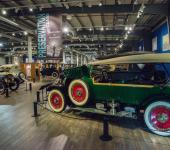 CARS, VINTAGE FASHION AND ALASKAN HISTORY UNDER ONE ROOF
The Fountainhead Antique Auto Museum collection houses over 70 historically significant automobiles produced in the United States prior to World War II. Can you believe U.S. car manufacturers used electric, internal combustion and gas powered motors as early as the late 1800s? Historical Alaskan photographs line the walls and a vintage fashion collection follows the cars through time. Compelling for all visitors
and an over-the-top destination for car aficionados.
A RIVER RUNS THROUGH IT
Our town and connects us with a vast array of rivers throughout the Interior. Waterways literally are the roads that connect our villages and cities together. The mighty Yukon, Tanana and Chena Rivers are all bustling with year-round activity from boating in the summer to snow machining and dog mushing during the winter months. When you come visit make sure you plan a summer or winter excursion down one of our river-roads.