What do President Joe Bidden, Hall of Famer Cal Ripken Jr., and author Harlan Coben have in common? They all played Little League baseball. This is just one of many cool facts guests can learn during a visit to The World of Little League Museum. It is officially known as  The World of Little League: Peter J. McGovern Museum and Official Store.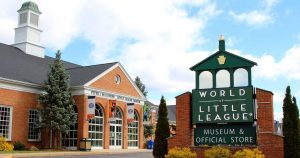 Museum displays trace the league's beginnings to today with modern, interactive presentations. Starting at the beginning of the League in 1939 and traveling in chronological order through the museum on a self-guided tour, visitors start near the first home plate ever used in the League. The plate was hand-carved by league founder Carl Stotz from a piece of rubber he found in his father's basement. The base is just 14" wide compared to today's 17". Stotz's knife, which he had won during a race when he was a boy, broke during the carving. The story symbolizes the effort of all of those involved in the Little League over the years.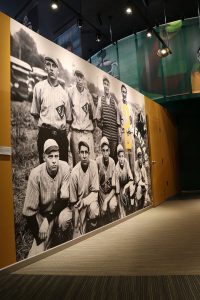 A display focusing on 1958 explains the work of Dr. Creighton J. Hale, a Little League enthusiast, who constructed a compressed air cannon to fire baseballs at helmets to test their strength and durability. His research went on to be incorporated in helmets throughout the sport's history and Dr. Hale eventually developed the Kevlar helmet in use by today's U.S. military.
Baseball's worldwide appeal and Little League's hand in promoting the sport is embodied through a display of Babe Ruth's All Americans uniform, which the slugger wore during a promotional tour of Japan in 1934. The complete uniform is one of only a few Ruth-worn uniforms still in existence and is on loan to the museum from an anonymous party. Other displays recognize the support of players like Cy Young and mark the League's first televised exposure on ABC's Wide World of Sports.
The museum closed for massive renovations in 2019 and reopened in 2020 with more interactive exhibits. Minor renovations in the attached Official Store were completed in March 2023.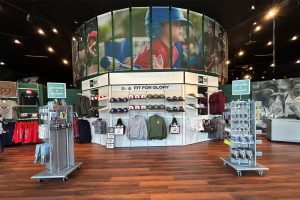 In the museum, visitors can evaluate their speed dashing from home to first and grade their reflexes by fielding simulated infield hits. The museum appeals to all, and the curators are proud of the International Sports Heritage Association Award presented to the museum for its "Seven Firsts" video. The video is part of the Little League's Girls with Game Initiative and inspires female players through the stories of trailblazing women in the sport. Viewers learn about Victoria Roche, the first female to play in the Little League Baseball World Series, and Nancy DosReis, the first female inducted into the Little League Hall of Excellence.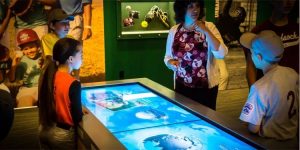 Sitting along busy US Route 15 in South Williamsport, the Museum is the first visible structure at the Little League International Complex, home of the Little League Baseball World Series.