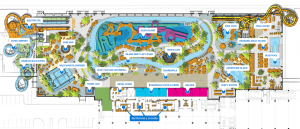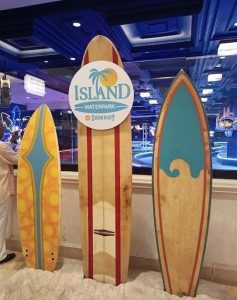 Atlantic City is entering a new phase in hospitality and entertainment with the addition of the $100-million Island Waterpark at Showboat Resort. It is designed to be the largest indoor beachfront waterpark in the world! The waterpark is more than 120,000-sq. ft., features more than 317,000-gallons of water and is geared perfectly for all ages and family entertainment.
There are 11 thrill-inducing slides from which to choose as well as three Tidal Racers and five waterslides for children. Surfing tournaments will be held on the 1,000-ft Wild Wave FlowRider and surfing lessons will be offered. A host of activities for younger guests are featured including an interactive Kids Cove.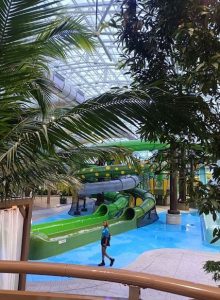 One-of-a-kind indoor waterpark attractions include a more than 1,000-foot Coconut Zero-Gravity Coaster, a 300-foot-long RipTide Zip Line and a 30-ft. tall Tree House that is available for rental. All of the attractions are visually connected by a 6,500-sq. ft Drift Lazy River.
Adults have their own attractions from which to select, 6 bars and the 10,000-ft. sq. Paradise Adult Island. The island showcases VIP cabanas, Atlantic Ocean swim up bar, Bliss Pool, Peloton bikes and DJ music. Island Waterpark was created as a 365-day destination. The glass roof is retractable and can project images, stars, scenery, to alter the atmosphere and mood. There are constant views of the water and glimmering sunshine.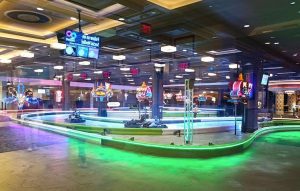 Non-waterpark options are equally exciting. The Showboat, a non-gaming venue, offers nightlife entertainment and the 200,000-sq. ft. Lucky Snake Arcade, the world's largest, the Raceway Go Kart Indoor Track, 40-ft. climbing wall and more than 600 games. Island Plaza, an outdoor boardwalk amphitheater, classic boardwalk fare and a seasonal Festival Marketplace is an extension of the property.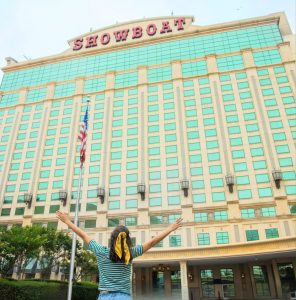 Many Showboat Resort guestrooms are currently undergoing renovations to be completed in the fall of this year. There are several types of rooms to select from including 255 Premier Lite Apartments.
Guests can choose from daytime general admission, Twilight Admission and All-Access VIP admission. Children under three receive free admission and the military and Atlantic City's first responders received a $10 discount. islandwaterparkac.com