Neon World
The #1 Immersive Trending Photography Experience is coming to Orange County, CA with a grand opening date of Saturday, February 25th! Neon WRLD Orange County is a dream turned into reality. Check out the biggest and best photography experience in Orange County filled with a glow of neon signs. This experience is arguably one of the most Instagram-able places in California. Get your camera ready and jump into these interactive booths and installations. You'll have plenty of options and inspiration that will GLOW UP your day. Bring your friends, family, a date, or just yourself and your phone, and unleash your inner child! LET'S REDISCOVER THE KID IN YOU! Neon WRLD is a part of the Selfie WRLD brand, the #1 Trending Photography Experience in the Country. Over 25+ locations across the United States and Mexico. The experience is located at the Westminster Mall, on the border of Huntington Beach. Tickets can be purchased now on Neon WRLD Orange County's official website. Tickets are available in 1 or 2-hour time increments, and private/group event options are available as well.
A Little Night of Music
Thru  May 28/PASADENA – Boasting one of the most singular and sumptuous scores in Broadway history, Sondheim's enchanting, hilarious romantic farce is a bona-fide classic of American musical theater.
A Little Night Music (1973) represents Sondheim's long time collaboration with producer-director Harold Prince, who worked with Sondheim from his Broadway debut with West Side Story in 1957 to Merrily We Roll Along in 1981.
Based on Ingmar Bergman's Smiles of a Summer Night, and featuring a score primarily in waltz time, the production was one of the composer's greatest commercial successes. Recipient of three Tony Awards including Best Musical, Best Book of a Musical, and Best Original Score,  A Little Night Music is "heady, civilized, sophisticated and enchanting." – New York Times 
Set in 1900 Sweden, A Little Night Music explores the tangled web of affairs centered around actress Desirée Armfeldt, and the men who love her: a lawyer by the name of Fredrik Egerman and the Count Carl-Magnus Malcom. When the traveling actress performs in Fredrik's town, the estranged lovers' passion rekindles. This strikes a flurry of jealousy and suspicion between Desirée; Fredrik; Fredrick's wife, Anne; Desirée's current lover, the Count; and the Count's wife, Charlotte. Both men – as well as their jealous wives – agree to join Desirée and her family for a weekend in the country at Desirée's mother's estate. With everyone in one place, infinite possibilities of new romances and second chances bring endless surprises.
Tickets and information for A Little Night Music are available at pasadenaplayhouse.org, by phone at 626-356-7529, and at the box office at 39 South El Molino Avenue, Pasadena, CA 91101.
Cruel World Festival
May 20/PASADENA– Dig out your eyeliner and prepare to get swept away by new-wave nostalgia with this festival that celebrates that magical time when synthesizers and mixtapes defined music, and angsty rock offered an alternative to cheery pop hits. The second installment of Cruel World brings together '80s icons Billy Idol, Echo & The Bunnymen, and Adam Ant, among others, while also delivering Iggy Pop, Siouxsie's first North American performance in more than a decade, and the reunion of former Bauhaus members Love and Rockets. With the festival unfolding in Pasadena's Rose Bowl Stadium, you'll find yourself surrounded by history as you take a trip down a musical memory lane. Also at the Rose Bowl a week earlier is the Just Like Heaven Fest, a two-day indie rock event featuring MGMT, Hot Chip, M83, and the Yeah Yeah Yeahs.
Lightning in a Bottle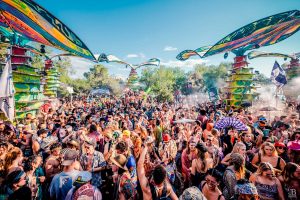 May 24-29/BAKERSFIELD– Celebrating its 20th anniversary this year, Lightning in a Bottle blends electronic music, colorful crafts, fascinating symposiums, and eclectic culture into a six-day experiential event. While the camping-friendly festival draws on a rich tapestry of artistic and cultural influences for both its energetic musical performances and the myriad activities happening around the event, its location in Bakersfield also offers a great opportunity to learn why the city is regarded as the "Country Music Capital of the West Coast." That tour should include a stop at Buck Owens' Crystal Palace, where country music royalty gathers to celebrate the Bakersfield Sound—the seminal country music style popularized by Owens and Merle Haggard, among others.
BottleRock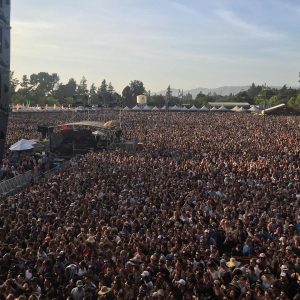 May 26-28/NAPA VALLEY- Wine country hosts a top-tier lineup of musicians in this annual festival, which brings California mainstays Red Hot Chili Peppers to town along with Post Malone, Lizzo, Lil Nas X, The Smashing Pumpkins, Wu-Tang Clan, Dayglow, and more chart-topping performers. Typically offering one of the biggest and best lineups of popular acts on the West Coast, BottleRock also provides a great reason to enjoy everything the surrounding wine region has to offer. With several days of the festival already sold out, you can purchase tickets for the available days, add your name to the waitlist for any you missed, and start planning a wine tour. Whether you opt for a more traditional tour of Napa Valley and its world-famous Cabernets and Chardonnays, or a more unique exploration of wine country (by hot-air balloon or horseback, perhaps), a visit to Napa isn't complete without a wine experience.