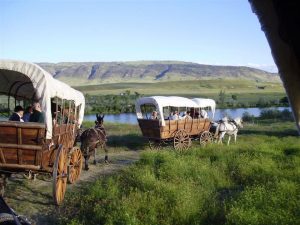 Start your journey by exploring the Oregon Trail with Historic Trails West. Immerse yourself in the pioneer experience by cosplaying as a traveler on the historic trail. Historic Trails West offers various options, from two-hour trips to multi-day adventures on covered wagons or horseback. Their knowledgeable guides and authentic Dutch oven meals will transport you back in time and help you understand the significance of this period in history.
For a journey through the natural history of the
region, visit the Tate Geological Museum. Located on the Casper College campus, this free museum boasts an impressive collection of over 6,000 fossils and mineral specimens. The star attraction is Dee the Mammoth, an 11,600-year-old Columbian Mammoth that lived during the Ice Age. Don't miss the Mineral Exhibits, which focus on Wyoming's resources and jade, the state gemstone, and the Mesozoic Marine exhibit, showcasing the area's past when it was submerged by a tropical sea.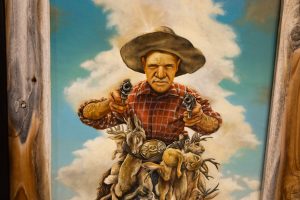 To delve deeper into the history of Casper, head to the National Historic Trails Interpretive Center. Learn about the 400,000 people who traveled the Oregon, California, Mormon, and Pony Express Trails between 1841 and 1868 through interactive exhibits and engaging storytelling. Take a moment to step outside onto the observation deck and enjoy the breathtaking view of the city.
If you're in the mood for art, make a stop at the Nicolaysen Art Museum. This well-appointed museum showcases contemporary and Western art, featuring rotating displays from both professionals and community members. With over 6,300 pieces in its permanent collection, the museum focuses on local artists and those with ties to the region. Be sure to check out their art classes and summer camps for both kids and adults.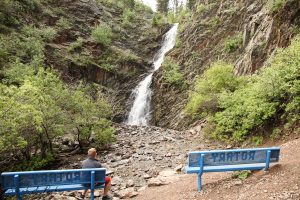 For outdoor enthusiasts, Casper offers some incredible experiences. Fly fishing on the North Platte River with Crazy Rainbow is a must for avid anglers. With access to prime fishing spots along the river, Crazy Rainbow's experienced guides will take you on a memorable adventure, whether you're a novice or an expert.
If kayaking is more your style, take a short drive to Alcova Reservoir and rent kayaks from Alcova Resort. Explore the stunning Fremont Canyon, with its towering sandstone and limestone walls providing a breathtaking backdrop for your paddling adventure.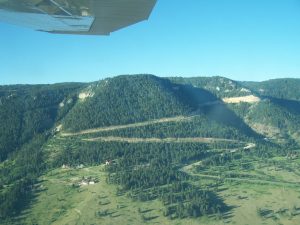 For a picturesque hike, head to Casper Mountain and make your way to Garden Creek Falls in Rotary Park. This low-effort hike rewards you with impressive waterfall views. If you're up for a longer trek, continue on the five-mile Bridle Trail for stunning views from above. Remember to bring your furry friend along, as dogs are allowed on the trail.
After a day of outdoor exploration, make sure to spend some time in downtown Casper. This vibrant area is filled with unique shops, restaurants, and bars. Lou Taberts Ranch Outfitters, a legendary Western store, is a must-visit. Don't miss Rialto Soda Fountain, Floral Rhino, and Mustard Seed for a taste of the local flavor.
There is a variety of fantastic dining options. El Fogon, which started as a popular food truck, now has a brick-and-mortar restaurant serving an extensive menu of delicious Mexican cuisine. Thai Kitchen offers cozy ambiance, a wide selection of dishes, and reasonable prices. For a taste of local history, visit The Bluebird, a restaurant housed in a building that was once a grocery store in the 1920s. Enjoy their famous eggs benedict with chef Jacquies Famous Hollandaise sauce.
When it comes to drinks, Casper has you covered. Backwards Distilling Company offers a circus-themed atmosphere and inventive cocktails. The Drinkery is a classy bar and event venue with a beer and wine shop. And if you're a beer enthusiast, don't miss Black Tooth Brewing, the official beer of Wyoming, serving up both classic and unique brews.
Getting to Casper is easy, with flights from Denver and Salt Lake City to Casper-Natrona County International Airport. Once there, renting a car is the most convenient way to explore the city and its surrounding areas. While downtown Casper is easily walkable, most hotels are located along the I-25 corridor, such as the comfortable Candlewood Suites.
In Casper, Wyoming, you can immerse yourself in history, enjoy thrilling outdoor activities, indulge in delicious cuisine, and experience the warm hospitality of the West. Plan your extended weekend getaway to Casper, and you'll create memories that will last a lifetime.