DAVIS – Plan an extended weekend to explore the greater Canaan Valley/Blackwater Falls lodging area by motorcycle before the winter weather sets in. All roads are paved, two-lane, and lined, with the exception of Rt. 48, a four-lane highway. Each loop offers numerous opportunities to stop and sightsee with a mix of history, scenic overlooks, waterfalls, and more. Pack a picnic lunch or enjoy food from one of countless mom and pop shops along the way.
Allegheny Highlands Trail (Trip Time: 4hr 50min; Mileage: 220)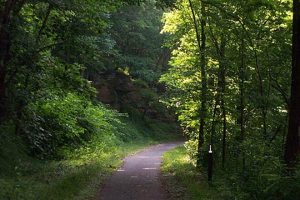 The Allegheny Mountains provide a dramatic back drop as you ride through the highest elevations of West Virginia's big sky country. You'll pass through the small town of Davis, once dubbed "stump town" from all the stumps left from timbering. People claimed they could walk from one end of town to the other from stump to stump without touching the ground. Today, craft breweries, art galleries, and eclectic restaurants dot the landscape.
Make time to stop at Green Bank Observatory where you will experience an up-close view of the world's largest fully-steerable telescope. Fully immerse yourself in the experience as you learn all about radio astronomy. And for this reason, cell service does not exist for much of the ride. Be prepared. 
As you near the end of the trail, stop to stretch your legs at Cass Scenic Railroad State Park, an 11-mile long heritage railroad that is owned by the West Virginia State Rail Authority and operated by the Durbin & Greenbrier Valley Railroad. The park also includes the former company town of Cass and a portion of the summit of Bald Knob, highest point on Back Allegheny Mountain.
Mountain Highlands Grand Tour (Trip Time: 6hr 50min; Mileage: 307)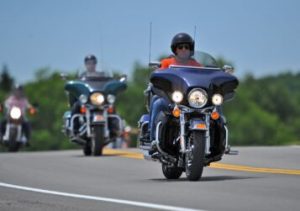 This is the premier mountain ride through what West Virginian's refer to as "almost heaven".  Be prepared for a long day in the saddle and endless country roads. Early in your ride you'll pass by arguably one of the most unique features in the state – Seneca Rocks. This is an ideal spot for photos and you might even catch a glimpse of adventurous rock climbers scaling the 900 foot tall "Razor Back" ridge.
Driving West Virginia US 48 you will find two wonderful towns, Moorefield and Wardensville. Both are a great pit stop with the option to try incredible, local fare. Star Mercantile and Lost River Brewing on RT 55 in Wardensville or O'Neill's Restaurant located in Moorefield on Main Street, are less than a mile from US 48. Scenic overlooks pepper this tour, giving you a bird's eye view of the vast valleys below.
Valleys of the Cheat Tour
(Trip Time:  5hr 45min; Mileage: 188)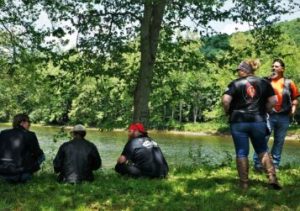 This compact ride has a lot of options to shorten or lengthen the suggested trip. During this tour you'll hug the winding valleys and steep ridgetops that form the tributaries of the Cheat River. Interestingly, the Cheat River and its entire river system flow north until reaching the Ohio River near Pittsburgh, Pennsylvania. (Rivers that flow north are some of the oldest rivers in the world.) Points of interest to see along the way include an active military training camp (Camp Dawson), the birthplace of Mother's Day (Grafton, W.Va.), and the earliest notable land action of the American Civil War (Philippi, W.Va.).
Potomac Highlands Trail

(Trip Time: 4hr 40min; Mileage: 220)
Mountains are what West Virginia is known for. The Potomac River region has an entirely different look and feel than the rest of the mountain state.  
Must-see points along this route include Spruce Knob Scenic Overlook and Blackwater Falls State Park. Spruce Knob is the highest point in West Virginia with a summit elevation of 4,863 feet.  Only 15 miles south of Seneca Rocks makes this the perfect one-two punch of regional scenic overlooks.  An observation tower gives 360 degree views, and Spruce Knob Lake is a fisherman's delight.
Crashing almost 60 feet to the water below, Blackwater Falls State Park is easily the most photographed waterfall location in the State of West Virginia. Finish your day of riding with a stop at Sirianni's for a delicious New York style pizza.
Editor's Note: Cell phone service is extremely spotty throughout the mountain highlands, so be prepared for no service situations. GPS is discouraged because the shortest route delivered can often be a dirt road. 
Free West Virginia road maps are available at the Tucker County CVB/Information office in Davis, W.Va. The office is open 9 a.m.-5 p.m. seven days a week.  For safety laws and information before you ride, call West Virginia Motorcycle Safety at 1-866-355-9399. >MORE