Submitted by Mona Mesereau
Mesereau Travel Public Relations
Rafting Roundup: How to Decide Which West Virginia Whitewater Trip is Right for You
FAYETTEVILLE,– One of the most appealing facets of river rafting on Southern West Virginia's New and Gauley Rivers – two of the top rafting rivers in the world – is that there is a trip for just about everyone. From gentle smooth floats to heart-pounding Class V-filled runs, the thrills come in multiple forms.
"I love seeing the excitement of young kids and their grandparents after an easy trip down the Upper New River as much as an adrenaline seeker who just tackled the Class V rapids of the Gauley," said Roger Wilson, CEO of Adventures on the Gorge (AOTG), the state's leading rafting outfitter.Here are the options to help people find the right trip for them: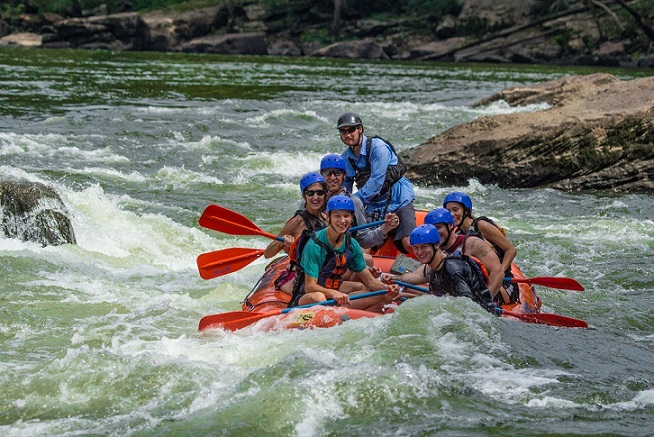 Rafting the New River
The New River put West Virginia rafting on the map. The origins of whitewater rafting in West Virginia can be traced back to the mid-1960s when college-aged adventurers took Army surplus rafts and taught themselves how to navigate the New River. Early trips were conducted for fun with friends and family. As the word got out, however, opportunities to turn a profit by selling river trips emerged, and a fledgling industry was born.
The New River includes Lower and Upper sections as well as Glade Creek Canyon.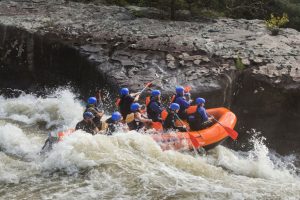 The Lower New River is the most popular section with big whitewater in the spring and early summer with intermittent long, calm pools for swimming and floating. Because the river runs south to north, water levels are dependent upon rainfall in North Carolina and Virginia. The 25 named rapids can be as large as Class IV. Minimum age is 12. .
The Upper New River is a perfect introduction to rafting and is available to those as young as six. With mostly Class I and II rapids and occasional bigger waves of a few Class IIIs, the Upper New River is an ideal river for first-time and beginning rafters who paddle the river in large rafts or small one- or two-person inflatable kayaks called duckies. Kids six years old raft free, and kids 7-11 raft free with a paying adult (one free rafter per paying adult).
Glade Creek Canyon is another family favorite that trip begins with a hike to a waterfall along Glade Creek on a path that winds through rhododendron thickets and hemlock forests. After a swim in the pool below the waterfall, guests return for a picnic lunch and a half-day of rafting on the New River. Minimum age is eight.
Rafting the Gauley River
The nearby Gauley River offers even more challenges with plenty of rapids.
Adventures on the Gorge offers Gauley River rafting trips beginning in mid-May. The frequency of Gauley River releases depends largely on rainfall as well as the amount of water that accumulates in wetlands – or glades – 3,000 to 4,000 feet above the rivers. During a particularly wet year, paddlers can count on intense, technically challenging whitewater during the spring. As summer approaches, there are typical trends in the amount of flow resulting in tighter channels of water, steeper drops and the use of a variety of boats including duckies and smaller rafts.
It's during the fall, however, that rafters from around the world descend upon AOTG. In September and October the Gauley River features the world's best rafting when the U.S. Army Corps of Engineers releases water from Summersville Lake Fridays through Mondays to create close to 100 named rapids – including nine Class V – in a 25-mile stretch.
Gauley rafting is broken down into two sections – the Upper and Lower. The Upper Gauley starts just below Summersville Dam and drops more than 335 feet in fewer than 13 miles, creating the most intense whitewater on the river and one of the most challenging whitewater experiences in the world.
The 12-mile Lower Gauley is slightly less intense, but still extremely challenging, with 70 rapids. Many people raft a section each day and call the Lower Gauley their "warmup."
Minimum age for Gauley River trips is 15.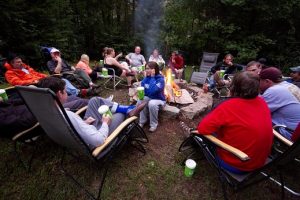 Others choose a two-day Upper and Lower Gauley rafting experience broken up by camping at Canyon Doors, a permanent campground on the river featuring a wood-fired hot tub, hot showers, bathrooms and gourmet meals prepared by an expedition chef.
Overnight rafting options are available for New River trips as well.
Travelers can find out more about Adventures on the Gorge online, by calling 1-855-379-8738, or connecting on Facebook, Twitter, Instagram, Linkedin, Google+, TripAdvisor, YouTube, and Vimeo and signing up for AOTG e-newsletter.