By Heather Raulerson
Freelance Travel Writer
Lake Champlain is 120 miles long, 12 miles at its widest, up to 400 feet deep, and encompasses 435 square miles within Vermont, New York, and even Canada. It is the sixth-largest freshwater lake in the US, and the oldest known fossil reef in the world (450-480 million years old) is in Lake Champlain. There are also three ferry locations to cross the lake, one in Burlington, Vermont. And when you are out on the water, keep your eyes peeled for 'Champ,' Vermont's Loch Ness Monster.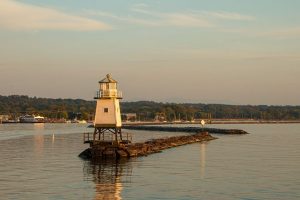 One of Lake Champlain's most popular water sports is kayaking and canoeing, and most consider it the best kayaking in Vermont. Some of the favorite places to kayak near Burlington are Sand Bar State Park, Law Island, and Fish Bladder Island. Hopping in the boats to paddle the calm waters is a wonderful way to see the hidden coves, more than 80 islands, and the interesting shoreline with rock formations that resemble the Painted Rocks National Lakeshore in Munising, Michigan. If you want to share the work, rent a two-paddler, where you can navigate the waters as a team. There are several places in Burlington where you can rent kayaks and canoes. You can also get lessons or sign up for a guided tour to explore the lake's hidden gems.
Try paddle boarding for those with incredible balance and looking for a unique way to see Lake Champlain. If I tried this, I'd be uncoordinated and would probably faceplant in the water repeatedly. For everyone else, standing atop the paddleboard gliding over the water's surface is a wonderful way to spend an afternoon in Burlington. Leisurely paddling can offer a fantastic core workout and allow you to see osprey and bald eagles in trees atop cliffs along the shore.
Are you looking for more adventure? How about enjoying the sound of the breeze through the sails as the water laps against the bow and the scenery races by your sailboat? Lake Champlain's size is a sailor's paradise and has been since 1932 when they allowed boats to sail on the lake for the first time. When the wind catches the sail and the sailboat starts to lean over the water, the sailboat glides through these waters effortlessly. You can harness the power of the wind and glide for miles on the lake's surface, experiencing the thrill of sailing amidst the picturesque landscapes of the Adirondack Mountains. Plus, how wonderful to relax on the sailboat's deck, watching the epic sunsets over the water.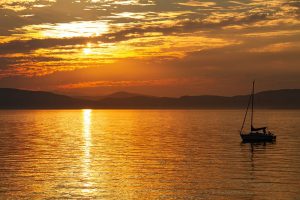 The Burlington community has several yacht clubs and sailing schools, providing resources and rentals for leisurely cruises or competitive racing events. If you have your own boat, you can rent a slip overnight and explore Church Street Marketplace. Walk around, dine al fresco, visit a local microbrewery, or grab a creemee at a waterfront ice cream stand. If you aren't sure what to choose, munch at the amazing food carts set up along Church Street in the evening or eat at Church Street Cheesesteaks, which is highly recommended.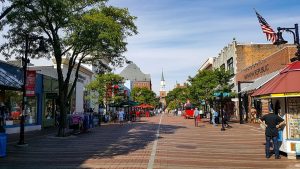 But wait, there's more! Lake Champlain is renowned for its excellent fishing opportunities year-round. Whatever type of fishing you enjoy, you can find it on Lake Champlain, such as fly fishing, spin casting, and even ice fishing. The lake is home to 81 fish species, including Bass, Trout, Salmon, Northern Pike, and Walleye. You can fish from the shore or venture into deeper water to hook that trophy-sized catch. You can go it alone, hire a local guide, or head out on a fishing charter for more expertise; however you choose, abundant fish is waiting for you to try and catch them.
One of the highlights of being in Burlington and near Lake Champlain is taking a cruise on the Spirit of Ethan Allen. The Spirit of Ethan Allen offers daily cruises for lunches on the lake, dinner cruises, scenic, sunset, and champagne brunch cruises. With Burlington situated perfectly to view majestic sunsets, it was a no-brainer to take a sunset cruise. On the 2.5-hour sunset cruise, you can enjoy a lobster roll sandwich, burgers, and steak while watching Mother Nature put on a show with orange, red, and purple streaking the sky.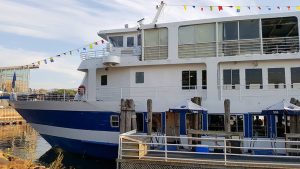 Burlington is perched on a hill overlooking Lake Champlain, and if you want to stay on land, there is Waterfront Park at the bottom of College Street with a bike path you can run, cycle, and walk on. The shoreline boasts a mix of sand and shale beaches, and you might encounter stone piles left by other visitors on your walk.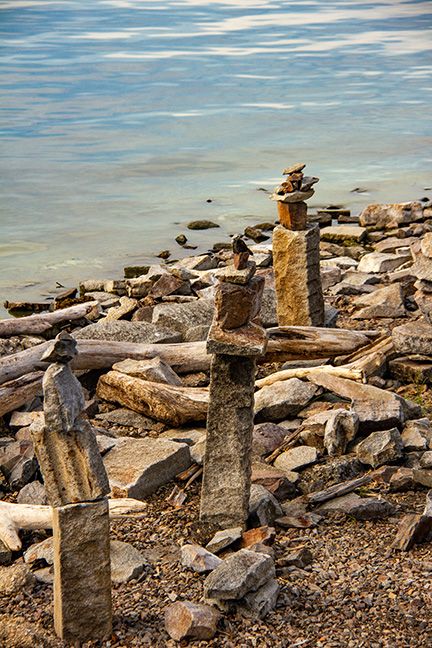 Lake Champlain in Burlington, Vermont, is a water sports paradise that promises excitement, tranquility, and endless enjoyment. Whether kayaking through hidden coves, paddleboarding along the shoreline, sailing with the wind, watching the fabulous sunsets, or casting your line for a prized catch, the lake offers many exciting activities.