Kick off the patriotic fun on Friday, July 1 with a free concert in the city center. Downtown at Sundown occurs every first and third Friday May through October, and the nation's birthday is no exception. Visitors can start their weekend at the Downtown Commons by listening to Heart Tribute Band, Barracuda, and enjoying treats from a plethora of local food trucks and downtown restaurants.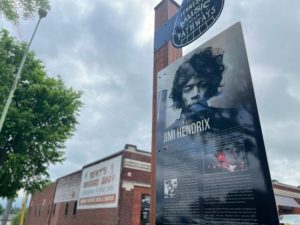 Jimi Hendrix, Dunbar Cave, Charlie Cushman, the Roxy Regional Theatre and Clarence Cameron White are designated on the Tennessee Music Pathways with markers in Clarksville. Clarksville and the Tennessee Department of Tourist Development honored them with the installation of Pathway markers to complete all five of the city's designated stops. Launched by the Tennessee Department of Tourist Development in 2018, Tennessee Music Pathways is an online planning guide that connects visitors to the state's rich musical heritage at tnmusicpathways.com. Tennessee Music Pathways stretches across all 95 counties and features hundreds of landmarks from the seven genres of music that call Tennessee home.
Playing in and around Clarksville with Cox and saxophonist Charles Washington, Hendrix made plans to return to Seattle, but a Clarksville area girlfriend and lack of travel money provided the impetus for him to stay. Cox and Hendrix had already formed the King Kasuals, playing R&B in Clarksville clubs and occasionally venturing to Nashville and Murfreesboro. Hendrix's marker is in Clarksville's Downtown Commons near the Third and Legion St. intersection.
Dunbar Cave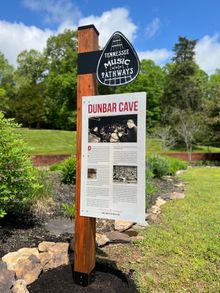 A popular resort for many years prior to becoming a state park, investors created opportunities to stay at Dunbar Cave and the nearby Idaho Springs. Over the following 60 years, cabins were built, a wooden dance floor at the mouth was built, and an artificial lake was built.  Big bands played there, including Benny Goodman, Glenn Miller, Lena Horne, and Tommy Dorsey. Country musician Roy Acuff purchased the site in 1948. Over the July Fourth weekend in 1948, Acuff publicized is new ownership by booking Owen Bradley and his orchestra on July 3. Acuff himself headlined a show on the Fourth, followed by fireworks. Acuff made a large amphitheater on the east side of the lake for new country shows among other improvements.Today, it operates through the Department of Environment and Conservation as a state park to preserve and protect the cultural, natural and historical resources of Dunbar Cave. The Dunbar Cave marker is near the Visitor Center at the state park, 401 Old Dunbar Cave Rd.
Historic Downtown
Historic architectural features, public art, restaurants, pubs, shopping, galleries, entertainment, green spaces and trails…you'll find it all in downtown Clarksville. Clarksville's downtown is small, but packs more charm in than one can imagine! Some 25 sculptures, mural, and fountains give the city plenty of distinct character, but so do the dozens of local businesses. A vinyl record shop, independent book trader, a meadery, French café, Italian restaurant and two brewery/pubs stand out along the bustling streets. 18th Century churches, a full-block park with water features and an amphitheater, along with a vintage art deco performing arts theatre make the city even more unique, enjoyable and memorable.
Roxy Regional Theatre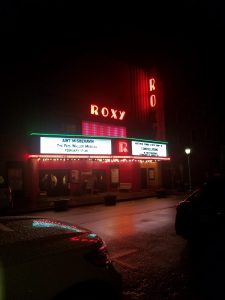 Since the early 1900s, the corner of Franklin and First has been the cornerstone of Clarksville entertainment. The Lillian, built in 1913, was the first movie theatre in Clarksville. Following a fire in 1914, the Lillian was rebuilt in 1915 and saw thousands of patrons enjoying silent pictures. The theatre went "dark" during the Great Depression, but with the advent of Fort Campbell, the Lillian was renamed the Roxy. Following a second fire in 1945, the Roxy was completely rebuilt and became the new Roxy Theatre. A sleek exterior, featuring a new neon sign. Opening in 1947, The Roxy entertained Clarksvillians with first-run movies until 1980. The Roxy sat vacant for three years, opening for live theatre in 1983 as the Roxy Regional Theatre. In 1995, a professional company was created to supply the great demand for Shakespeare, other classics, school curriculum-based productions and holiday shows, and to enlarge the Roxy's outreach services to the community. The Roxy Regional School of the Arts was also born in 1995, offering some 850 teens extensive training in modern theatre and the opportunity to work alongside professionals. Over the decades, more than 500 productions and more than 2,000 actors and musicians have graced the Roxy's stage. The building has also served as a backdrop for music videos for artists like Sheryl Crow and Craig Morgan. The Roxy's marker is mounted on the theatre's exterior at 100 Franklin St.
The Fort Defiance Civil War Park and Interpretive Center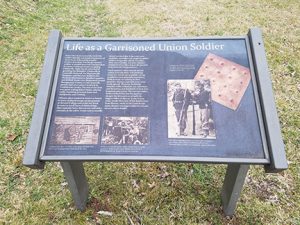 Fort Campbell's annual Independence Day festivities being mid-day on July 4. The event kicks off at 1:00 p.m. with a carnival and concessions, followed by live music with Gary Sinise and the Lt. Dan Band at 8:00 p.m. A fireworks show beginning at 9:30 p.m. caps off the night. A defensive earthworks fort high above the bluffs of the Cumberland and Red River. Interactive displays inside the visitor center bring voices to the many faces of this turbulent era in our nation's past. Outside, walk through the mounded grounds with canons, picnic areas and trails. Best of all are the panoramic views of downtown Clarksville. The stunning 1898 architecture at the Customs House Museum & Cultural Center is a wow factor for all visitors. Recently, the museum added underlighting around the roofline and cornices, making the site even more spectacular at night. Inside, visitors will enjoy both permanent and rotating creative and historic exhibits. The lower level includes a large area for hands-on kids' play, a family art room and a massive model train exhibit.
Family Fun
For those wanting to spend time outdoors, Clarksville boasts several patriotic recreation spaces including Liberty Park, Freedom Point and Patriots Park, as well as the Cumberland and Red Rivers. Located in nearby Palmyra, visitors can practice their sporting clay and trap skills at Veteran-owned Cross Creek Clays. For those hoping to escape the heat, Clarksville also boasts a variety of Veteran-owned and themed indoor attractions.  Axe throwing ranges, a distillery, and several local breweries top the list. For example, Star Spangled Brewing Company recently opened a second location in downtown Clarksville and owned and operated by retired Green Beret Josh Romaker.
Food & Beverage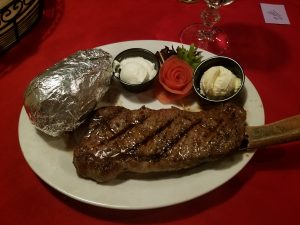 Highlight your time in Clarksville with a globally inspired food culture for an even more memorable experience. The influence of a major military installation, state university and international industries bring the world's flavors and sips to the community. Breweries, a distillery, winery, and meadery give you a taste of the city's passion for creativity and excellence.
Clarksville's Independence Day Celebration takes place on July 3 at Liberty Park complete with live music, inflatables, games, food and a fireworks show beginning around 9:30 p.m. Start planning your trip today at www.visitclarksvilletn.com or downtown the free VisitClarksvilleTN App.