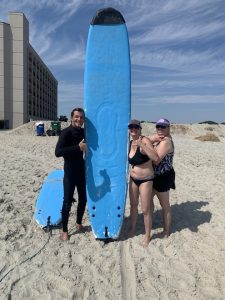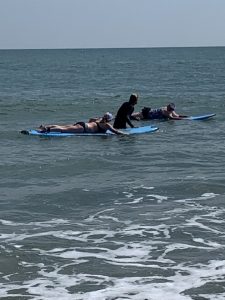 Jack's Surf Lessons and Board Rentals.  Sometimes you have to roll with the changes. We thought we were signed up for paddleboard lessons…apparently, Kathy picked surf lessons – oops. Tricia and Rebecca decided to sit this one out and walk the beach hunting for seashells.  Kelly and I will not be surfing any time soon but we got comfortable laying on the boards paddling and not falling off. Our instructor Kevin was amazing.  He walked us around in the ocean telling us stories from his competitive surfing days.  He has such a genuine love for surfing and the ocean. He had lots of tips to help with balance and confidence.  Surfing was never anything on my radar but after my lesson with Kevin, I might give it a go.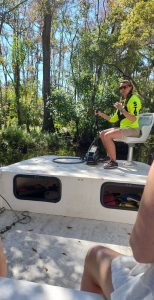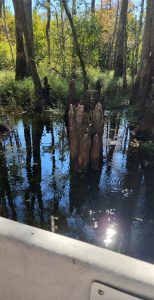 Swamp Park swamp boat eco-tour- Lindsey was our tour guide for our boat tour.  She had so much knowledge of the environment and animals in the area. You could tell that she loves her job. I learned a lot about the ecosystem in the Myrtle area. Since the area was going through a dry spell and the water levels were low we got to see more of the swamp floor which was really interesting. Swamp Park also offers zip lines, bungee jumping, an aerial adventure and ATV tours.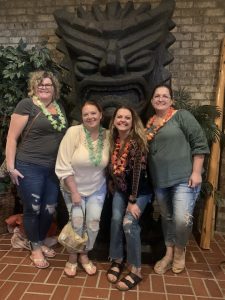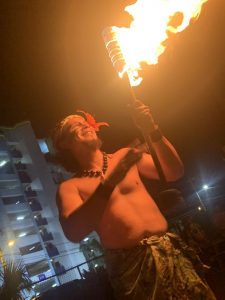 Polynesian Fire Luau – Oh my goodness. I don't even know where to start with this.  It was the most fun. There was a buffet-style dinner before the show began that had several different things to choose from. The performers kept you laughing and engaged during the entire show.  I loved seeing all the dances from the different regions but the fire show at the end was absolutely amazing. The things they could do while throwing and eating fire were beyond my expectations. I highly recommend that anyone visiting Myrtle take the time to attend.
Myrtle Beach Boardwalk – ALL the souvenirs!  So many shops to explore, places to eat, and things to see. There is even a ferris wheel! I loved watching the sunset over the ocean while we ate our dinner.  There are also two outlet malls in Myrtle Beach if you are looking for more shopping options. Poor Rebecca had to buy another suitcase so we could get home with all of our goodies!
Little River Shrimp Fest – We just lucked into being in the area over the weekend that Shrimp Fest was held. It was a great way to spend our Sunday afternoon. There were hundreds of vendors set up selling their handmade crafts and MLM items. There were several stages set up with bands playing throughout the area. Street vendors were selling all kinds of food and we met some of the most interesting people. My favorite was a gentleman who went by the name of Tequila and owned a local restaurant. Unfortunately, we did not get to eat there but it is on my "next time" list.
There were so many other things we did and saw while we were there. Myrtle Beach is definitely someplace to add to your bucket list.  This was one of the best vacations I have had in a  long time. And while I loved all the places we went and the adventures we had, there was nothing better than just sitting on the porch every evening discussing our day and reconnecting with each other. Sometimes in the daily business of 'momming' we forget that we need to take care of ourselves and our mental health. Having this opportunity to just reset and remember that I am more than a mom and wife was just what I needed. I can't wait to see where we go next time!