The Charleston area stands on six pillars that make for an unforgettable experience. These pillars include Art and Culture, Cuisine, Family, History, Outdoors, and Shopping. Individually, these pillars are substantial in driving traffic, but together, they serve as a guide to the authentic Charleston experience. While its unique history, culture, authenticity, and beauty are undeniable, Charleston, South Carolina's dedication to reinvention
empowers the area to remain one of America's most treasured travel destinations. In a city that's historically known for its southern charm and hospitality, the allure continues in new ways. Where coastal meets cosmopolitan, thanks to new varieties of cuisine, hotels, events, and more, attracting visitors from all over the world to experience the warm and welcoming adventures you can find in the Holy City. Through the many changes the city has seen over the years, it embraces the new and old with grace, continuing to earn its well-deserved motto "where history lives." Charleston is applauded by leading travel publications, and continues to top their lists of accolades, including "The South's Best" awards, being voted by readers as The South's Best City: 2022.
4 New Restaurants in Charleston
CINNAHOLIC
415 King Street, Charleston
cinnaholic.com | @cinnaholic.kingstreet
Cinnaholic's delicious cinnamon rolls and sweet treats are coming to King Street. All of these fresh baked goods are vegan, dairy and lactose-free, egg-free and cholesterol-free. Cinnaholic will cater to all types of events such as small or large weddings, conferences and conventions. The official opening date has yet to be announced but is coming soon.
CABANA BURGERS AND SHAKES
2664 U.S. Highway 17, Mount Pleasant
cabanaburgers.com | @cabanaburgers
With its first location on John's Island, this burger joint has set out to create a restaurant that the whole family can enjoy. Their goal centers around amazing customer service, dishes crafted from carefully sourced produce and meats, and to make every one of their customers smile. After all, Burgers + Shakes = Happiness. The new location opened its doors in May.
LAURA
101 North Main Street, Summerville
laurasummerville.com | @laurasummerville101
Laura will be chef Nico Romo's ode to his Italian grandmother of the same name. Look for traditional Italian family recipes Romo grew up eating, from bolognese to tagliatelle. Romo operates restaurants in downtown and Mount Pleasant (Bistronomy and Nico), but this is his first in Summerville, which opened June 1st, 2022.
PHILOSOPHIA
909 Houston Northcutt Blvd., Mount Pleasant
philosophia.com | @philosophia_mp
Philosophia is a recently opened Mediterranean and Greek restaurant serving dinner only in Patriots Plaza in Mount Pleasant. Started by Justin and Dimitri, the two friends grew up together on Long Island and have been inseparable since 1st grade. Once Justin ended up in Charleston for what seemed like it would be a while, Dimitri joined him and they both worked at the Mills House Hotel. From there the dream of Philosophia came back to life for the two lifelong friends. "This restaurant is built on the foundation of a friendship which holds its fondest memories and experiences looking out over the Aegean Sea, sharing mezethes and white wine, and reminiscing the journey that has brought us to this point." The delicious restaurant opened April, 2022.
1 New Hotel

THE PINCH
36 George Street, Charleston
thepinch.com | @thepinchhotel
At the intersection of King and George Streets in Charleston, South Carolina, The Pinch (from Philadelphia-based Method Co.) will add another address to the city's luxury hotel scene. The apartment-style rooms come with a full kitchen and laundry facilities. The Pinch is now open to Charleston locals and visitors.
2 Attractions
Reopened – MUSIC FARM
32 Ann St., Charleston
musicfarm.com | @music_farm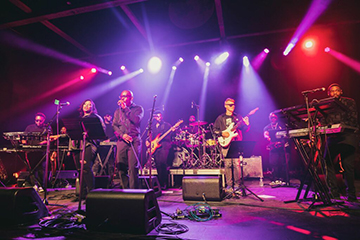 The 30-year-old local music venue is officially back open! The improved venue will feature the following: New air conditioning, a new sound system, an updated green room, new lighting, and an updated bar + facilities. The venue's capacity has been reduced to 650 to ensure the comfort of concertgoers. The Royal American will run the kitchen, serving up similar menu items to the eatery's location on the Upper Peninsula. Live Nation has entered into an exclusive partnership to operate Charleston, S.C.'s Music Farm, along with Nashville-based concert promotion company National Shows 2 (NS2) and FPC Live, the Madison, Wis.-based joint venture between Live Nation and Frank Productions to operate venues and promote shows across the country. Live Nation will book the Music Farm in collaboration with the NS2 talent team, while FPC Live will manage and operate the 650-person capacity club. Renovations and upgrades are already underway to enhance the artist and fan experience at Music Farm. FPC Live and NS2 also currently operate the fabled Charleston Music Hall. Music Farm reopened its doors in April
RIVERFRONT REVIVAL
North Charleston Riverfront Park – 1061 Everglades Ave.
riverfrontrevival.com | @riverfrontrevival
Darius Rucker has finally put together his lifetime dream of having a music festival in his hometown. Riverfront Revival will be starting in the Lowcountry this Fall at the North Charleston Riverfront Park. This exciting two-day event will have great music, drinks, food and arts for all to enjoy. The festival will take place October 8-9, 2022.