Portland is the largest city lying between San Francisco and Seattle. In comparison, Portland's environment is not as fast-paced; instead it has a more laid-back, casual feel to it. Portland, however, is still a city just shy of 600,000 people, and as such has quite a few amenities, including an impressive music and arts scene and one of the largest collections of zine and independent publishers of any city in the nation.
Places to Go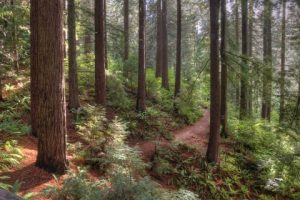 HOYT ARBORETUM – Home to more than 1,000 tree and shrub species (more than any other arboretum in America), Hoyt Arboretum sits next to Washington Park, only 2 miles (3.2 km) west of downtown, and is easily accessible by bus or light rail. As you stroll along 12 miles (19.3 km) of hiking trails, look for seasonal highlights like evergreen holly, corkscrew hazel, blooming wintersweet and budding magnolias. Stop inside the arboretum's visitor center for free maps and guides to all the glorious flora.
MACLEAY PARK – Take the public transit straight to a trailhead! Part of Northwest Portland's sprawling, 5,100-acre (2,064-hectare) Forest Park, this lush woodland area is open year-round. Hike from Lower Macleay, passing a unique WPA-era structure (known to locals as the "Witch's Castle") and the Portland Audubon Society, to century-old Pittock Mansion for panoramic views of the city and a fascinating local history lesson. Don't expect a leisurely stroll — the path climbs 600 feet (138 m) to the top.
MT. TABOR PARK –  On sunny winter afternoons, legions of locals stretch their legs at Mt. Tabor Park in residential Southeast Portland. An extinct volcano dotted with open-air reservoirs, the park offers a number of wide, winding trails to the summit and two playgrounds where little ones can burn off any extra energy. Looking to burn a few extra calories yourself? The series of stairs found at the S.E. 69th & Yamhill entrance are better than a StairMaster.
Where to Stay
If walls could talk, Portland's historic hotels would have a rich story to share. Tales of Clark Gable working at the Meier & Frank department store now known as The Nines and of Gus Van Sant's time filming 'My Own Private Idaho' in the Sentinel hotel, a former early 1900-era hotel turned Elks Lodge before returning to its hospitality roots. Or the early-20th century beginnings of the Heathman Hotel, a literary haven who happens to share a wall with the iconic Arlene Schnitzer Concert Hall.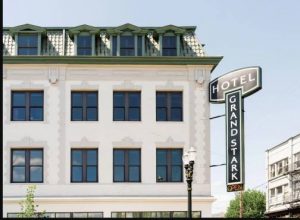 At the intersection of past and present, you'll find Portland's newest accommodations. Hotel Grand Stark, a Palisociety hotel, which reimagines the historic Chamberlain Hotel, and more recently, a legendary local furniture manufacturer turned into a timeless space of modern design and vintage touches. The new Lolo Pass, whose name was inspired by old expedition maps at the Oregon Historical Society, opened in May 2021 off buzzy Burnside Avenue in Portland's Southeast district. The property caters to the hostel-hopping crowd with elevated décor, an art gallery space and rooftop. Or interestingly industrial Kex, the first U.S. outpost of the Icelandic brand, breathes new life into a 1912 building with Art Deco charm from remnants of a 1930s "Vivian Apartments" renovation.
Things to Do
ICONIC DINING – Dine your way around Portland with perfect pairings of icons and innovative eats. Anchor your culinary exploration with those that have paved the way and round it out with some of the city's newest restaurants. The current dining scene is rich and ever evolving, pulling inspiration from the natural bounty surrounding us or honoring one's heritage through food.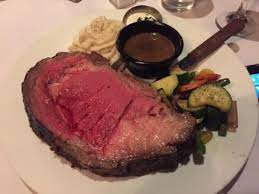 A classic slow-roasted prime rib from Clyde's will hit the spot as colder temperatures prevail.
Said to be one of the first restaurants to bring pizza to Portland, Amalfi's Italian Restaurant is a legendary spot and must-stop on Fremont Street. If pizza is the name of your game, grab a 'Legendary Combo' here and stack up slices at new outposts Pizza Thief, Meta Pizza, Pizza Kat, and Stellina Pizzeria.
Fancy a side of jazz music with your main course? Plan a trip to Wilf's, located inside Union Station and family owned for more than 45 years. Chase that with a DJ set or Fortune teller reading (on select nights) at the newly opened Fortune inside Sentinel hotel. Here, lauded Chef Jewan Manuel, otherwise known as Plant Based Papi, serves up his inventive vegan eats alongside an entirely vegan drink menu at the bar.
Shopping – What's Old is New – Portland is a vintage hub – from second-hand apparel at Xtabay Vintage Clothing Boutique, Hollywood Vintage and the newly opened Wink Vintage in Montavilla (see: great band t-shirts!) to Lounge Lizard's mid-century modern grabs and rare Anatolian rugs at Wild Shaman. We're also serious about finding well-loved books a new home found at iconic Powell's and new spots like Third Eye Books on Division Street in Southeast Portland.
Alongside it, a wave of eco-minded, slow fashion shops dotting the city. Find planters and other home décor hand-selected for their sustainable values at EcoVibe; Nau, the first sustainable performance wear brand; Wildfang, trailblazers pushing gender boundaries and committed to sustainability in their product production; and the new Kiriko, whose Japanese heritage combined with meticulous craftsmanship, create beautiful, hand-crafted goods that utilize every include of 'Boro" (scraps of cloth).
Art-centric Experiences for the Ages
Nestled in the city's Cultural District is the Portland Art Museum. Founded in 1892, it is one of the oldest art museums on the West Coast and seventh oldest in the US. An institution in and of itself, the museum continues to bring thought-provoking work of artists near and far to the forefront through exhibitions like Mesh, a dynamic exhibition of four emerging artists within the Indigenous community to projects like AUX/MUTE Gallery with The Numberz FM, a radio station dedicated to empowering and creating a media space for Black people and communities of color.
And each time you return to Portland, you'll find a vibrant new mural, art displays and new showcases supported by a bevy of artistic endeavors like Art Design Xchange (ADX), Past Lives LLC, and others. The next time you're in town, take a self-guided tour mapped out by the Portland Street Art Alliance, whose mission strives to advance street art culture and civic engagement.