By Sarah Miller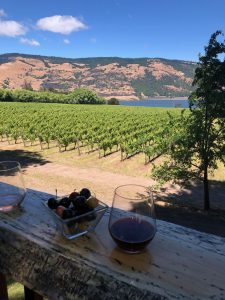 Pies, berry picking, and wineries. Who can resist a trail called the Fruit Loop? Nestled in the fertile Hood River Valley in Oregon, the Fruit Loop trail offers the chance to eat, drink, and soak in nature's beauty. The 35-mile, the self-paced driving trail has a little bit of everything–roadside farm stands, wineries, breweries, cideries, and flower fields. Winding past the serene countryside dotted with orchards and vineyards, you can spend the day. Or, maybe spend several nights to bike, hike, and even indulge in a slice of homemade pie back at the inn.
When to visit?
No one visit to the Fruit Loop is the same. Scenery, sips, and fresh offerings change with the seasons. In spring, fruit blossoms and wildflowers will pave the way. Most agree, however, the prime time to savor the Fruit Loop is summer through early fall. Berries are plump, juicy and ready for picking. Heavy peaches waiting to be snatched hang from branches. U-pick orchards are in full swing, and outside dining at vineyards offers snow-capped, mountain views.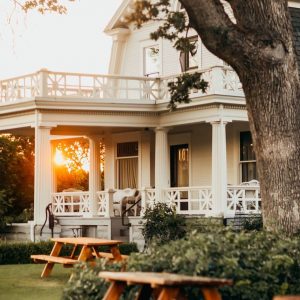 The Gorge White House, a fruit stand and winery, is the second stop on the Fruit Loop. Amelia Teyner, a native Midwesterner who lived in Oregon with her husband, Louie, agrees summer is ideal. "The views of snow-covered Mount Hood at The Gorge Whitehouse are especially spectacular," Teyner says. "In summer, they have a food truck with farm-fresh inspired foods where you can sit on picnic tables to enjoy lunch or dinner, and sip on wines and ciders."
When planning a Fruit Loop visit, check the U-Pick schedule ahead of time to see what awaits—https://hoodriverfruitloop.com/u-pick. In June, U-pick strawberries and lavender will be bursting forth. In August, orchards with peaches and pears are plentiful. Even into October, a rainbow of blueberries, pears, apples, and yes, pumpkins are available. Fall marks the time of farm festivals and harvests celebrations, ciders and cooler temps.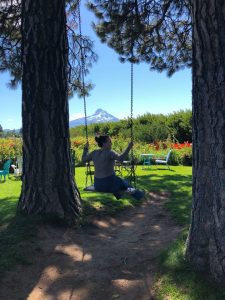 Draper Girls' Country Farm at stop 14 is as satisfying as it is stylish. Stocked with antiques, fruits, grass-fed meats, flowers, and food gifts–the farm promises a cherished souvenir or a savory addition to your next meal. The Draper Girls' petting farm, gardens, farms stand produce, and more, are worth the stop. One more stop down, The Draper Girls' Cider Company at stop 15, is probably what the Draper Girls are known for best. Award-winning hard ciders are fresh-squeezed into decorative growlers to take home.
Apple Valley Country Store, stop #22, will satisfy all sweet tooth cravings. In August, huckleberry milkshakes are sweet and cold. Perfectly packaged apple dumplings bubbling over with caramel and artful hand pies are comforts to eat on the spot or savor later. Jams, jellies, and sauces with endless fruity combinations can bring vivid memories of the Fruit Loop trail long after the visit.
How much time to allow for the entire Fruit Loop?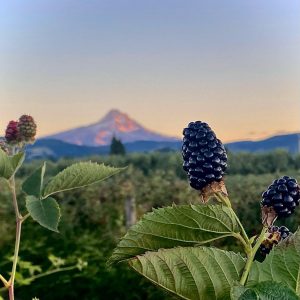 The Fruit Loop is only 35-miles on Highway 35 and can be done in 4-5 hours. While it's possible to just choose a few stops, reconsider. With 27 stops total, it's best to stay a few days. Besides vineyards and novel shopping, the Fruit Loop trail winds past some of the most postcard-worthy spots imaginable. Just stepping out over the Columbia River Gorge area where fog brushes the green mountains and the wide, deep blue Hood River calms below—time stands still here.
If possible, plan to stay overnight or longer. Accommodations are as diverse as the fruits for the picking. For a resort experience, Best Western Plus Hood River Inn has a swimming pool with views of Hood River, indoor/outdoor dining, and basic accommodations to luxury suites. More intimate choices like the Old Parkdale Inn Bed and Breakfast, circa 1910, offer a home-like feel with views of Mount Hood and local coffees and breakfast served for you. Cooper Spur Mountain Resort appeals to the adventurer with ample places for biking, hiking, and even a chair-lift ride. Adjacent to Mount Hood National Forest, the setting is made for exploring. Hotel rooms, cabins, lodge condos, and more offer a cozy, wood-themed place to rest with rich woods. An on-site restaurant and amenities make this a popular choice for the outdoor enthusiast looking for creature comforts. Area campgrounds are also plentiful just off the Fruit Loop trail.
Hike Old Growth Forests:
Mt. Hood Outfitters offers a number of guided hikes through the Mt. Hood National Forest where visitors can see the trees show off their fall colors. Huckleberries and vine maples put on a tremendous display around many of the mountain lakes. "With proper warm and waterproof layers, fall is an amazing time to hike in the Mt. Hood National Forest," said Sarah Kramer, Mt. Hood Outfitters tour guide. "The temperate rainforest is teeming with life as the salmon make their way up the streams to lay their eggs and the ferns, moss, and lichen practically glow green – they are so happy to be saturated once again after the long, dry summer." To find the perfect trail, head to one of the Mt. Hood National Forest Ranger Stations. Here, helpful rangers point out the best places to discover trees, rivers, and animals.
Go Leaf Peeping on a Scenic Drive:
Spend a day driving through Mt. Hood Territory on one of the many scenic highways. This area offers the best Oregon has to offer in mountain views with fall landscapes when the trees change to yellow, orange and red. These colors are only highlighted more by the never-changing hue of the evergreens. Travel up Highway 26 to the 6,000-foot elevation of Mt. Hood where historic Timberline Lodge sits, follow Highway 224 east along the Wild and Scenic Clackamas River or drive on one of the many rural valley roads over rolling hills lined with fields of crops and sprinkled with animals. No matter the route, expect to find amazing views around every turn.
Get in the "Spirit" on a Historical Ghost Tour:
As the first city west of the Rocky Mountains, Oregon City is filled with history. With that much history, chances are there will be a ghost story or two. For a hauntingly good time, book a Northwest Ghost Tour. On the tour, visit historic locations like the Ermatinger House, the oldest home in Oregon City and the third-oldest house in the state. Rumor has it, people have heard an old sailor pulling out a desk chair there. At the Oregon City Municipal Elevator, legend has it that the ghost of a woman who didn't want the elevator built still yells to take the stairs. And every local knows about the John McLoughlin House where the spirit of the "Father of Oregon" is said to roam the halls. The tours are fun for all ages and sure to get people in the fall spirit.
Bonus! Cozy Up in a Cabin:
Autumn in the mountains is just a little bit more magical when relaxing in front of a crackling fire and snuggled up with a favorite warm beverage in hand. Mt. Hood Territory is filled with lodges, vacation rentals and cabins that offer everything from rooms with a view to private hot tubs by a river. Whether enjoying time with the family or deciding to make it a romantic getaway, find the perfect hideaway here.